Whether you need dinner on the table in a hurry or want a fast meal prep recipe to cover lunches for the week, this Fajita Skillet has you covered. Everything you need for a balanced meal in one dish – what's easier than that?! <Plus only one pan to clean – let's keep this easy!>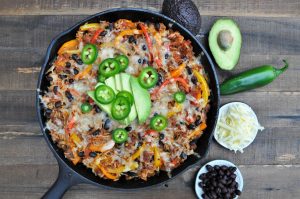 This fast meal can be used one of two ways – or a combo of both. Make this for a fast weeknight dinner. Or, make it on Sunday as meal prep lunches for the week. This will give you 5 meals for the average person or 4 meals for the hungriest person. Just make and divvy it up into 4 – 5 air tight containers and store for the week. Just reheat before eating and there you go!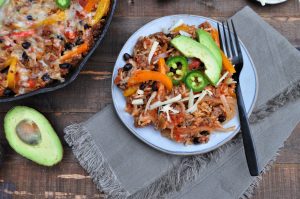 Each element of this dish is super modifiable to whatever you have on hand or to meet your food preferences. We used bison, as that's our favorite ground meat. But you can also use ground turkey, lean ground beef, or even veggie crumbles to make it vegetarian or vegan. We used brown rice, but you can try any cooked grain you like – white rice, quinoa, farro, etc. Use what you have and what you like. In true fajita fashion, we used peppers and onions – but feel free to use up whatever veggies you have and let us know what you think! Literately just dump a can of salsa on top of it all and you've got a meal! All the protein, carbs, veggies, and flavor you need in every bite! <See Other Thoughts below recipe for variation suggestions>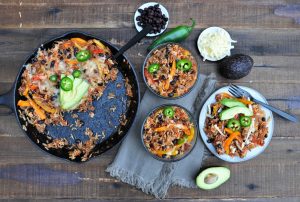 If you don't have a cast iron skillet or oven safe skillet or yours isn't big enough to hold all this goodness, feel free to make the meat & peppers. Then, transfer it all into a baking dish to mix the rest of the ingredients together. A 9 x 13 inch pan should be fine. You'll just have one extra dish to wash!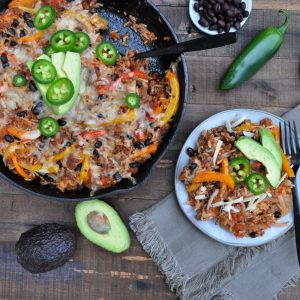 Fajita Skillet
Ingredients
2

Tbsp

avocado oil

1

pound

ground meat

<I used bison. Other ideas are ground turkey breast or 97% lean, 93% lean ground beef, veggie crumbles, or black beans.>

1/2

large

onion, sliced thin

2

bell peppers, sliced thin

3

cups

cooked brown rice

<I put 1 cup brown rice + 1 1/2 cups broth in the instant pot for 20 minutes>

16

oz

jar of your favorite salsa

1

can

black beans, drained and rinsed

1/2

cup

white cheddar cheese, shredded
Instructions
Preheat oven to 350 degrees.

In a large cast iron skillet <or an oven safe skillet>, heat 2 Tbsp avocado oil over medium/high heat. Add ground meat, breaking into pieces. Cook for about 3 minutes - it will not be cooked through yet.

Add the onion and pepper strips to the meat. Cook for 5 - 7 minutes longer, or until the veggies are soft and meat is cooked through.

Add cooked rice, salsa, and black beans. Stir well.

Top with shredded cheese and place the entire skillet into the oven. Bake for 15 - 20 minutes or until cheese is melted and bubbling at the sides.

Remove from oven and allow to cool slightly before serving. Top with avocado, sliced jalapenos, Greek yogurt or sour cream, or anything your heart desires!
Notes
Other Thoughts
Make this recipe your own! Use whatever ground meat you prefer. I recommend sticking with 93% lean or leaner beef and turkey, or bison. 
You can easily make this vegan with veggie crumbles and dairy-free cheese. 
A lot of the flavor in this comes from the salsa - so pick a deliciously flavored salsa for the best results. I used Aldi's 4 Pepper Mild salsa and it's my favorite! 
Save leftover rice for this recipe or even buy precooked, frozen brown rice to make this even more quickly. 
How-to-Use
Athletes: This recipe has it all. Protein - Carbs - Veggies - Healthy Fats. But, if you are in a higher volume training block, you may want to make tacos or a burrito out of this for the extra carbs. Just take this recipe and use it as a filling for tacos or a burrito. 
Healthy Eating: Who said healthy eating has to be boring, bland, and tasteless?! This quick meal comes together in a jiffy. Separate this out into 5 containers for lunches all week. Just store in the refrigerator and heat through before eating. 
Kids: Watch the heat in the salsa if this is for the whole fam. Let them help you make the rice or cut the veggies and they're more likely to try it.