What happens when you have a loaf of stale local multigrain sourdough bread you don't want to pitch?! You make a French Toast Bake. That was the inspiration for this recipe, and on a whim one morning, I decided to try to see how much protein I could also pack into it to make a balanced and delicious breakfast.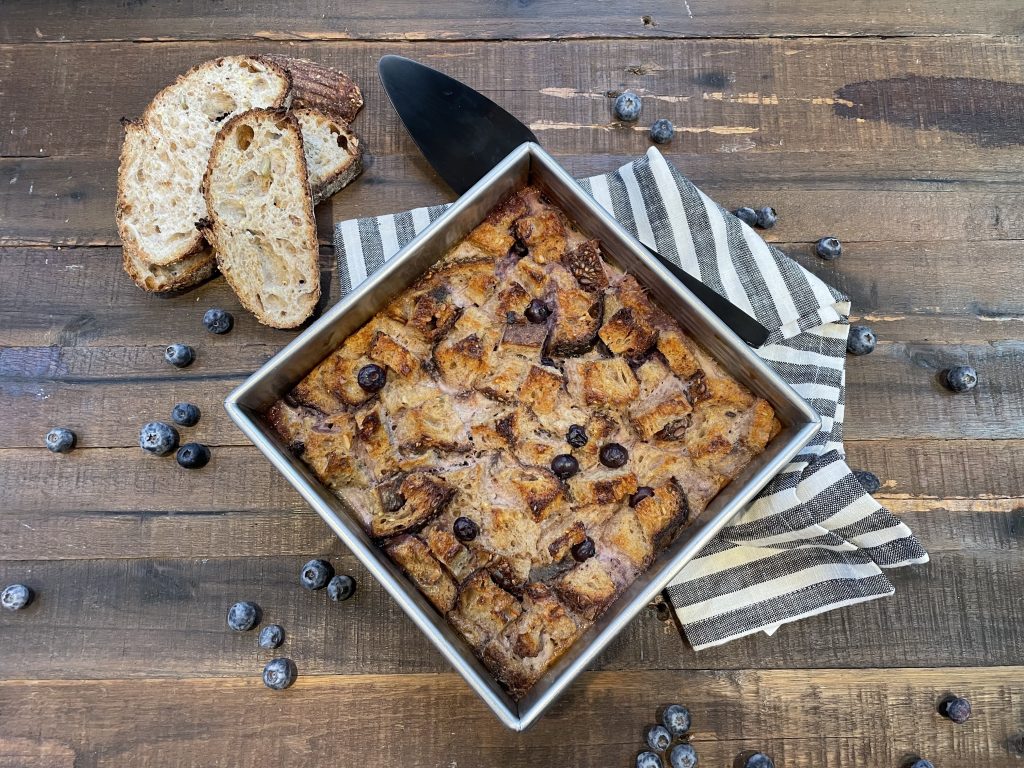 You'll be happy to know that 1/4th of this hearty bake is a serving and packs 20 gm of protein without adding protein powder or anything fake. It also packs a satisfying whole grains and fat punch. 
We're keeping it super simple and versatile by adding jam into the mix for flavor and sweetness. Use whatever jam you love + add any fruit you have on hand or leave it out. Nut lover?! Add some of those too. Make this your own and enjoy!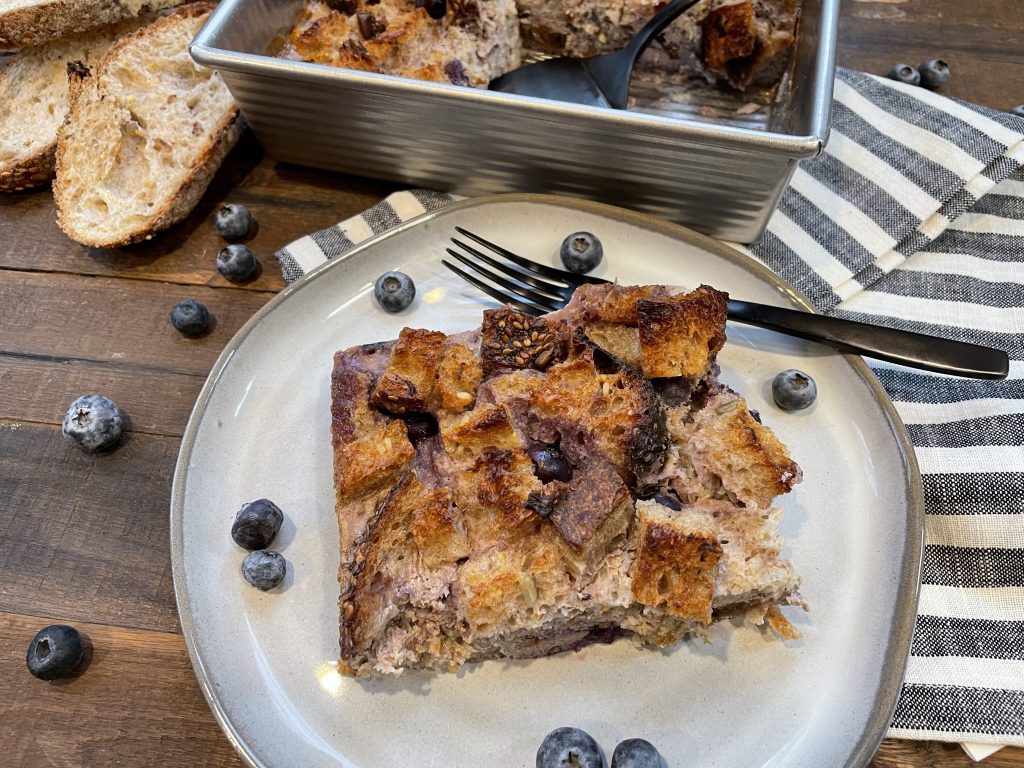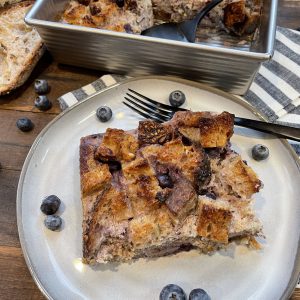 French Toast Bake
Ingredients
1

cup

Greek yogurt

<I used 2% fat>

1

cup

milk

<I used Fairlife>

⅓

cup

any flavor jam

<I used mixed berry>

4

large

eggs

1

tsp

vanilla extract

½

tsp

cinnamon

5

cups

stale whole grain bread, in 1 inch cubes

<cups can be mounded a little>

½

cup

berries
Instructions
In a large bowl, whisk together yogurt, milk, jam, eggs, vanilla & cinnamon. Whisk until well combined.

Dump in bread - mix carefully until all the bread cubes are coated. Next, carefully stir in the berries.

Pour into an 8x8 inch square pan or something of a similar size.

Cover and place in the refrigerator for 4 hours or overnight.

Uncover and bake at 350 degrees for approximately 45 minutes. The tops should be brown, and the liquid should be mostly absorbed.
Notes
Notes:
Make sure your bread is hearty and stale. I used a stale loaf of multigrain sourdough from a local bakery.
If your bread is not stale yet, toast it until crunchy & dried out. Allow cooling before cubing. 
Keep the yogurt-milk-egg base, but I think the options are endless for additions! Get creative and keep me posted on the best. 
How to Use:
Athletes: Go ahead, eat half of this bake! Or, if you want to stretch this to 4 meals - add a sliced banana, maple syrup and more Greek yogurt to make it a filling meal.
Healthy Eating: Get ready for a hearty serving of deliciousness for breakfast! One-fourth of this bake has 320 calories, 20 gm protein, 38 gm carbohydrates and 10 gm of fat. Remember that protein and fiber help keep us full. So use a higher-fiber bread + add a little extra Greek yogurt on top. 
Kids: Anything they can dump maple syrup on  is a hit, right?! Rest assured your kiddo is fueled up right for the day if you decide to share some of this with them.