This little recipe is gonna knock your socks off. If you're a creamy pasta lover but also love it when your meal leaves you feeling filled up on wholesome and solid nutrition, this recipe is for YOU.
I tend to shy away from cream sauces. I'm not sure why – I suppose just preference. But, I wanted to mix things up around here and go for it. And man am I glad that I did. Because this got a resounding YES from all parties involved in the taste test. <and we've made it twice this week already> 
I'm sure it's not shocking that I created a cream sauce out of olive oil and Greek yogurt – but it's legit. I promise. Now, if you want pasta drowning in cream sauce – this isn't the recipe for you. But if you're into a light sauce, full of flavor that lightly brings it all together – DIG IN.
This is another dish that we're combining all you need for dinner in one bite. Hearty, complex carbohydrates from the whole wheat pasta, protein from the shrimp, veggies and antioxidants from the spinach and a delicious sauce to bring it all together. Rest assured you're fueling up right with this meal.
This dish doesn't take long to throw together – especially if you follow my instructions below and have two steps going at once. The only downside is that it dirties 3 pans and a colander – so recruit your favorite kitchen cleaner upper to take that part off your hands.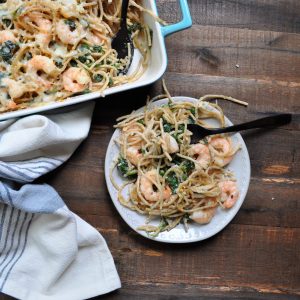 Garlic Shrimp & Spinach Alfredo
Servings
5
(approx 1 1/2 cups) 
Ingredients
12

oz

frozen shrimp

thawed

5

oz

fresh baby spinach

1

Tbsp

olive oil

2

garlic cloves

pressed or minced

salt/pepper

10

oz

pasta of your choice
Sauce
2

Tbsp

olive oil

4

cloves

garlic

pressed or minced

1

Tbsp

flour

1

cup

2% milk

2

Tbsp

Greek yogurt

3

Tbsp

Parmesan cheese

1/4

tsp

salt

Optional toppings: 1/4 cup mozzarella cheese + 1 Tbsp Parmesan cheese
Instructions
To thaw shrimp, place frozen shrimp in a colander and run cold water over them for 5-10 minutes until thawed.

In a medium pan, bring water to a boil for the pasta. Meanwhile in a small sauce pan start making the sauce.

To make the sauce, heat the olive oil over medium heat. Add garlic and cook for around a minute - don't let the garlic burn! Add flour and cook for around 30 seconds stirring the entire time to avoid burning. Add the milk and stir constantly making sure all the flour mixture is well incorporated and not stuck to the bottom of the pan. Bring to a boil. Boil for 2-3 minutes or until starts to thicken. Stir throughout to avoid sticking and burning. Remove from heat. Whisk in Greek yogurt, Parmesan cheese, and salt. Set aside.

Throw your pasta into the boiling water to cook. Meanwhile, cook your spinach and shrimp.

In a skillet, heat olive oil over medium heat. Add garlic and spinach. Cook until spinach is wilted. Push spinach to the side of the pan. Add shrimp and a little salt and pepper. Cook the shrimp until pink.

Drain your pasta and place it back in the medium saucepan. Add sauce and spinach/shrimp mixture. Note: if there is some water in the spinach pan, scoop out the spinach and shrimp. Try not to add the excess water. Combine with tongs.

Pour into a baking dish (9x9 or 11x7 or pie pan) and top with extra cheese if you want.

Bake in a 350 degree oven for 10 minutes. Broil to brown the top if you want to get crazy. Note: don't broil glass pans!
Notes
Other thoughts:
You could get precooked shrimp and throw them in to warm with the spinach. I just like the texture of freshly cooked shrimp better.
You can easily make this ahead. Just don't bake it. Cover it with foil and store in the refrigerator. Bake at 350 degrees covered for 25-30 minutes or until warmed through.
You can use whatever brand and shape of pasta you want. We used whole wheat spaghetti. But, I'm dying to try it with penne red lentil pasta!
Easily made gluten free with gluten free pasta and a Tbsp of gluten free all purpose flour in the sauce.
How-to-Use:
Athletes: Get after this post training to replenish lost glycogen stores, build back up damaged muscle, and satisfied even the largest of appetites. Portions are easily adjustable to your hunger and training level.
Healthy Eating: Balanced meals with a hefty side of satisfaction. Sounds just about perfect.
Kids: My daughter can't get enough of this. She's my little shrimp thief. My son on the other hand prefers the pasta without a trace of spinach or shrimp. All kids have different taste preferences and adventure levels when it comes to eating. Exposing them to new foods on their plate and on the table, even if they don't ever get placed in their mouth is important. Remember - as parents, our role is to provide the healthy, balanced meals - the kids role is to choose how much to eat. And sometimes, that will be nothing.