We're smack dab in the middle of 'you're not gonna see the sun again for 3 months' season. Okay, maybe I'm being kind… it's probably more like 5 months total. Nothing brightens these gloomy days more than a bright, summery pasta salad! This recipe was designed to have a 50-50 ratio of pasta to veggies. But, feel free to play with that and adjust to your own nutrition needs.
The ginger, soy sauce, garlic, sesame oil dressing on this is so good I could drink it. Promise I won't though… I might lose some friends. Plus, a little honey and molasses for flavor and sweetness. Delish. This salad is awesome right after you make it. But, also fabulous the next day. In classic pasta salad style, the flavors mingle and get even more delicious as it sits. You maaaay wanna add this to your meal prep routine this weekend.
A friend sent me a photo from the pasta aisle the other day totally baffled and unsure what to buy. <<Another reason to shop Aldi instead- limited choices>> And, I kid you not, there were 41 different choices and 16 different brands in ONE photo frame. Now, I promise, as long as you don't have a food allergy or super sensitive GI tract you can't choose a 'wrong' pasta. You just need to determine when you are going to eat said pasta and what your goals are then. All the rage right now are bean based pastas. Instead of using wheat flour, they use bean flour (plus some brands add other ingredients) which increases the protein and fiber significantly. This is great to promote satiety (feeling full) and meeting your protein needs with a plant based protein. This is not great if you are planning on tapping into this energy for exercise shortly after eating. In that case, you may want a lower fiber, lower protein pasta.
I tend to lean towards red lentil pastas. They are very high in iron (40-50% of your daily needs per serving) and tend to be lower in fiber (around 5 grams per serving vs 15 grams in black bean pasta) for my GI comfort during training. But one thing is a must… you MUST rinse the pasta with cold water after cooking. This rinses off the gummy starch and film that the beans produce while being cooked. Don't forget this part of you will curse my name and never make one of my recipes again!
So, if you bought 4 boxes of red lentil rotini from Aldi last week, you're totally set to make this…. 4 times! Feel free to sub in whatever pasta you like best and meets your nutrition goals.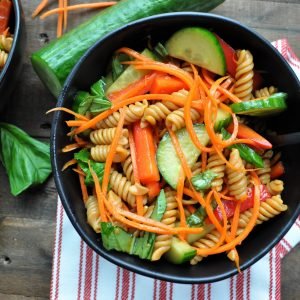 Ginger Veggie Pasta Salad
Ingredients
12

oz

red lentil pasta rotini

or pasta of choice

1

medium seedless cucumber

sliced

2

carrots

sliced (or 1 cup matchstick carrots)

1

red bell pepper

diced

1/4

cup

fresh basil

sliced
Dressing
3

Tbsp

avocado oil

or oil of your choice

1

tsp

sesame oil

1

Tbsp

honey

2

tsp

molasses

2

Tbsp

tamari

or soy sauce

2

Tbsp

rice wine vinegar

1

tsp

ginger

freshly grated

1

large garlic clove

freshly grated (approx. 1 tsp)

1/4

tsp

salt
Instructions
Cook pasta according to instructions. Caution: some bean based pastas cook up quickly to mush. Check them early and adjust to your preferred doneness. Drain in a colander and RINSE with cold water. Rinse it well. Don't skip this part!!! Bean pastas leave a filmy, sticky residue if you don't rinse them.

In a medium bowl, combine all the dressing ingredients. Whisk well. Use a microplane to grate your fresh ginger and garlic.

Add the pasta, veggies, and basil to your dressing bowl. Mix everything together. Enjoy!
Notes
How-to-Use:
Athletes: It's no secret I think red lentils are one of THE best foods for athletes to eat. Great source of complex carbs, protein, and iron. Basically, they are natures best friend for athletes. I highly appreciate that they are now using red lentils to make pasta. Each serving of this dish provides 25 grams of protein, 65 gm of complex carbohydrates, and 50% of your daily iron needs.
Healthy Eating: There are a gagillion (technical term) pasta options out there now. You are sure to find one that meets your nutrition needs. Spend some time perusing the pasta aisle at the store and see what meets your needs. Also love this recipe because it's 50% high protein pasta & 50% veggies. Just that easy, just that quick to have a balanced meal on the table.
Kids: Fingers crossed the kiddos accept this with loving arms like Annie's Mac-n-Cheese. Know your kids - if things mixed together isn't their jam, separate out the veggies and pasta. Remember, exposure is worth something. Seeing it on their plate is worth something. Licking one piece is worth something.
Other Thoughts:
If you have the time to let this sit over night or for a few hours, it's even better! But if you cannot resist, it's still delish right away.
Most bean pastas are also gluten free, so this dish as written is gluten free. Remember to use Tamari (similar to soy sauce but gluten free) if you are making this for a gluten free friend or relative.
To make this vegan, sub maple syrup for the honey.