I take requests and you all were loud and clear with your need for a Gingerbread Blender Muffin – so here we are! I have to admit – I wasn't sure how these would turn out at first, but they knocked the kids and I's socks off. Hope they knock yours off as well.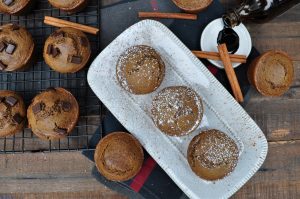 What really makes gingerbread – gingerbread is the tremendous amount of spice. These guys pack lots of dried, ground spices + molasses to give these that gingerbread vibe we're all going for. I took these to the family over Thanksgiving to try – and some people didn't think they were all that 'spicy' – I did. So, you be the judge! If you like to keep things spicy, feel free to increase the spice load.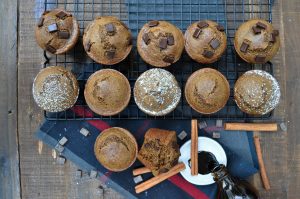 Grab your blender and get ready for the easiest muffins around. If you're new to the blender muffin recipes around here, they use oats for the substance of the muffin, so can easily be made gluten free. You toss all the ingredients into the blender and let the blender do the work. Just that easy, just that quick. If you're curious – these are Blender Muffin Version 6.0. If you're really curious, here are the other flavors: The OG Chocolate, The non-banana non-dairy Chocolate, Apple Cinnamon, Lemon Blueberry, Chocolate Chip Zucchini, and now, behold Gingerbread.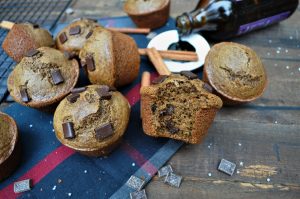 Next is the big debate whether to add chocolate chips or not. We are a house divided. If you too have a divided house, fill half of your muffin tins with the batter – then stir in a handful of chocolate chips <dark chocolate chips if you have them> and everyone is happy. Or, do a little taste test yourself!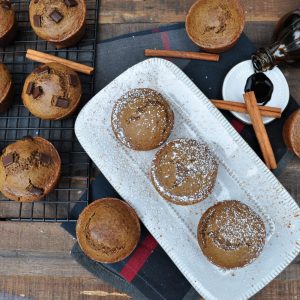 Gingerbread Blender Muffins
Ingredients
2

eggs

1/2

cup

brown sugar

1/4

cup

molasses

3/4

cup

Greek yogurt

1/4

cup

almond butter

1/2

cup

milk or milk alternative

2 1/2

cups

oats

1

tsp

baking soda

1

tsp

baking powder

1

tsp

vanilla extract

2

tsp

cinnamon

2

tsp

ground ginger

1

tsp

nutmeg

1/4

tsp

ground cloves

1/2

tsp

salt

Optional: 1/2 cup chocolate chips
Instructions
Preheat oven to 350 degrees.

Grab a 12 cup muffin tin and spray or grease each cup.

In a high powered blender, add eggs, brown sugar, molasses, Greek yogurt, almond butter, milk, oats, baking powder & soda, vanilla, cinnamon, ginger, nutmeg, cloves, and salt.

If you're adding chocolate chips, mix them in here by hand but save a few for the top of the muffins.

Pour evenly into muffins tins.

Bake for 18 - 22 minutes. Watch for muffins to start to pull away from the edge of the pan and brown on the side. Or, when a toothpick comes out of the center clean. Remove from oven. Remove from pan and allow to cool on a rack. Watch them - they get dry is you overbake them.

Enjoy warm! Store on the counter for 2 - 3 days, in the refrigerator for a week, or freeze for up to 3 months. Warm in the microwave for a couple seconds before you enjoy!
Notes
Other Thoughts
All the blender muffins use oats as the 'substance' of the muffins. This means they can very easily be made gluten free with gluten free oats, if needed. 
You can also make them dairy free with plant based yogurt.
And, we've have many people use flax eggs in the other blender muffin versions. I have to imagine it will work here too. 
If you don't have a blender, but you DO have a food processor, this will work. Process the oats first until they form a flour. Then, add the rest of the ingredients and process well. If your food processor isn't big enough for this - process the oats and stir in the rest in a large bowl. 
How-to-Use
Athletes: Like all the other Blender Muffins - these make a great snack between solid meals. I've also had many clients toss two muffins into a bowl, pile it high with Greek yogurt, and add some fruit + almond butter drizzle for a solid meal. The options are endless! 
Healthy Eating: Who says healthy eating has to be boring?! Make yourself some blender muffins for a tasty snack that'll bring you some holiday cheer too. 
Kids: We got two big thumbs up over here from the 4 and 6 year olds for these blenders. They eat a chocolate banana blender muffin for 80% of their breakfasts, so I wasn't sure how a spicy addition would stack up. But, it did! Smith says they're better without chocolate chips. Sloane says 'moooore chocolate chips.' Let me know if you're team Smith or Sloane!