As much as I hate the word loaf, it's the most accurate description of this here quick bread. When you think of gingerbread – typically it's not really 'bread' but a cookie or cake. So at the risk of sounding like a bimbo calling it Gingerbread Bread, we arrived at loaf. <<However, I cannot get my brother and cousin's 10 year old voices out of my head using 'loaf' to refer to something we'd rather not think about eating>> 
Nothing screams Christmas quite like gingerbread. The key to gingerbread is the spices – mainly ginger – and molasses. Molasses is actually a byproduct of the sugar-making process. When they boil down sugar cane or sugar beets, the sugar crystallizes and is removed. This is what we commonly see as white table sugar. Molasses is the thick, brown syrup that remains.  There are different types of molasses, which come from different boils. Molasses <<light (boiled once), dark (boiled twice), and blackstrap (boiled three times)>> contains less sugar and more nutrients the more times they are boiled. Blackstrap molasses is rich in iron, potassium, calcium, and antioxidants. While molasses is certainly considered a sugar, this unrefined sweetener choice provides significant nutritional perks beyond the white stuff, especially for all the iron deficient runners out there.
If you're looking for something to serve or take to a family/friends house this week, I gotcha covered here guys. Just let it cool. Wrap loosely in parchment paper and tie a ribbon around it. Tada! Fancy pantsy. <<but not really…>>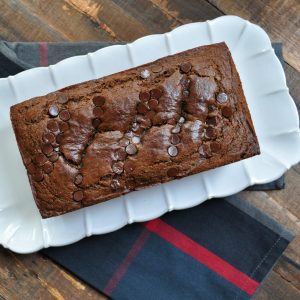 Gingerbread Chocolate Chip Loaf
Ingredients
1 1/2

white whole wheat flour

1

tsp

baking powder

1/2

tsp

baking soda

1

tsp

ground ginger

1 1/2

tsp

cinnamon

1/4

tsp

salt

1/3

cup

avocado oil

or neutral flavored oil of your choice

1/3

cup

blackstrap molasses

1

egg

2/3

cup

Greek yogurt

1/2

cup

2% milk

1/2

cup

maple syrup

1/3

cup

chocolate chips
Instructions
Preheat oven to 325 degrees. Grease 8 1/2 inch loaf pan.

In one bowl, mix together flour through salt. In a second bowl, mix together oil through maple syrup.

Add the dry mix to the wet mix. Stir just until combined. Fold in chocolate chips. (Save some for the top if you want to get fancy.)

Pour into prepared pan.

Bake for 50-60 minutes or until toothpick inserted into the middle comes out clean.
Notes
Other Thoughts:
If you don't have blackstrap molasses, you can certainly use another kind. It just won't have as much iron, calcium, and potassium.
This bread has some spice to it from the ginger. If you're ginger spice averse - maybe try 1/2 tsp of ground ginger.
These would make terrific muffins, however I haven't tried yet! Let me know how long 12 muffins need to bake. Cook until a toothpick inserted into the center comes out clean.
How-to-Use:
Athletes: Thanks to the blackstrap molasses and whole wheat flour 1 slice of this bread provides 25% of your daily iron needs. That's incredible! And, to me, way tastier than a steak. Adequate iron stores allow maximal oxygen transportation in our body and translate into better athletic performance.
Healthy Eating: Chock full of whole grains, healthy fats, and nutrient rich molasses this is a holiday bread that is such to pack a solid nutrition punch with a side of satisfaction.
Kids: Find me a kid who turns down a cake-like bread with chocolate chips in it, and I want a picture with him/her! Fill them up with this well balanced bread before the cookie trays flood the scene.