Chewy – sink your teeth into – goodness in a better-for-you cookie is coming atcha. And, it only has 6 simple ingredients that you probably already have hanging around the house.
My Grandma Smith was THE best baker around. Cakes – Pies – Cookies – You name it. She kept a hand written recipe book of all her baked goods that were well loved by her grandkids. They were also covered in the ingredients for said recipe on each page. <think cream pie page covered in old custard > Full of love! This past weekend my mom made her Rice Crispy Treats for a church function and reminded me of my love for them. So naturally, the next day I had to see if I could 'Meghann' them without totally ruining the taste and texture. And, I have to say – this recipe is REALLY close. <But if you want the real deal, here it is>
I'm sure my Gramma is rolling her eyes at me while laughing up in heaven for messing with perfection not understanding why I would want to take the 2 cups of sugar and corn syrup down a notch. Just like she never quite understood why I would want to run 26.2 miles for fun. The ironic part is – I'm fairly certain a decent portion of my personality that allows me to be successful in the marathon comes from her.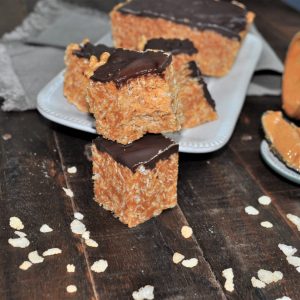 Gramma's Rice Crispy Treats
Ingredients
3/4

cup

peanut butter

natural

3/4

cup

honey

1

Tbsp

avocado oil

1

tsp

vanilla

3 1/2

cups

crispy rice cereal

1/3

cup

dark

or semisweet chocolate
Instructions
In a medium saucepan, add peanut butter, honey, and oil. Heat over medium heat - whisking occasionally. Bring to a boil - you will see little bubbles on the sides and maybe a spatter in the center. Whisk constantly for 2-3 minutes or until the mixture thickens and starts to pull away from the pan. This is how you know it's done.

Remove from heat. Whisk in vanilla.

Stir in crispy rice, gently.

Line a pan with parchment or wax paper. (I used an approx. 3 x 6 pan. Or, you can press into an 8 x 8 pan and just fill half of it for a thick treat, or press into the entire pan for a thinner treat. Or, press into a bread loaf pan. You decide!)

Allow to cool.

Melt chocolate in the microwave and coat the top. Allow to harden.  (If you want to speed up the chocolate hardening process, put in the freezer for 10 minutes or so.)

Cut into 15 squares.
Notes
Other Thoughts:
Make these gluten free with gluten free crispy rice cereal.
Use dairy free dark chocolate to make them dairy free.
How-to-Use:
Athletes: I might have carb-ed it up for a tough week of training with these and they come highly recommended for that intention!
Healthy Eating: So often, its a texture + a flavor that you are after from an original rendition of a favorite food or dessert. These nail it both. The texture of this is chewy but crunchy + a flavor so similar to the real thing it's mind blowing.
Kids: My kids literately ate these back to back days with the original and made no comments. This seems like a win to me.