I'm not sure if it's my wishful thinking that Spring is on the way or the fact that we've watched Peter Rabbit no less than 95 times this week… but we've got carrot cake bread on our minds over here.
This quick bread is lightly sweetened with a ridiculously perfect texture – the opposite of dry, for my fellow 'm' word avoiders. Sometimes using whole grain flours leads to dry, boring baked goods. They absorb more liquid than the processed, white flour counterpart. This recipe counters that with crushed pineapple, carrots, yogurt, avocado oil, and an extra egg. These add a ton of moisture and make a legit bread. So legit you might demolish the whole loaf in less than 24 hours…. speaking from experience! <<Kid #1 ate 1/4th of the loaf when he got up from his nap. For my selective eater, this was highly welcomed!>>
So now that we nailed the moisture level in the bread, we just needed to nail the texture. Between the shredded carrots, pineapple chunks, and chopped pecans this won't disappoint on the texture front. Plus, you have to throw a quick topping of pecans, a little brown sugar, and sprinkle of cinnamon to add that perfect crunch on the top. <<Said kid #1 ate the top off each piece first… can't say I blame him!>> 
Give it a whirl and lemme know what you think! But don't say I didn't warn you that it's gonna go FAST.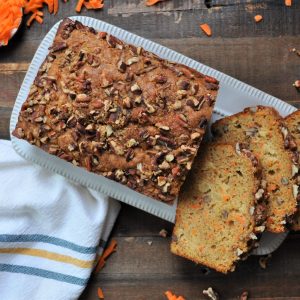 Healthy Carrot Cake Bread
Ingredients
1 1/2

cups

white whole wheat flour

1/2

tsp

baking powder

1

tsp

cinnamon

1/4

tsp

nutmeg

1/4

tsp

salt

1/4

cup

pecans

chopped

2

eggs

1/4

cup

avocado oil

1/2

cup

plain yogurt

whole milk

1/2

cup

brown sugar

1

tsp

vanilla

1/2

cup

canned pineapple

crushed - drained of juice

1 1/2

cups

shredded carrots

about 3 large carrots
Topping - optional
1/4

cup

pecans

chopped

1

Tbsp

brown sugar

1/4

tsp

cinnamon
Instructions
Preheat oven to 350 degrees. Grease an 8-9" loaf pan.

In a small bowl, mix white whole wheat flour, baking powder, cinnamon, nutmeg, salt, and pecans. Set aside.

In a medium bowl, whisk together eggs, oil, yogurt, brown sugar, and vanilla. Fold in pineapple and carrots.

Add flour mixture to the carrot mixture. Stir until combined.

Pour into prepared loaf pan.

Mix the topping ingredients - pecans, brown sugar, and cinnamon - and evenly sprinkle on top

Bake for 50-60 minutes or until loaf is brown and toothpick inserted into the center is clean. (I used an 8 1/2" pan and it took exactly 55 minutes.)

UPDATE (3/31/19): These make 12 perfect sized muffins too! Grease muffin tins and bake for 28-30 minutes or until toothpick inserted in the middle comes out clean.
Notes
Other Thoughts:
Rather than chopping pecans, you can buy the pecan pieces.
Buy the crushed pineapple that is in its own juice. This minimizes the added sugar.
If your bread lasts more than 48 hours on the counter, store in the fridge to extend it's life.
You can also freeze it for 3-4 months.
How-to-Use:
Athletes: Enjoy a large slice with a cup of greek yogurt for a balanced breakfast. Or, eat a slice post workout to start replenishing those glycogen stores.
Healthy Eating: Get your fruits and veggies while eating some delicious bread! I mean - this right here is what dreams are made of.
Kids: Again, I cannot stress the importance of getting kids in the kitchen to help make foods like this bread. Then, sharing in the delicious final product. Plus, this got at least 2 thumbs up from my kid who isn't sure he likes many foods right now.