Fun fact: You don't need an excuse to bake a cake. It's perfectly acceptable to bake one for the heck of it. (or, for the health of it?!) And this cake certainly classifies as healthy, but I promise it doesn't taste like it!
With an avocado on the verge of imploding (ie. getting way too ripe) and bananas on the same boat, I wanted to bake something where the avocado could replace the fat (ie. butter or oil) and bananas could replace some of the sugar. Avocados have a distinct flavor to them in baked goods that is only masked by chocolate (in my opinion), so it was a pretty easy decision to settle on a chocolate something-a-rather. That's when I saw my grandma's milk glass cake stand staring at me from the hutch. And, I said 'cake it is gramma!'
Because this cake is made with avocado, bananas, and 100% whole grain, it is rather dense. My husband doesn't think I should call it a cake. He thought it was more like a brownie. But, my blog – my rules… and I think it's a perfect dense, fudgy cake!
We're also 10 days into potty training our almost 3 year old son. I can honestly say this has been the least enjoyable parenting experience yet. I know hind sight is 20-20 but I'm gonna throw out there this has been harder than sleep training. Eeeeck!!! So eating this cake for dinner last night legit saved the day…. maybe even the week. Everyone was instantly happy. I didn't plan on this being dinner… but that's all everyone wanted and I'm in desperate need of a grocery trip. So, cake (+ wine and beer for the parentals) and we called in a night!
And, I can say my long run this morning didn't suffer from fueling with cake the night before – so I think we're onto something here!
---
ADDENDUM (May 22nd 2019): This made an incredible 2 layer cake for my daughter's 2nd birthday. Double the recipe and make 2 cakes. I wanted a thicker, richer frosting for a birthday cake. We recently had a cake with tofu frosting and it was shockingly fantastic, so I decided to come up with something along those lines. And it was delicious. Find both icing/frosting options in the recipe below.
This exact same cake made another appearance at Sloane's 3rd Birthday – just with different sprinkles!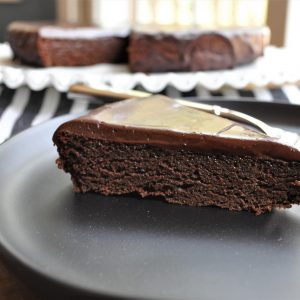 Healthy Chocolate Fudge Cake
Ingredients
Cake
1

avocado

2

ripe bananas

1

egg

1

tsp

vanilla

1/3

cup

milk

or milk alternative

1

cup

white whole wheat flour

1/3

cup

sugar

or sweetener of choice

1/2

cup

cocoa powder

1

tsp

baking soda
Simple Icing
3/4

cup

chocolate chips

1/4

cup

milk

or milk alternative
Tofu Frosting
12

oz

firm tofu

1/4

cup

milk

or milk alternative

2

tsp

vanilla

3/4

cup

powdered sugar

12

oz

bag of semi-sweet chocolate chips
Instructions
Bake Cake
Preheat oven to 350 degrees. Grease a round cake pan and set aside.

In a food processor, blend avocado, bananas, egg, vanilla, and milk. If you don't have a food processor, mash the banana and avocado well. Then, whisk all the ingredients together until smooth.

Place mixture into a medium bowl. Add flour, sugar, cocoa powder, and baking soda. Fold just until combined.

Spread cake batter into greased cake pan. Batter will be thick. Spread until the batter is even and to the edges of the pan.

Bake for approximately 24 minutes, or until the center is firm and/or a toothpick inserted into the middle comes out clean.

Allow to cool slightly. Then, flip cake onto a cooling rack so that the top of the cake is against the rack.
Make Simple Icing
Once cake is completely cooled, make the icing. Place chocolate chips and milk in a microwave safe container. Microwave for 30 seconds. Whisk together.

Pour icing over cake. Push to the sides if you want it to run over the edges.

Allow icing to set before cutting.
-OR- Make Tofu Frosting
In a blender combine 12 oz firm tofu, 1/4 cup milk (or milk alternative), 2 tsp vanilla, and 3/4 cup powdered sugar.

Melt a 12 oz bag of semi-sweet chocolate chips in the microwave. Allow to cool slightly.

Add to blender and combine until smooth. Frost immediately. Or, refrigerate until needed. Just let it come to room temperature before frosting.

Store in the refrigerator for up to 5 days.
Notes
How-to-Use:
Athletes: Apparently you can fuel long runs with this cake.... but I prolly wouldn't recommend it on the regular. This is an antioxidant bomb from the cocoa powder, avocado, and whole grains, plus loads of potassium from those bananas. Rather than pre-long run, I'd suggest this post-long run.
Healthy Eating: Healthy eating isn't healthy eating without chocolate. There's really nothing more to say on this matter....
Kids: It's always nice to feel good about your kids eating dessert. We're always striving for balance in the sweets department and throwing some healthier sweets into that mix is never a bad idea.
Other Thoughts:
Easily made gluten free with gluten free flour mix.
Can be made vegan with a flax egg (1 Tbsp ground flaxseeds + 3 Tbsp water, let sit 15 minutes), dairy-free milk alternative, and dairy free chocolate chips.