I went out on a limb with these guys – didn't add any flour or butter – and I totally don't regret it. Naturally gluten free and full of healthy fats – almond butter, almond flour, hemp seeds – but they'll fool you into thinking they're the real deal. Crisp on the outside. Chewy on the inside. And, they passed the overnight test with flying colors. <There's nothing worse than a cookie that goes from good to terrible overnight.>
Hemp seeds are rich in polyunsaturated fats, iron, and protein. Hemp has both the essential fatty acids Omega-6 and Omega-3 in about a 3:1 ratio. So while hemp seeds are not as rich in Omega-3's as chia seeds or flaxseeds, they are another fun choice to switch things up for healthy fats. Hemp seeds have a mild, slightly nutty flavor and almost melt into baked goods for a creamy, buttery-like consistency. Perfect for cookies! Because they have a slightly earthy and nutty flavor, they work really well in a cinnamon, oatmeal raisin cookie. <My first batch of hemp cookies was chocolate chip. They were good – but I knew they'd be amazing with some oats, cinnamon, and raisins instead.> 
You can never have too many cookie recipes, right?! Add these into your mix and I know everybody around you will appreciate it. Feel free to add in some walnuts, or dried cherries, or more almonds…. make them your own. Or, make them as is for all you all oatmeal cookie purists out there. <myself included>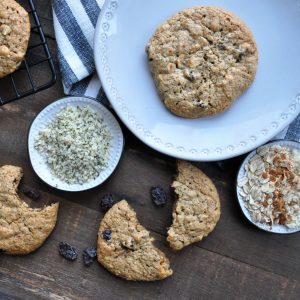 Hemp Oatmeal Raisin Cookies
Ingredients
1/2

cup

almond butter

natural - drippy

2

eggs

1

tsp

vanilla

1/2

cup

brown sugar

1/2

cup

old fashioned oats

1/2

cup

almond flour

1/2

cup

hemp seeds

shelled

1/2

tsp

baking soda

1/4

tsp

salt

1

tsp

cinnamon

1/3

cup

raisins
Instructions
Preheat oven to 350 degrees. Line a baking sheet with parchment paper.

In a small bowl mix first 4 ingredients - almond butter, eggs, vanilla, and brown sugar.

Add the remaining ingredients and stir well. The batter will be thick and sticky.

Using a spoon, plop a heaping spoonful onto the tray. This will puff and spread a lot. Leave at least an inch around all sides. I only put 8 cookies per tray.

Bake for 12-15 minutes or until edges start to brown.

Remove from oven and allow to cool slightly on the tray before removing with a metal spatula and cooling on a cookie rack.
Notes
Other Thoughts:
Not a fan of oatmeal raisin? Oatmeal cherry sounds delish. So does oatmeal chocolate chip!
Keep on the counter in a sealed container for several days, or freeze for months.
Use gluten free oats, if needed.
How-to-Use:
Athletes: These are great for any time that sweet snack attack hits. Full of healthy fats, iron, protein, and complex carbs.... you can get your sweet fix with a side of some hefty nutrition.
Healthy Eating: These cookies are full of healthy fats (almond butter, almond flour, and hemp seeds) to satisfy any appetite and sweet hankering.
Kids: So crispy on the outside and so chewy on the inside no one will even know these cookies are actually good for them!