Mission get more people to eat tofu recipe #2. The first was these stuffed shells – and I'm willing to place some money on the fact even your tofu shy life mates will dig these. You decide if you tell them it's tofu or let them think it's chicken. 
These guys are loaded up on high protein plant foods. Where's the protein coming from? So many places!!! Quinoa – Tofu – Black Beans are the main protein contributors. But, all plants and grains have some degree of protein – so when you mix all these guys together – you have yourself one balanced and tasty taco!
If you are new to tofu, make sure you press some of the water out of it before you cook it to help improve the texture. You can do this by wrapping the tofu in a clean kitchen towel and putting a heavy object on top of it. <<like a big can, a cast iron skillet, or a full growler>> Let it sit for a little while – until the towel is soaked – and you're good to go. I just ripped the tofu into odd shaped chunks as I think this resembles meat a little more than cubed tofu.
I highly recommend taking the extra step to make the avocado sauce. It really brings it all together. I always use my food processor – but I'm sure your blender would work well too. Don't even worry about chopping your cilantro – just throw the whole thing, stems and all, right in there. Promise, it's that easy.
Top these guys with anything else you want. Salsa – more avocado – lime juice – hot sauce – whatever looks good!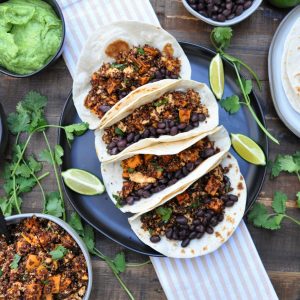 High Protein Vegan Tacos
Ingredients
2

medium sweet potatoes

peeled & diced (smaller chunks)

1

block tofu

pressed and crumbled (slightly bigger chunks than the sweet potatoes)

3

Tbsp

avocado or olive oil

2

Tbsp

diced chipotle peppers + sauce

more peppers/seeds = spicier, adjust as needed

1/2

tsp

oregano

2

tsp

chili lime seasoning

from Trader Joes or Tajin

1

Tbsp

avocado or olive oil

1

cup

quinoa

uncooked

2

tsp

chili powder

1

tsp

cumin

2

cups

vegetable broth

1/3

cup

fresh cilantro

chopped

juice of 1 lime

1

can black beans

drained and rinsed
Avocado Sauce
1

ripe avocado

2

garlic cloves

1/3

cup

cilantro

stems and all

1/4

tsp

salt

juice of 1 lime

3 - 4

Tbsp

water

8-10

small corn or flour tortillas

Optional: limes

salsa, cilantro, hot sauce, etc.
Instructions
Preheat the oven to 425 degrees.

In a bowl combine, sweet potatoes, tofu, oil, chipotle peppers, oregano, and chili lime seasoning. Mix well. Note: make sure you press some of the water out of the tofu before cooking. You can do this by putting your block of tofu between kitchen towels and placing a heavy can or object on top - for 15-20 minutes or longer, if you remember.

Pour onto baking sheet lined with foil. Bake for 15 minutes, flip with a metal spatula, and bake another 5 - 10 minutes. Potatoes should be cooked through and tofu should start to brown.

Meanwhile, place 1 Tbsp oil in a medium sauce pan and heat over medium high heat. Add uncooked quinoa, chili powder, and cumin. Toast for 3-5 minutes stirring occasionally. Add vegetable broth. Cover and bring to a boil. Once boiling, reduce to a simmer and cook for 15 - 20 minutes or until broth is absorbed and quinoa is cooked through.

In a large bowl, combine sweet potato and tofu with the quinoa. Add cilantro and lime juice. Stir to combine. Your filling is finally done!

In a food processor or blender, combine the avocado sauce ingredients - avocado, garlic, cilantro, salt, lime juice, and water. Blend well. Add water until it is the desired consistency.

Make your tacos! 3/4 cup quinoa filling + 1/4 cup black beans + 1 Tbsp avocado sauce + 1 tortilla
Notes
Other Thoughts:
This filling is awesome alone, if tacos aren't your thing. But if that's the case, we might not be friends. 
This is a great make-ahead recipe - or meal prep for the week.
How-to-Use:
Athletes: Each taco is packed full of complex carbohydrates, plant-based protein, and healthy fats. One taco has 15 gm protein and 40 gm carbohydrates - but who says you have to stop at one?!
Healthy Eating: Build your own taco to your liking - or make it into a bowl - or put it over greens for a salad. The options are endless! Look into different tortillas to dramatically change the overall nutrition - corn tortillas, higher protein wraps, or whole wheat wraps are just a few options.
Kids: Let your kiddos build their own taco and they are much more likely to try new things.