To pay tribute to National Dietitian Day and the box of Samoas girl scout cookies I demolished this week, I've got a copycat girl scout cookie recipe all ready for you!
Without fail, every year our house is helping those girl scouts learn about sales, running their own business and money management. And, I learn that I absolutely love Samoas. I always try to get adventurous and try something new. Read: the s'mores cookies that left me thoroughly disappointed. Only to wish I would have solely purchased the round, carmely, chocolate drizzled lovelies that are Samoas.  They never let me down.
Well… except when you read the nutrition label and the first ingredient is sugar. Let's be honest this never deters me from finishing the box. But, this year it did inspire me to come up with my own version… where the first ingredient wouldn't be sugar. But let's keep it real people, a copycat version absolutely needs SOME sugar.
The crust is made from whole grain oats and white whole wheat flour for more fiber and nutrients. But, we certainly needed to keep some sugar and butter in to keep this a true copycat cookie. If you're never tried date caramel, get ready to have your world rocked. This stuff is super easy to make and even more super to eat. Read: licked that spoon clean! Then, these hunks of yum are drizzled with a melted 70% dark chocolate bar to finish it off. Prepare to be amazed!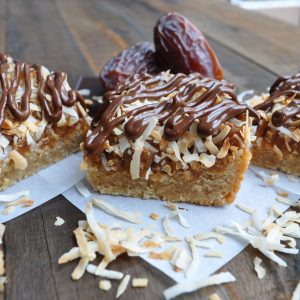 Homemade Samoa Bars
Ingredients
Cookie Layer
1/2

cup

old fashioned oats

1/2

cup

white whole wheat flour

1/2

cup

granulated sugar

1/4

cup

butter

cold, cut into chunks

1/4

tsp

salt

1

Tbsp

liquid

water, milk, almond milk
Caramel Layer
15

Medjool dates or 1 cup firmly packed

1/2

tsp

vanilla
Toppings
1/2

cup

coconut

shredded, unsweetened

1/3

cup

dark chocolate

chopped (or chocolate chips)
Instructions
Preheat oven to 350 degrees. Line a 8.5" loaf pan with parchment paper. Make sure paper is hanging out the two sides for easy removal at the end.

Warm a skillet to medium heat. Add coconut and toast for approximately 4-5 minutes. Watch closely and stir to prevent burning.

To a food processor, add oats. Process until it becomes a flour. Add whole wheat flour, sugar, butter, and salt. Process until combined. Drizzle liquid until a dough is formed. I only needed 1 Tbsp.

Press dough firmly into the bottom of your pan. Bake for 25 minutes or until the edges start to brown.

Meanwhile, place dates and vanilla in clean food processor. Process until a paste is formed.

Remove cookie crust from the oven after 25 minutes. Spread date caramel over bars. (Tip: microwave for 15-20 seconds to make spreading easier.) Pour coconut evenly over the top and press down.

Bake for 5 more minutes. Remove from oven and allow to cool.

Melt chocolate in the microwave. Drizzle over bars.

Store in the refrigerator.
Notes
How-to-Use Guide:
Athletes: Dates are an awesome source of fuel for workouts. Feel free to eat one of these to help you power through that endurance work!
Healthy Eating: A whole grain, higher fiber, healthier carbohydrate cookie alternative to the boxed version.
Kids: Try putting a cookie on their plate with dinner tonight. Start the idea of normalizing sweets. Allow them to choose the order they eat the foods on their plate. You may be amazed.... they may not even finish their cookie!
Other Thoughts:
If you don't have a food processor, you can use your blender to make the oat flour. I've tried to make the date caramel in the blender - it's doable, but some tough work! Get your scraper and brawn out!
I highly recommend Medjool dates for the caramel. (Bonus- my Aldi's always has them so I bet yours will too.) If you use another type of date or yours are hard, microwave for 30-60 seconds with a couple Tbsp of water and drain before putting them in the food processor.
These could easily be made vegan using coconut oil in the crust instead of butter.
These could also easily be made gluten free by using an all-purpose gluten free flour blend.