I recently learned what Hummingbird cake was when my kids picked out a Hummingbird cupcake recipe for Mother's Day for their Meme. Well, they were delicious and immediately decided this needed to be made into a baked oatmeal. Hummingbird cake is a banana-pineapple spice cake +/- coconut and pecans. We have some non-coconut and non-nut lovers in the family so I elected to add your own at the end, but you can definitely add these in if you want.
One of the top recipes around here in the high protein Peanut Butter Baked Oatmeal and a close second in the Pumpkin Baked Oatmeal. This recipe rounds out the offerings at three. Which one do you like best?! Great for meal prep as it saves very well in the refrigerator for days. <You can also freeze individual portions if you don't want to eat the same breakfast all week.> 
Traditional Hummingbird Cake has a cream cheese icing, so maybe that's why this super thick vanilla bean Skyr <like Greek yogurt> tastes so delicious on top of it! Jazz yours up with the same + pecans, maple syrup, cinnamon, and some slices bananas for an insane breakfast option.
Enjoy and let me know how it stacks up to the other Baked Oatmeal recipes around here!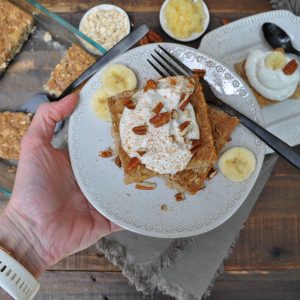 Hummingbird Baked Oatmeal
Servings
6
(2 squares/serving)
Ingredients
1

cup

canned crushed pineapple

in juice & drained very well

1

cup

mashed bananas

2

eggs

1/4

cup

maple syrup

1

tsp

vanilla extract

3

cups

milk

1

tsp

cinnamon

1/4

tsp

ground ginger

1/4

tsp

ground nutmeg

1/2

tsp

baking powder

2

cups

old fashioned oats
Instructions
Preheat oven to 350 degrees. Grease a 9x13 inch pan.

In a large bowl, combine pineapple, banana, eggs, maple syrup and vanilla. Mix well. Add milk. Stir.

Add remaining dry ingredients, cinnamon, ginger, nutmeg, baking powder, and oats. Mix well.

Pour into 9x13 inch pan.

Bake for 45 - 50 minutes, or until edges are golden brown and center is firm.
Notes
How-to-Use:
Athletes: Eat 2 - 3 squares of oatmeal and add a good source of protein. I highly recommend adding a container of vanilla bean greek yogurt or Skyr on top. Or, use these as a mid-morning or afternoon snack.
Healthy Eating: These are easily adjustable to our nutrition needs. One square, two squares, whatever you need! Be sure to pair this with a good source of protein for a balanced breakfast, like eggs, greek yogurt, cottage cheese, or a higher protein milk.
Kids: My kids favorite part is getting to drink the pineapple juice drained from the crushed pineapple. But, let them dress up their oatmeal however they want to engage them in their meal.
Other Thoughts:
I haven't tried this in an 8x8 pan yet for two reasons. One is I wanted to try a thinner baked oatmeal that cooks more quickly. And two, the volume of ingredients is pushing the upper limit of an 8x8 pan. If you try it, let me know. I assume it will turn out more like a dense cake and need to cook for over 60 minutes like the OG Baked Oatmeal around here.
Before I plugged and chugged the nutrition, we all only ate 1 of oatmeal - and we were all starving within an hour. Make sure you eat two! 1/6th of this recipe provides 220 calories, 5 gm fat, 40 gm carbs, and 8 gm protein.