We're keeping life goals pretty simple over here there days. Kid #1 is working on pulling his own pants down. Kid #2 is working on standing from a seated position without toppling over. And, I'm working on making a cake you can eat with your hands.
Kid #2 won the life goals race this week. Kid #1 will repeat this goal for next week and likely the next, and the next. But, lucky for you guys, I met my goal and I've got a cake right here for ya that you can eat with your hands. If you're feeling extra risky, don't even bother with a plate. No one likes to do dishes anyways.
With an abundance of zucchini on our hands, it was clear we needed some zucchini cake in our lives. (You totally thought I was gonna say zoodles, didn't you!?)  We harvested (I use this term lightly) our first monstrosity of a zucchini this weekend and I may need an intervention. Our zucchini's are completely roided out. I have some seriously successful farmer's in my lineage but clearly none of that was passed along to me. The bigger they grow the seedier they become- literally and figuratively. Please send help – or tips!
Recently on instagram, I shared my obsession with Costco's almond butter – both quality and price.  You all gave some legit insight into other secret Costco obsessions, which was highly appreciated, and leads me to my latest Costco find, Chosen Foods avocado oil. Long story short, the American diet is typically too high in unhealthy fats (saturated and trans fats) and lacking in the healthy fats (unsaturated fats.) All naturally occurring fats are a combination of the healthy and unhealthy fat sources. So, we look for a fat with the best ratio of the good stuff to the not-so-good stuff. This is typically why we recommend olive oil. It is higher in monounsaturated fats and lower in saturated fats than most oils. The problem with olive oil is it has a strong flavor, which doesn't lend itself well to baking. And it also degrades at high heats – like when we saute or roast vegetables at high temperatures.
Cue avocado oil which has a neutral flavor and a higher heat threshold (aka. smoke point) which is great for baked goods and high heat cooking. From a nutritional standpoint, it may even edge out olive oil as well. It's slightly higher in monounsaturated and lower in saturated fats than olive oil. If you haven't tried avocado oil yet, highly recommend spending the $10 on a liter bottle at Costco. You seriously cannot beat that price. But don't get rid of your olive oil – it's still a great choice for dressings, lower heat cooking, and drizzling over veggies after roasting. This cake uses avocado oil and I'm sold.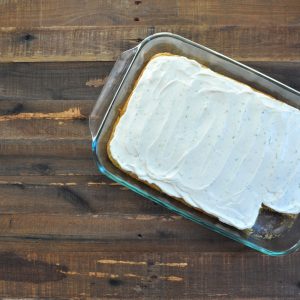 Iced Lime Zucchini Cake
Ingredients
1/4

cup

avocado oil

or oil of choice

1/4

cup

applesauce

unsweetened

1/2

cup

sugar

or sweetener of choice

2

eggs

1

tsp

vanilla

2

Tbsp

lime juice

zest of 1 lime

about 1 tsp

2

cups

zucchini

shredded, measured, and then squeezed

1 1/2

cups

white whole wheat flour

or flour of your choice

1

tsp

baking powder

1/2

tsp

baking soda

1/4

tsp

salt

Icing

8

oz

Neufchantel cheese

or cream cheese

6

Tbsp

sugar

1/4

cup

lime juice

fresh

zest of 1 lime

about 1 tsp
Instructions
Preheat oven to 350 degrees. Grease 9x13 inch pan and set aside.

In a small bowl, combine first 7 ingredients - oil through lime zest. Using a whisk, mix thoroughly. Add the squeezed zucchini, mix with a mixing spoon and set aside.

In a medium bowl, combine next 4 ingredients - flour through salt. Mix.

Add the zucchini mixture to the flour and stir until combined.

Pour into prepared 9x13 inch pan and spread evenly.

Bake for 18-22 minutes or until toothpick inserted into the center comes out clean. Note: this cake doesn't get very brown. Check it before you overcook it!

While the cake is baking, combine 4 icing ingredients in a bowl and whisk until smooth. This will take some muscles - or let your cheese come to room temperature first. Wait and frost once the cake has cooled.
Notes
How-to-Use:
Athletes: Train. Eat cake. Repeat.
Healthy Eating: No life worth living is void of desserts. My mission is to make fabulous tasting desserts that just happen to pack some decent nutrition too.
Kids: Kid tested. Mother approved.
Other Thoughts:
My grandma's zucchini cake recipe uses 4 times this much sugar just in the cake. Plus the 1/2# of butter and additional 2 cups of sugar in the frosting. Make no mistakes - this is a healthified twist of the classic. If you want grandma's cake, go make grandma's cake!
I'm certainly not the sugar police - I know some like a sweet, sweet icing. This is not that icing. Add more sugar at your own discretion.
For my cake purists out there or for those who don't care for icing (you might be an alien) the cake is good without. I would suggest increasing the lime juice and zest in the cake because the icing brings a LOT of the lime flavor.