We've been whipping up this quick dinner on the regular for a couple years now. So, it deserves it's time to shine. It's got everything you need for dinner <or breakfast. or lunch> all wrapped up into one. Whole grains. Protein. Veggies. Healthy fats.
It's no shock I love to shop at Aldi. But what I don't love is having recipes that necessitate another grocery store trip to find non-Aldi friendly ingredients. To my fellow Aldi lovers, you can always find every ingredient for this recipe at Aldi – year round.
Feel free to make this your own. Use white pasta if you have a race or tough workout coming up or gluten free if you need it. Vegetarian? Grab yourself some of Aldi vegetarian sausage or just leave it out. But whatever you do, make sure you make this recipe soon!
Who doesn't love a big bowl of pasta?!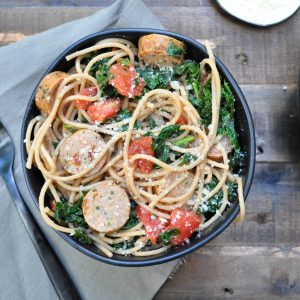 Kale & Chicken Sausage Spaghetti
Ingredients
1

# whole wheat spaghetti

or noodle of choice

1

package

4 Tomato Basil chicken sausages (or flavor of choice)

2

Tbsp

avocado oil

4

garlic cloves

minced or pressed

6

oz

kale

chopped (1/2 a bag from Aldi or approx 5-6 cups)

1

can

14.5 oz diced tomatoes

salt/pepper

juice of 1 lemon

Parmesan cheese
Instructions
Boil water and cook pasta per directions. Add sausages with 5 minutes left. Drain and set aside.

Meanwhile, heat oil in a large skillet over medium heat. Add garlic. Cook until fragrant, about 1 minute. Add kale. Cover and cook until soft, stirring occasionally.

Add entire can of tomatoes, juice and all, to the kale and cook for 1-2 minutes.

Remove from heat. Add salt and pepper, as desired. Add lemon juice.

Slice cooked sausages.

Combine kale mixture, pasta, and sausages in a large bowl. Toss with tongs until well combined.

Serve with Parmesan cheese. Enjoy!
Notes
Other Thoughts:
As always, this recipe is super adaptable. Use gluten-free pasta if needed. Use vegan sausage if needed. Omit the cheese if needed. Make it fit your own nutrition needs.
This saves really well. Plan on leftovers.
How-to-Use:
Athletes: One big serving of this has 45 gm of carbohydrates and 25 gm of protein. This might be perfect or you might need a few more carbohydrates in the mix. If so, have some fruit or bread on the side.
Healthy Eating: I love that you can get everything you need in a big bowl of pasta! Veggies, protein, complex carbs, and healthy fats. One serving has 375 calories, 12 gm fat, 45 gm carbs, 25 gm protein. I like that balance. Who says you can't eat pasta!?
Kids: Jazz up pasta night with this rendition. Let them sprinkle extra Parmesan cheese on top and twirl those noodles.