Get ready for your breakfast to be ROCKED. These overnight oats taste more like dessert than your typical grab-n-go breakfast, but they rock the balanced, recovery nutrition fit for a highly trained athlete <aka, YOU.>
When I saw lemon overnight oats on a clients food log, I clearly needed to know more. She said she bought them from a food prep company and wondered if we could figure out how to make them ourselves – challenge accepted! You all know I am constantly reminding us all we need to get enough protein at breakfast – so any chance I've got to create breakfast recipes with all the protein we need, I do. Studies show that adequate protein at breakfast helps control hunger throughout the day and can decrease night time snacking. For my morning athletes, this is also an imperative recovery meal.
I do not add protein powder to recipes often, but this recipe is one exception! I'm very particular about protein powders – and I favor Momentous essential whey protein. Why?! Because there are minimal ingredients, it is NSF certified <no crap, just the good stuff> and just a pinch of stevia. If you're in the market for a new protein powder, give this a try. Or, use your favorite protein powder. I recommend just using 1/2 a scoop, since these oats also have protein coming from the Skyr <or Greek> yogurt + don't forget oats have some protein too! <<Use code MeghannF15 for 15% off orders at Momentous.>>
Overnight oats might not be the prettiest breakfast but they sure are some of the tastiest! <<They are also the cure for your 'I'm too busy in the morning to eat breakfast' woes>>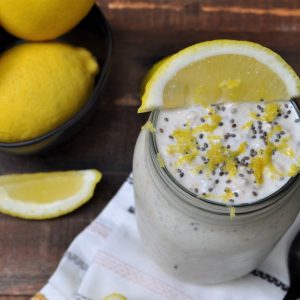 Lemon Pie Overnight Oats
Ingredients
5.3

oz

vanilla Skyr

1/2

cup

milk

1/2

tsp

vanilla extract

1/2

Tbsp

maple syrup

1

Tbsp

lemon juice

1/2

tsp

lemon zest

1/2

scoop vanilla whey protein powder

1/2

cup

old fashioned oats

1

tsp

chia seeds
Instructions
In a mason jar or container with a tight lid, combine all the ingredients. Cover. Shake until well combined.

Store in the refrigerator overnight and enjoy!

These can be stored for 2 - 3 days, longer is safe but the texture might change a little.
Notes
How-to-Use
Athletes: It doesn't get much more perfect than these guys for a balanced breakfast. The recipe, as written, contains 375 calories, 31 gm protein, 45 gm carbs. Many athletes will want to add another carbohydrate to complete their recovery meal - like a banana or 2 slices of toast.
Healthy Eating: Start your day off right with some ridiculously balanced nutrition. Research shows eating enough at breakfast can help manage our appetite throughout the whole day. Breakfast is NOT where you want to skimp!! These oats should keep you satisfied for hours - if not, check out the recommendations under 'Athletes' for more.
Kids: I ate these too fast to share with the kiddos. But, if you have an active teen or pre-teen who you are battling busy mornings with, make these and leave them in the fridge for them.
Other Thoughts
These can easily be made vegan with nondairy milk and yogurt and vegan protein powder. I'd recommend using a whole serving of vegan protein powder as the nondairy yogurts do not provide much protein. Adjust the amount of liquid as needed - sometimes vegan protein powders absorb more liquid, therefore need more in a recipe.
If you want to try Momentous protein powder, code Featherstone15 will get you 15% off. 
If you want to try BiPro protein powder, you can get 10% off with code MEGHANNF10 at their website. Free shipping for over $50. Or, you can get it on amazon. 
I hung onto these guys for 4 days and tried a bite every day to test how well they saved. The flavor stayed consistent. But, the texture changes dramatically on day 3 - less chewy. If you make then for a week, I'd recommend making 2 - 3 at a time. Then, repeat.