Sticking true to my lentil obsession of late, I had to share this vegan taco meat alternative. I was first exposed to the versatility of lentils by a chef friend, Ryan. I told him they'd be making an appearance on here and he promised me he would be nothing but flattered. (Thanks, Ryan!)
For athletes, we know consistent and adequate amounts of protein timed strategically throughout the day and around training sessions can help maintain and build muscle mass. Endurance athletes have higher protein needs due to the constant wear and tear on their muscles. We simply need more protein to repair these well used (well used sounds better than overworked, maybe?!) muscles daily. For strength athletes, we know we cannot build muscle mass without adequate protein (and total calories.) This often leaves athletes turning to meat on the regular. But, I'm hear to introduce a delicious way to meet your protein goals for training and eat a little less meat. And here they are! Aren't they gorgeous!?
It even looks like ground meat!! With enough fun toppings (cue the avocado salad), I think you'll share my obsession and add these into the rotation.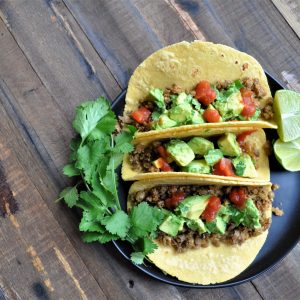 Lentil & Almond Faux Taco Meat
Ingredients
1

cup

green lentils

dry

2

cups

vegetable stock

1

tsp

cumin

1

tsp

chili powder

1/4

tsp

ground chipotle pepper

1/4

tsp

salt

3/4

cup

almonds

chopped

1

avocado

diced

2

Tbsp

fresh cilantro

chopped

1

Tbsp

lime juice

8

corn tortillas

salsa and/or hot sauce
Instructions
Place lentils, stock, cumin, chili powder, chipotle powder and salt in small saucepan. Bring to a boil. Cover and reduce to a simmer. Simmer for 20-30 minutes or until lentils are tender.

Meanwhile, preheat oven to 350 degrees. Roast chopped almonds for 5-10 minutes or until slightly brown.

Place almonds in food processor. Pulse a few times to chop further. Add cooked lentils and any leftover broth that wasn't absorbed by the lentils. Pulse 2-3 times. Check for desired texture. Continue to pulse 2-3 times, checking after, until desired texture is reached. (I like mine fairly chunky like ground meat. However, you could pulse a lot and make it more like the consistency of re-fried beans if you wanted.)

In another bowl, combine avocado, cilantro, lime, and a pinch of salt. Mix.

In each corn tortilla, place some faux meat, avocado salsa, and top with salsa or hot sauce. Enjoy!

Yield: 4 servings (3/4 cup taco meat, 2 corn tortillas, 2 Tbsp avocado salad)
Notes
Other Thoughts:
You can sub other nuts in this recipe too. Walnuts work great. I have to imagine cashews would work also.
Feel free to play with the seasonings and adjust as needed. Don't have ground chipotle pepper? Use sauce from canned adobe peppers. Or, any other seasonings you like - garlic, coriander, onion powder... you really can't go wrong.
If your faux meat mixture feels too dry when eating leftovers, add some water or vegetable broth before reheating it.
Don't like tacos?! (who says that??) Try it in a bowl with chopped romaine lettuce and brown rice. Or, wrap in a lettuce leaf instead of corn tortilla
How-to-Use:
Athletes: You know we love to talk about fueling post endurance exercise around here. And, this is another perfect example. One cup of cooked lentils has 18 gm of protein. That's insane!!! Up your non-meat protein game successfully with these tacos.
Healthy Eating: The magical combination to keep us full is protein and fiber. It's almost like lentils were made to be the most filling food ever. (Ok, maybe the healthiest, most filling food...) This faux meat and avocado salad is also amazing on a big romaine lettuce leaf. The healthy possibilities are endless here.
Kids: My 10 month old really likes the faux meat plain off her high chair tray. Hopefully your kiddos will too! Involve older kids in building their own tacos and let them choose how much of the toppings go in their taco.