Ready. Get set. Hit that easy button. These Make Ahead Breakfast Burritos are the perfect meal prep breakfast option. You can make 6 servings at one time, and then store them for breakfast (or lunch!) for the week. It's like a breakfast burrito assembly line if you will – lay out your tortillas, add each ingredient, roll them up, and heat or store them in the fridge or freezer.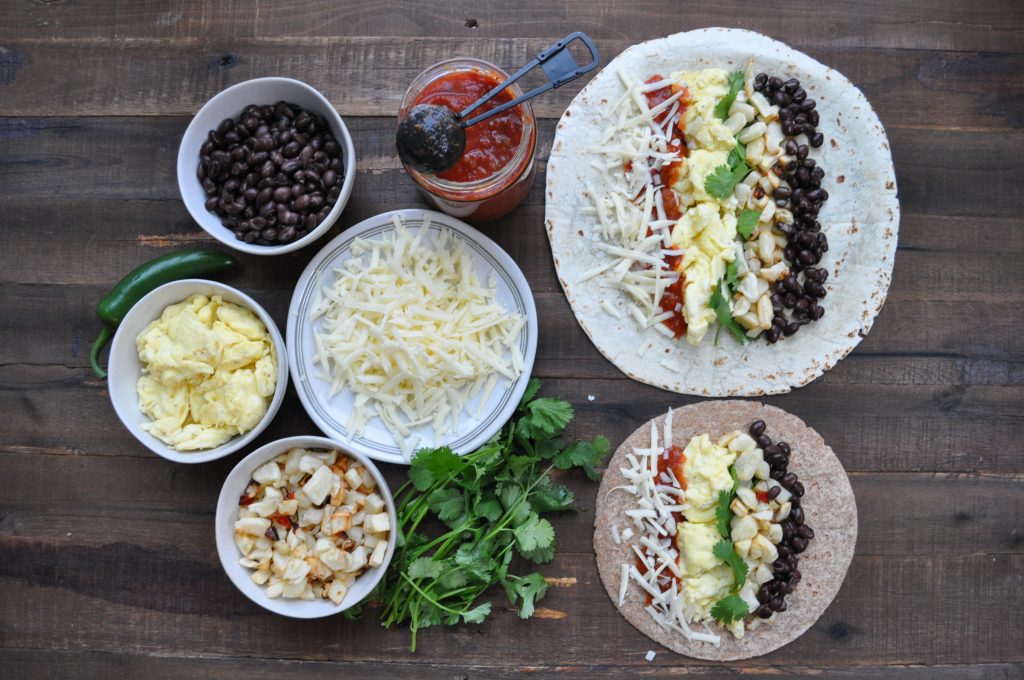 It is super easy to adjust these to meet your nutrition needs. Need more protein? Add more eggs and/or beans. Need more carbs, add some more potatoes or use a bigger tortilla. You might even need to eat two of these bad boys, depending on your individual nutrition needs. I also like to add sriracha to mine <because you know how much I love sriracha>. The additions are endless, folks.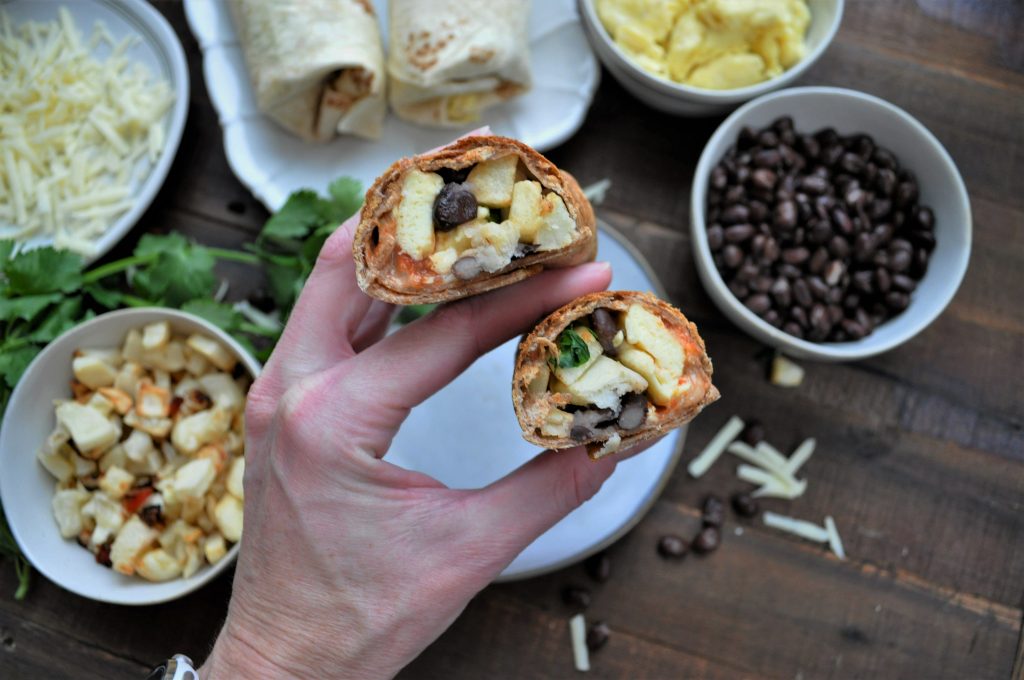 You can heat these up quickly in the microwave or crisp them up on a skillet or air fryer <see below>. I personally love a little crispy outside, so I microwave mine and then finish it off in the air fryer for a couple of minutes – perfection!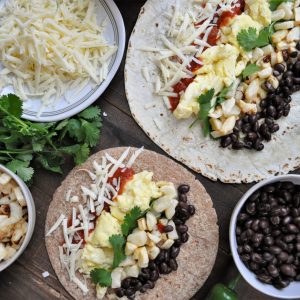 Make Ahead Breakfast Burritos
Ingredients
2

cups

frozen hash brown potatoes

1

tbsp

avocado oil

salt & pepper

to your liking

4

eggs

1

cup

egg whites

2

tbsp

milk

¾

cup

black beans

½

cup

salsa

½

cup

cheddar cheese

6

tortillas

8-10"

cilantro

fresh
Instructions
Toss frozen potatoes with avocado oil + a little salt & pepper. Cook in a skillet over medium heat until brown, or airfare at 400 degrees for 10-15 min.

In a medium bowl, whisk eggs + egg whites together with milk and a little salt & pepper.

Heat skillet over medium heat. Spray with oil. Cook eggs to your liking.

Lay out 6 tortillas. Choose 8-10" tortillas. Note: 10" are easier to wrap.

To each tortilla add: ⅓ cup eggs, 2 Tbsp black beans, 1 Tbsp salsa, ¼ cup potatoes, 1 Tbsp cheese + fresh cilantrol.

Add this down the middle of each tortilla.

To wrap the tortillas, grab the right side and cover all the fillings. Pull this back towards the right, tucking the ends in as you roll. This should keep all the fillings in. Wrap in Saran Wrap or foil & freeze.

Microwave for 2 minutes from frozen. Then finish warming in the air fryer or skillet for a crispy outside, or heat longer in the microwave if in a hurry.
Notes
Tip: Add more eggs for more protein. Add more potatoes + large wrap for more carbs.
Get creative - feel free to add veggie sausage, chicken sausage, feta & kale <we see you Starbucks>, and any sauces you like. Let us know which you like best!
How to use:
Athletes: With protein, carbs and healthy fat, this a great recipe for a post-run/workout breakfast. If you had a long or intense workout, you may need to eat 2!
Healthy eating: Enjoy one of these burritos as a healthy, balanced breakfast option.
Kids: Kids love these, too - especially if they can dip it in ketchup.