Love me or hate me. I'm back with another energy bite recipe. Just in time for the holidays!
It's our classic energy bite base – medjool dates + cashews. But this time, you're going to throw a couple candy canes right into the food processor with the rest of it! There's something slightly cathartic about it. Try it. I added a small amount of peppermint extract also – but not too much because I think it can be a little over powering. I wanted most of the mint flavor to come from the candy canes. All this to say – if you don't have any peppermint extract, just use the candy canes.
I do recommend buying Medjool dates for these. These dates are larger, softer, and just provide a better texture to the bites. I can always find them at my Aldi in with all the fruit – many grocery stores will have them too. Look in the produce area rather than the dried fruit area for the best luck. If you cannot find Medjool dates, you can use another type of date but I would recommend heating them in the microwave for 30 seconds with the maple syrup so they soften a little. If the mixture looks too dry in the food processor, you can add a little more maple syrup until it starts to come together.
If mint chocolate doesn't do it for you, we've got quite a few other energy bite options around here: Birthday Cake – Cookie Dough – PB Cup Cookie Dough – and AB&J.
But, what screams holidays like candy cane energy bites!? Kidding – lots of these do, but these need added into that holiday cheer too!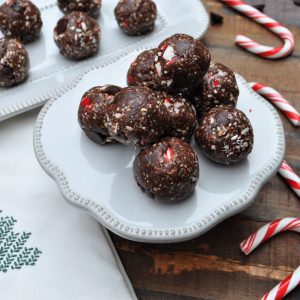 Mint Chocolate Energy Bites
Ingredients
1

cup

Medjool dates

approx 10 large or 14 small pits removed

1

cup

cashews

lightly salted

1

Tbsp

maple syrup

1/4

tsp

peppermint extract

can omit if you don't have it

2

Tbsp

cocoa powder

4

candy canes

1/4

cup

dark chocolate chips

or semi-sweet
Instructions
In a food processor, combine dates, cashews, maple syrup, peppermint extract, cocoa powder, and 2 candy canes. Blend and pulse until well combined. It may form a ball or just stay the consistency of chunky sand. (This depends on how much moisture the dates have. If the dates are super hard, microwave them for 20 seconds to soften them up and the balls will come together better.)

Dump mixture into a bowl. Add chocolate chips. Crush the remaining two candy canes and add those too. Mix well.

Form into 14 - 16 small balls.

Store in the freezer (4 months) or refrigerator (2 weeks).
Notes
Other Thoughts:
As I mentioned above, if you don't have peppermint extract. Don't sweat it. The candy canes should do the trick.
If you are using unsalted cashews, add a little salt. (~1/8th tsp)
If you store these in the freezer, allow them to thaw just a little before you enjoy so you don't break your teeth.
Naturally gluten free and vegan.
How-to-Use:
Athletes: These are a great and portable pre or post workout snack. If you've got a tough workout, save them for post workout since they do have a decent amount of healthy fats. <<re: will stay put in your stomach longer and may haunt you at higher intensity paces>>
Healthy Eating: What says holiday cheer more than mint chocolate?! Get some healthy fats and complex carbs while you're at it.
Kids: Get those kids in the kitchen to help you roll these balls. Wash their hands first. Nobody wants boogers in their balls.