Can you ever have too many granola bar options? I hope not because here is another! The Target brand Monster granola bars caught my eye last week and clearly immediately thought, 'why haven't I altered my peanut butter granola bar recipe to Monster bars!?' Proceeded to buy raisins and M&M's at Aldi's the next day, and here we are…..
I was talking to a few of you recently, who said it was a little annoying to read all the babble in recipe posts. WE JUST WANT THE RECIPE!!!! I can actually completely share that sentiment. The writing is what I always do last – recipe. directions. photos. – then I dread the actual 'writing' part. So, I'm gonna keep this one short and sweet for you guys…. but we all need lots of pictures first, right?!
You can make these in an 8×8 pan or in a silicone bar baking mold. <Links are below the recipe.> Either way works great – just make sure to grease the pan.
Did I keep that short and sweet enough?! Enjoy!!!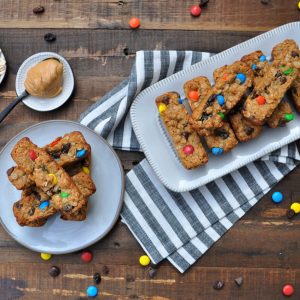 Monster Granola Bars
Ingredients
1/2

cup

peanut butter

creamy

1/2

cup

honey

1/4

cup

avocado oil

1

tsp

vanilla

1/2

cup

white whole wheat flour

1/2

tsp

baking soda

2

cups

old fashioned oats

1/3

cup

chocolate chips

1/3

cup

M&M's

1/3

cup

raisins
Instructions
Preheat oven to 350 degrees. Line 8x8 baking pan with parchment paper. Note: you want the parchment paper long enough to hang out of the sides of the pan. Almost like a sling, so you can pull the sides up to remove the bars after baking. Or, grease your granola bar pan.

In a medium bowl, combine peanut butter, honey, oil and vanilla. Whisk well.

Add the flour, soda, and oats. Stir well with a large spoon.

Add chocolate chips, M&M's, and raisins. Stir again.

Press granola bar dough into prepared 8x8 baking pan or granola bar molds.

Bake for 18-20 minutes in 8x8 pan. Bake for 14-16 minutes in granola bar pan. Remove from oven and cool completely in the pan before removing.

Once cool, pull out granola bar square by lifting the parchment paper on opposite sides or pop the bars out by pushing the silicone mold from below. If using 8x8 pan, cut into 12 bars or 16 squares. Store in an air tight container on the counter or in the refrigerator for a week. (Longer is safe but they may get stale.) They also freeze great!
Notes
How-to-Use
Athletes: A phenomenal snack to take to your run group for post long run or race consumption. Highly recommend sharing with a friend - they will want to be your friend forever!
Healthy Eating: Make in a pan and cut into 16 squares and enjoy as a snack throughout the day. Or, use it as a sweet treat at the end of a meal.
Kids: Highly recommend making these when you've got kids and their friends over - your house will be the place to hand out! <as long as there are no peanut allergies>
Other Thoughts: