Need a no bake, no added sugar, balanced protein bar that you can store for weeks in the refrigerator?! Give these copycat Rx bars a try. Bonus: you can whip them up in less than 10 minutes.
We've got two options for flavors here – Tart Cherry Chocolate and Apricot Almond. Both of these bars are more on the slightly sweet, salty side. If you're a fan of the energy bites around here, these are similar in texture yet less sweet. Use these for a solid snack between meals to keep your hunger at bay.
Plus, no added junk! When it's this easy to whip up your own granola bars, why waste the money on store-bought.
In true Rx bar rip-off fashion, these need egg white protein powder. I typically do not bake or create with protein powders. <I'm never happy with how the final product comes out – and it always makes me feel a little crummy for making you guys buy a supplement to make a recipe.> But, I broke that rule here…. because I was hoping that the egg white protein powder would combine easily and without any gross flavor side effects. <spoiler: it worked!> I chose Now Sports egg white protein powder – mainly because it is Informed Sport Certified <aka no contaminants or undeclared crap> and because it came in a 2# container vs others that I had to buy 5#.
Keep these in the refrigerator with a piece of parchment paper or plastic wrap separating them. They will keep a few weeks. If you want, go ahead and freeze them. Just let them warm up slightly before eating them so you don't hurt your jaw.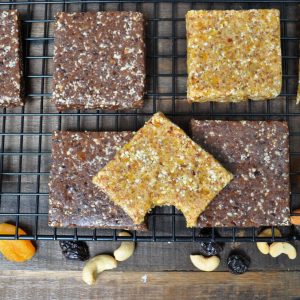 No Bake Granola Bars
Ingredients
TART CHERRY CHOCOLATE
1/2

cup

cashews

1/2

cup

almonds

1/2

cup

egg white protein powder

1/4

cup

cocoa powder

1/4

tsp

salt

1/2

cup

dried tart cherries

1

cup

Medjool dates

pit removed

2

tsp

vanilla extract
APRICOT ALMOND
1/2

cup

cashews

1/2

cup

almonds

1/2

cup

egg white protein powder

1/4

tsp

salt

3/4

cup

dried apricots

1

cup

Medjool dates

pit removed

1

tsp

vanilla extract

1

tsp

almond extract
Instructions
Line an 8×8 pan with plastic wrap. Set aside.

In a food processor, combine nuts. Process for 15 seconds.

Add egg white powder. Process for 3 – 5 seconds.

Add remaining ingredients. Process for 30 seconds. Pulse a few times if needed.

Dump mixture into prepared 8×8 pan. Press down evenly and firmly. Flip out onto cutting board. Cut into 9 squares.

Store in the refrigerator or freezer. Place parchment paper or plastic wrap between each one to prevent sticking.
Notes
How-to-Use
Athletes: The nutrition of these bars is incredibly similar to an Rx bar. A solid balance of protein, healthy fats, and complex carbs – are sure to keep your hangries at bay between meals. If you're looking for a quick refuel during cycling or post workout, these guys to the rescue!
Healthy Eating: The addition of egg white protein powder ups the protein and balances these guys out to help meet your snacking needs. Eat one in the early afternoon to keep the pre-dinner snack attacks at bay.
Kids: My 3 year old thinks the cherry chocolate ones are pretty fantastic. I thought about adding chocolate chips to them but clearly her approval rating showed they didn't need them anyways. Feel free to adjust and use the dried fruit your kids like. Using a certified egg white protein powder, I am completely comfortable giving these to the kids.
Other Thoughts
I used NOW Sport egg white protein powder. But, any egg white protein powder will work. I have not tried any other protein powders, so I cannot vouch for them.
Store in the refrigerator for up to 3 weeks or freeze for up to 3 months. They get a little softer at room temperature but are fine to eat that way.
Careful not to over-process the nuts. This makes the oils separate out from the rest of the mixture and they get greasy.
Make them into bars or roll them into balls. I'd suggest making 18 balls – 9 would make some very large balls.