After a hard endurance effort we need some serious nutrition to repair, rebuild, and improve athletic performance. We need carbs, healthy fats, protein, and antioxidants. In comes…
dates
walnuts
chia seeds
…like WHAM. Dessert and recovery?! My type of food!
These are seriously so delish and packed full of super healthy ingredients that it's completely acceptable to also recovery from walking the dog with these. Or, recover from a long day at work with these. Really…. there's no excuse NOT to try these brownies!
Take your recovery to this delish new level! And, be sure to let me know whatcha think!
Learn more about how tart cherries can improve performance in this blog post.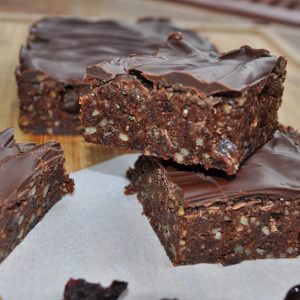 No-Bake Recovery Brownies
Ingredients
1

cup

walnuts

1/2

cup

almond meal

or overflowing 1/2 cup of whole almonds, ground into meal

1

Tbsp

chia seeds

1/4

cup

cocoa powder

pinch

of salt

1

cup

Medjool dates

packed (This was 14 for me.)

1/2

cup

tart cherries

1

tsp

vanilla extract

1/4

cup

+ 2 Tbsp chocolate chips
Instructions
In a food processor, process walnuts until crumbly. Place in a medium sized bowl. If using whole almonds, add them with walnuts in this step.

To the medium bowl, add almond meal, chia seeds, cocoa powder, and salt.

In the dirty food processor, process the dates, cherries, and vanilla until a thick paste is formed. You know you're done when the mixture rolls into a ball and the food processor starts wobbling. So stay close! (No need to clean out the food processor from the walnuts first! WIN!)

Add all the ingredients from the bowl (nuts, chia, cocoa, salt) to the food processor (which has the dates and cherry paste.) Pulse several times until the mixture is the consistency of cooked ground meat. Place mixture back into bowl.

Coat hands with a small amount of oil, to keep the mixture from sticking to your hands. Knead dough until uniform in consistency. Add 2 Tbsp chocolate chips, optional. (But is added chocolate ever realllly optional)

Place a piece of parchment paper into and over the edges of a 8.5 inch loaf pan. Press dough into pan.

Melt 1/4 cup chocolate chips in the microwave. Spread over brownies. Cool in refrigerator until set.

Cut into 10 brownies - store any extra in the fridge up to a week or so. Enjoy!
Notes
How-to-Use:
Athletes: Eat after a hard endurance effort to enhance recovery. (Carbs, omega 3's, and tart cherry trifecta coming atcha!)
Healthy Eating: These taste amazing and can easily substitute for your evening chocolate fix.
Kids: What kid doesn't like brownies!? Perfect addition to dinner. And, now you're <insert relationship to brownie-eating-child> of the year 🙂
Other thoughts:
If you don't have Medjool dates, or your dates are just really hard - place in a microwave safe bowl with 2 Tbsp water. Microwave for 1 minute. Drain any excess liquid.
Use dairy free chocolate for a vegan brownie.
Naturally gluten free!