This oil free granola recipe was poked, prodded, and tweaked every which way for years until it made an appearance in my brief stint as a blogger seven years ago. For those of you who were following along then, first off thank you. And secondly, I'm sure it comes at no shock to you that I have continued to tweak the recipe. No worries, I didn't make too many changes. I simply reduced the brown sugar and added chia seeds and I'm really liking the final product and hope you will too.
Why oil free? Because I wanted a versatile granola that could be thrown into anything for an additional source of healthy carbohydrates without weighing you down before a workout. Fat contributes to satiety (feeling full) by staying put in our stomachs longer than other nutrients. This is fabulous if you are trying to stay full longer between meals. But, this is not so fabulous going into an endurance or high intensity workout when we need that blood elsewhere, not in our stomachs digesting our high fat granola. During these types of exercise, the blood vessels to our muscles dilate to increase blood flow. The blood vessels constrict to 'non-essential' organs, aka our stomach. So, too much fat before a workout can lead to stomach issues (ie. cramps, nausea, and the oh-so-technical term 'sloshing'.) Grab a handful (or two) an hour or 2 before a workout and be confident you're fueling well.
Another favorite use for this granola is to top off a smoothie bowl – every smoothie needs some crunch to truly satisfy my appetite. Am I alone here?!
Perfect post-workout fuel – smoothie is high in protein (greek yogurt) + whole grain granola + healthy fats (almond butter and more chia seeds) + antioxidants (blackberries and beets hidden in smoothie). Treat your body like a temple! Not a tent. (thanks jimmy buffet for that one)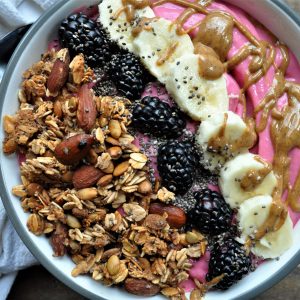 Nuts Over Granola
Servings
10
⅓ cup servings
Ingredients
1

cup

nuts

I use 1/2 cup almonds and 1/2 cup pepitas

2

cups

old fashioned oats

2

Tbsp

chia seeds

1/3

cup

maple syrup

1/3

cup

brown sugar

1/2

cup

pomegranate or cherry juice

1 1/2

tsp

cinnamon

1/4

tsp

salt
Instructions
Preheat oven to 350 degrees.

Spread nuts over baking sheet evenly. Roast in oven for 5-10 minutes, or until lightly toasted. Watch closely! The smaller the nut or nut pieces the more quickly they will brown. My almond pepita mixture only took 5 minutes. Remove from oven and dump onto plate to stop the toasting process.

In a medium bowl, place old fashioned oats, chia seeds, and nuts - once they are slightly cooled.

In a small bowl combine remaining ingredients, maple syrup through salt. Mix well.

Pour maple syrup mixture over oat and nut mixture. Stir well. Let sit for a few minutes.

Spread onto baking sheet lined with parchment paper or foil. The more thinly you spread, the better it will turn out.

Reduce oven to 325 degrees. Bake for 25-30 minutes. Flip with a spatula, breaking up large chunks. Bake another 10-20 minutes, or until all pieces are dried out and brown. Note: after baking, as it sits and cools, granola will dry out further so if some larger pieces still feel a little spongy, it's good.
Notes
Other Thoughts:
Feel free to customize this recipe to your taste preferences. Love tropical flavors? Use pineapple juice and throw in some coconut.
If you like dried fruit in your granola, I would recommend throwing it in after baking or just for the last 5-10 minutes of cooking. No one likes stick-in-your-teeth chewy fruit.
Use gluten free oats, if needed.
Fun Fact: pepitas are ridiculously high in iron. Many female athletes need additional sources of dietary iron to maintain adequate iron stores.
How-to-Use:
Athletes: A nearly perfect source of carbohydrates to eat 2-3 hours before endurance training - lower in fat than other granola, this gives you the energy to perform without weighing you down. Pack this into baggies and keep it with you for fueling throughout the day.
Healthy Eating: Throw this over a smoothie bowl for some added crunch that is sure to satisfy. Pro tip- studies show the thicker a smoothie the more filling it feels - so get out the plunger for your blender, make it thick, and grab a spoon.
Kids: Great after school snack! Use smaller pieces of nuts for younger kiddos. Kids not into granola? Try letting them dip it in yogurt or another food they like. Or, sprinkle it on top of their cereal, yogurt, or oatmeal.