We're taking it back to the old school, cuz I am getting kinda old. I can definitely be a fool. But jury's still out on the cool part.
I mean, please tell me I'm not the only one who thinks about no bake cookies and is directly thrown back into childhood. Helping stir the saucepan on the stove and praying I was the one who got to lick the spoon this time. These cookies are the picture of instant gratification – legit let them sit for a minute or two and DONE. Another reason these were a kid favorite. Who am I kidding?! They still are a favorite.
I started playing around with this recipe months ago. And, I kept eating them all before I could take pictures. I kept telling myself "they're not quite right yet." Code for – I need to make another batch. And eat them all myself again. So, after round 4 – they must be a keeper and worthy of the share.
In case these weren't a childhood staple in your diet, basically the traditional version is all the butter + all the sugar + a little peanut butter + chocolate + a dusting of oats. Belly = Happy
By now it's no secret that I'm a cookie monster. Always have been and always will be. And a life without cookies isn't one I ever want to live! And with recipes this good, we can eat cookies on the daily.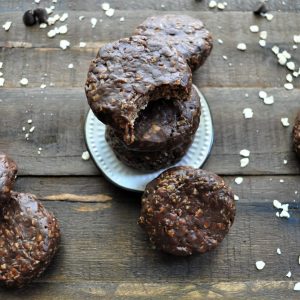 Old School No Bake Cookies: New Edition
Ingredients
1/2

cup

chocolate chips

1/2

cup

honey

2/3

cup

peanut butter

1

tsp

milk

milk alternative or water is fine too

1

tsp

vanilla

1/4

cup

cocoa powder

2

cups

quick oats
Instructions
In a microwave safe bowl, combine chocolate chips, honey, peanut butter and milk. Microwave for 30 seconds. Whisk together.

Add vanilla and cocoa powder. Whisk again.

Stir in oats. Using a Tbsp measuring spoon, plop a heaping Tbsp of dough onto parchment or wax paper. Mold into whatever shape you desire - will be in the consistency of play dough.

Allow to set on the counter. Cookies will still be slightly sticky - store in the refrigerator to counter this.
Notes
How-to-Use:
Athletes: These kill the ravenous sweet tooth that can accompany hard training - all while repleting glycogen stores, helping decrease inflammation, and supplying lasting energy that won't leave you crashing (thanks fat and fiber!) 
Healthy Eating: Full of fiber, healthy fats, and protein it kinda doesn't seem right to call this a cookie. But, it absolutely is! Enjoy!
Kids: These are seriously the easiest and fastest cookie you'll make. Plus, I bet you have the ingredients laying around already. Get the kids to help you measure. Be forewarned - there maaaay be a fight over who licks the spoon.
Other Thoughts:
Use gluten free oats, if needed. Or, dairy free chocolate chips. Or, sunflower butter for nut allergies. These are totally adaptable.
Store in the fridge if you want them hard - like biting into a hunk of fudge, hard. (Highly recommended) They remain a little bit tacky if you store on the counter but totally firm.
I completely prefer quick oats in these (unlike 99% of my other recipes that call for old fashioned oats.) The texture of the finer quick oats is so amazing in these. Just sink your teeth into one of these straight outta the fridge and you'll totally understand what I'm saying.