Don't worry. No peanut butter cups were harmed in the making of this recipe. But, the final product tastes so strikingly similar to what I feel like peanut butter cup cookie dough tastes like, that it certainly earned the name.
Just six simple ingredients come together to make these delicious little bites. Dates, cashews, maple syrup, vanilla, peanut butter powder, and cocoa.
Since as far back as I can remember, a meal wasn't complete without 'something sweet' after it. For years, I thought this conditioning of needing something sweet after a completely satisfying meal was 'bad,' It was something that I needed to break up from. Thank god over the years I came to my senses and realized that eating something sweet, satisfying that craving, and moving on was actually exactly what I needed. And the more I honored this craving, the less and less I needed to feel satisfied. This is also the reason I love to create flavorful and satisfying sweet recipes to fulfill my 'something sweet' and also provide my body with the energy and nutrients it needs to train, mom, dietitian, and repeat.
These little guys are also super portable – their chocolate chip cookie dough counterparts made their way into a couple ultra marathons, cross country races, and triathlons. For any active individual who needs more than just carbohydrates for their sports fuel, these guys are a great balance of carbohydrates, healthy fats, and protein. So wrap a few in a baggie and throw it into your fanny pack! <<also completely appropriate to throw them in your fanny pack to survive the zoo, amusement park, or target run>> I always love to hear what adventures these snacks take, so let me know and tag #featherstonenutrition on social media.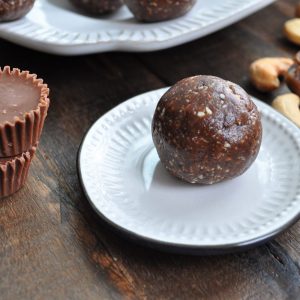 PB Cup Cookie Dough Bites
Ingredients
1

cup

Medjool dates

approx 10 large or 14 small, pits removed

1

cup

cashews

lightly salted

1

Tbsp

maple syrup

1

tsp

vanilla

2

Tbsp

powdered peanut butter

2

Tbsp

cocoa
Instructions
Add all ingredients to the food processor. Blend and pulse until ball forms. Note: if your dates are cold (I always keep mine in the fridge) or a little dry/old, remove the pits. Place in a bowl with the maple syrup and microwave for 15-20 seconds. This will soften them up so they blend more smoothly.

Roll dough into 14 balls - it's a heaping Tbsp or 2 bites each.

Eat the same day or keep in the fridge (2 weeks) or freezer (4 months).
Notes
Other Suggestions:
If you do keep them in the freezer, let them thaw just a little so you don't break your jaw biting into them. Or, roll them even smaller so it's one bite per ball.
If you don't have a food processor, I highly recommend you grab one. It's great for making these, sauces, pesto, and lots of other things that aren't coming to my mind right now.
If you want to make this added sugar free, you can try subbing another liquid for the maple syrup. The dates bring all the sweetness. The maple syrup just helps pull them together.
Naturally vegan and gluten free.
How-to-Use:
Athletes: Eat two of these bad boys immediately after exercise to speed recovery. Each bite has 17 grams of carbohydrates, 3 grams of protein and 4 grams of heart healthy fats. Follow up this snack with a high protein, complex carb rich meal within an hour and your training tomorrow will thank you!
Healthy Eating: Use these as an after meal 'sweet treat' or stash them in your drawer at work for those 2pm sweet, snack attacks. But rest assured, you're also doing yourself a huge favor because these 100 calorie bites pack way more nutrition than any 100 calorie pack snack out there. High in fiber, protein, and heart healthy fats - oh my!
Kids: Bring those kiddos into the kitchen to help you roll these into balls. It's basically edible play dough in their eyes. Just make sure you wash their hands first if you're planning on sharing them with coworkers. Unless you don't like said coworker... then all bets are off.