I have a serious secret to share here…..
……. these granola bars.
These babies live in my top 10 – top 10 favorite foods. I know, I know… it sounds weird. Something so simple could be SO GOOD. It could. I promise.
Six years ago as a clinical dietitian at a new, local, wellness-focused hospital the chef there used to occasionally make some bangin' good granola bars for sale in the Cafe … only the secret of how amazing they were among the employees didn't stay a secret too long! These bad boys sold out in MOMENTS after they hit the shelf. Well, I begged and begged Charlotte to share the recipe with me. On her last day, she came to me with a scribbled piece of paper with a recipe that called for 20 cups of old fashioned oats. Say what!?! Needless to say – over the past 6 years, I have twisted, changed, subbed ingredients and drastically whittled down this recipe into what we've got here today folks.
Besides the 20 cups of old fashioned oats, the original called for three different types of sweeteners. I played around with this and was able to get a good balance with a lot less added sugar. I tried subbing Greek yogurt for some of the oil- they were okay, but just that. Okay. I've also tried many different oils and prefer canola oil. But use what you have and like!
So instead of picking up your old trusty box of granola bars at the store this week, give these bad boys a try. Promise you won't regret it!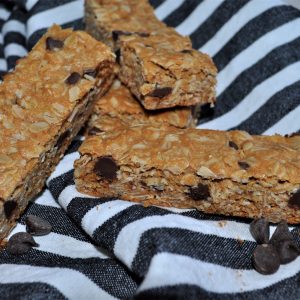 Peanut Butter Chocolate Granola Bars
Ingredients
1/2

cup

peanut butter

1/2

cup

honey

1/4

cup

oil

I used avocado oil

1

tsp

vanilla

1/2

cup

white whole wheat flour

1/2

tsp

baking soda

2 1/2

cups

old fashioned oats

1/3

cup

chocolate chips
Instructions
Preheat oven to 350 degrees. Line 8x8 baking pan with parchment paper. Note: you want the parchment paper long enough to hang out of the sides of the pan. Almost like a sling, so you can pull the sides up to remove the bars after baking.

In a microwave safe bowl, combine peanut butter, honey, and oil. Microwave for 30 seconds. Whisk together.

Add vanilla. Whisk again.

In another medium bowl, combine flour, soda, and oats. Mix together with large spoon.

Add peanut butter mixture to medium bowl with oat mixture. Stir until combined. Mix in chocolate chips.

Press granola bar dough into prepared 8x8 baking pan. Press REALLY well - really get in there. This helps keep them from crumbling when you cut them.

Bake for 18-20 minutes. Remove from oven and cool completely in the pan before removing.

Once cool, pull out granola bar square by lifting the parchment paper on opposite sides. Cut into 12 bars or 16 squares. Store in an air tight container on the counter or in the refrigerator for a week. (Longer is safe but they may get stale.)
Notes
Other Thoughts
If your mixture feels warm, allow it to cool before adding the chocolate chips or they melt all in the granola bars. (unless you like that sorta thing)
These are amazing in a granola bar pan, like this one. Just make sure you let them cool completely before you remove them or they will break. And, no one wants a broken granola bar...
These keep really well! I must admit, I've never kept any longer than a week because they just don't hang around that long. But you can easily make these ahead of time and keep all week and they'll stay amazing!
To feed a crowd, make 1 1/2 recipes and bake in a 9x13 inch pan for 24 minutes.
How-to-Use Guide:
Athletes: There's no hungry like a training athlete hungry. These complex carbohydrate- healthy fat rich bars are sure to keep that hunger in check. Eat one as a snack between meals or eat along with breakfast or lunch.
Healthy Eating: Have a square as your afternoon snack to keep hunger in check so you don't raid the cupboard when you get home from work.
Kids: Say goodbye to store bought granola bars when you start making these for the kids! A great after school snack!