There was an emergency at our house this weekend. We were out of cookies. Even those 'dog biscuit' store bought ones….
My grandpa termed store bought cookies 'dog biscuits' when I was a little kid and I can still see the smirk on his face when he'd say it. I suppose this is where my love of homemade cookies came from… as if we need someone to credit this love to! Unlike my Grandpa Reed, I do enjoy a 'dog biscuit' now and then… especially Oreos. I'm a sucker for any new flavor they throw out on the market. (RIP cotton candy and fruity crisp…. Nabisco, if you're out there, how about an encore!?) But, I'll never forget the smile on his face when my grandma would make him his favorite cookie – her prized homemade raisin filled cookies. I know you all have your nostalgic cookie from childhood too- and I'd love to hear what it is! Mine is absolutely, without a doubt, frosted sugar cookies. 
These cookies have a sprinkle of that homemade cookie love thrown in but they're healthy enough to be eaten on the daily. And with only 7 ingredients, they're easy enough to whip up on the daily too!
These bad boys are 100% whole grain, contain no flour or gluten, but still taste like a treat! We've been known to eat them at our house as a morning snack- which comes highly recommended from all parties involved.
And they stack pretty beautifully as well! Of course, until toddler's morning snack time when that stack says 'TIIIIIIIIMBER' right into our bellies!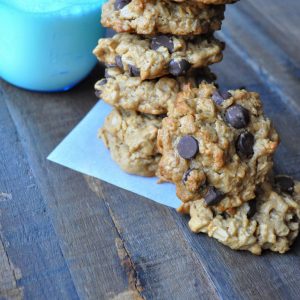 Peanut Butter Oatmeal Cookies
Ingredients
1

cup

peanut butter

1/2

cup

honey

2

eggs

1

tsp

vanilla

2

cups

old fashioned oats - gluten free

if needed

1

tsp

baking soda

1/2

cup

chocolate chips
Instructions
Preheat oven to 350 degrees.

In a medium bowl, mix peanut butter, honey, eggs, and vanilla together. Really get in there - use those muscles. (But if you're feeling lazy, you can microwave the honey and PB for 15-20 seconds to make it easier to stir.)

Add oats and soda to the peanut butter mixture. Combine. Stir in chocolate chips. (If you microwaved, be sure it's cool or they'll melt. Which would be a bummer.)

Plop 12 heaping tablespoons on a baking tray. Bake for 12 minutes, or until golden brown. Repeat with remaining dough.
Notes
How-to-Use:
Athletes: Fulfill your hankering for sweets without all those pro-inflammatory store bought sweets.
Healthy Eating: No one wants those fat free cookies in their belly... and I mean NO ONE. Eat something with satisfying healthy fats that won't leave you wanting to eat the entire box. (But no one would judge if you did eat the whole recipe.) 
Kids: Need I explain?? The picture below says it all.
Other Thoughts:
You could probably also use brown sugar instead of honey. I just love the flavor of pb and honey together. Like can NOT get enough! Honey is sweeter than brown sugar - so you may want an additional 2 Tbsp of brown sugar. Lemme know if you try it because I have not. 
These taste great right out of the freezer. Make a batch and throw half in the freezer for a rainy day.
#cookiethief