When I told my husband I was making split pea soup and he realized I wasn't using ham and was adding pesto he was officially out. Until he tried it… and told me it was a keeper. To be completely honest, I'm not a fan of the traditional split pea soup. But, with the great nutrition these split peas pack + how inexpensive they are + Aldi's carrying them right now…. a better soup recipe just had to happen.
Split peas are an excellent source of fiber, protein, complex carbohydrates, and iron. So very similar to lentils, these are a powerhouse of plant based nutrition for runners and anyone looking to up their plant based protein game. Just one serving (1 1/2 cups) of this soup provides 1/3 of your daily iron needs, 2/3 of your daily fiber needs, and 20 grams of protein. Now that's something to talk about!
And, when you end up pureeing all of your soup at the end…. who cares how you cut up all the veggies?! No need to careful chop or dice things – just get them into the pan – and get those flavors mingling. The longest part of the recipe is letting the split peas cook down, which takes about 50-55 minutes. But put it to simmer, cover, and go catch up on Netflix for a moment. Put your feet up – and grab a glass of wine.
Get ready to have split peas blow your mind…. I know, crazy, right?! Enjoy!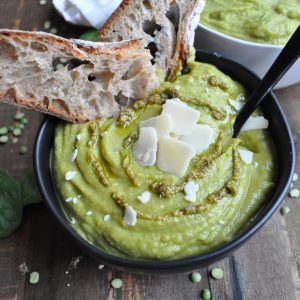 Pesto Split Pea Soup
Ingredients
1

# split peas

4

cups

vegetable broth

4

cups

water

3

Tbsp

oil

4

celery stalks

chopped (1 cup)

3

carrots

chopped (1 cup)

1

onion

diced

4

garlic cloves

minced

1/2

tsp

salt

1/4

tsp

pepper

5

oz

fresh spinach

1/4

cup

pesto
Optional Toppings
Pesto

Parmesan cheese flakes

Crusty bread or croutons
Instructions
In a large stock pot, heat oil over medium heat. Add celery, carrots, and onions. Saute until soft - approximately 8-10 minutes. Add garlic, salt, pepper and cook for one minute or until fragrant.

Add broth, water, and split peas. Bring to a boil.

Reduce heat to a simmer. Cover. Cook for 50-55 minutes or until peas are falling apart and tender.

Add spinach. Cook another 5 minutes. Remove from heat.

Working in batches, puree in the blender. Add pesto to one of the batches before blending. Stir to thoroughly combine into all the soup.
Notes
How-to-Use:
Athletes: Eat a bowl of this soup after training to aid in recovery. With 20 grams of protein and 50 gm of complex carbs, your muscles will thank you. Add a source of vitamin C (orange, berries, or bell peppers) on the side to help increase the iron absorption in the soup, as it contains nearly 1/3 of your iron needs for the day. If you don't tolerate fiber well, don't eat this for lunch before a post work run - it may be too much!
Healthy Eating: Get ready to stay full ALL afternoon long after eating this for lunch. The 20 grams of protein and 18 gm of fiber are sure to keep you satisfied for hours.
Kids: Sometimes, getting kids to try new foods is all in the way you frame it. So, if calling this Hulk Soup gets your kids to eat it, roll with it!
Other Thoughts:
IMPORTANT: this soup gets very thick as it sits overnight in the refrigerator. Thin with water until desired consistency before heating. (I used about 1 Tbsp per serving) 
Feel free to use store bought or homemade pesto. We used Aldi's jarred pesto. Not nearly as good as homemade, but certainly works in a pinch.
Naturally gluten free
Can easily be made vegan with dairy free pesto
You can freeze individual portions of this soup for lunches another week, if you're like me and get bored of the same things day after day.