It's no secret we've got a passion for pre-run fueling here at Featherstone Nutrition. There's a reason for this. In my experience, runners were missing this very easy and important snack far too often. The reasons are plenty: I run too early – my stomach doesn't like to eat before my run – I'm too busy – I don't think I need it, it's just an easy run. Well, I'm on a mission to solve all these issues and get all runners fueled with something pre-run. Eating before we run helps decrease the stress & strain on our bodies during the run, gives us quick fuel to feel stronger on our run, and allows us to recover faster post-run. All very important things if we're trying to stay healthy and/or crush a training cycle.
I'm a huge fan of easy options for pre-run fueling, like graham crackers, dry cereal, bananas, toast, English muffins, and frozen waffles. But, if you have a moment to make these PR Tarts, you may never turn back. We're not sure if PR stands for pre-run, personal record, or pretty rad – but whatever it stands for, your pre-run tarts just got a makeover.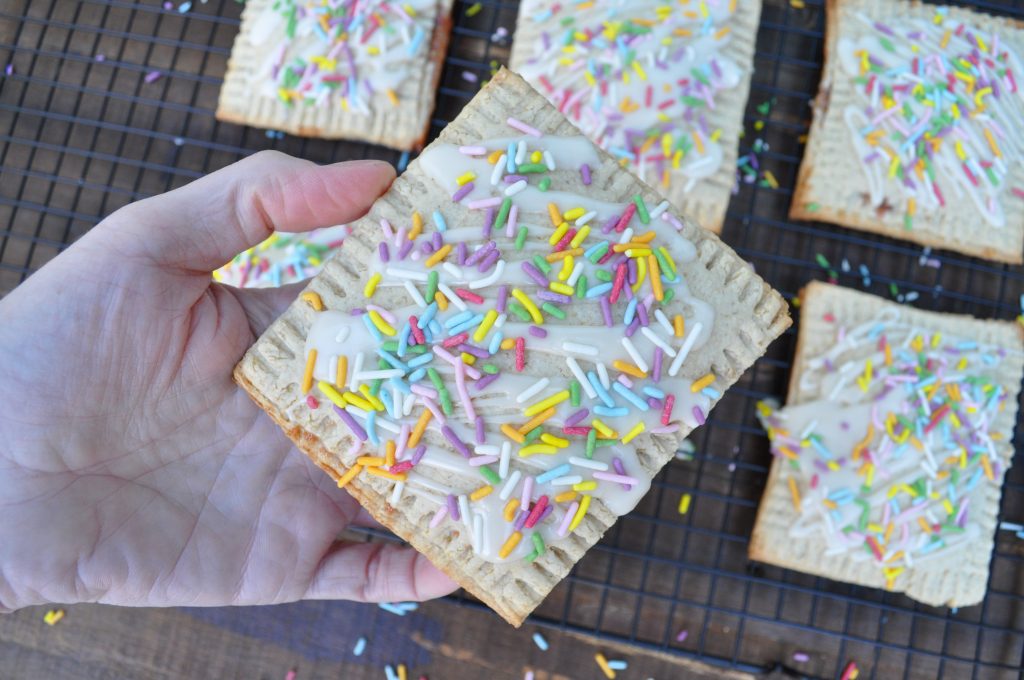 Pop tarts reign supreme as a pre-run fuel option for the solid balance of carbs to protein/fat – but if you have the time to make your own, give these guys a whirl. They are actually quite easy to make. The dough is super easy to work with – foolproof if you will. Roll them out thinner than you think you need to, this helps keep them crisp. And speaking of crisp, if you store them in the refrigerator – they shockingly keep that crisp for at least a week!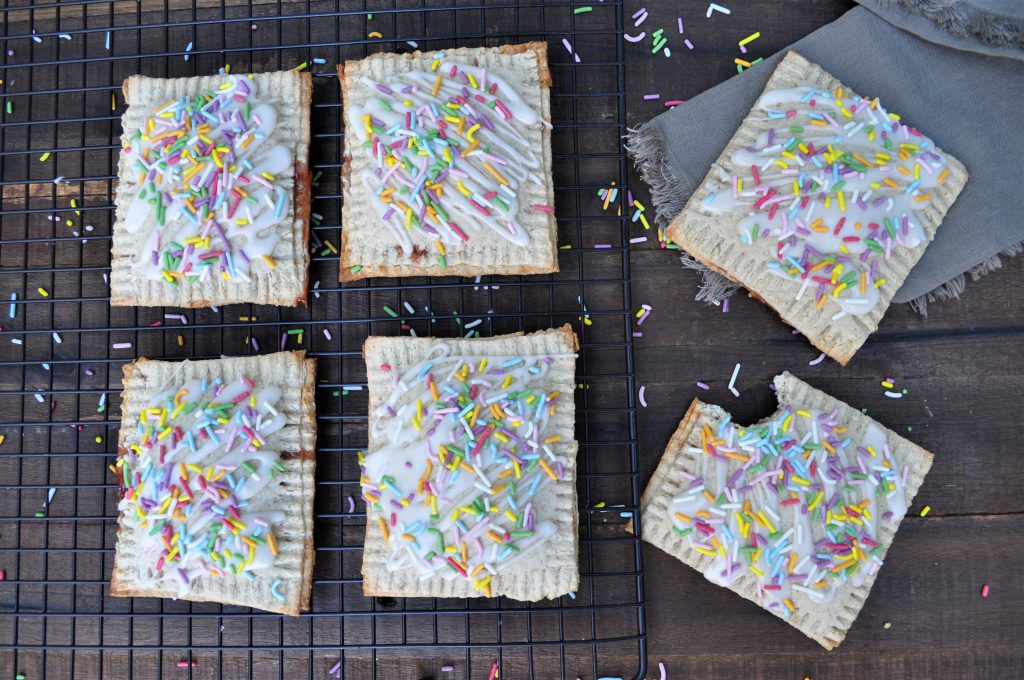 Short on time? Make one big pop tart & cut it after baking. Just make sure you let it cool, or the filling will ooze everywhere. More time & looking for single-serve easiness? Make individual pop-tarts. This recipe tells you to make 8 big ones. But, feel free to make smaller ones – if you want. You're in the driver's seat!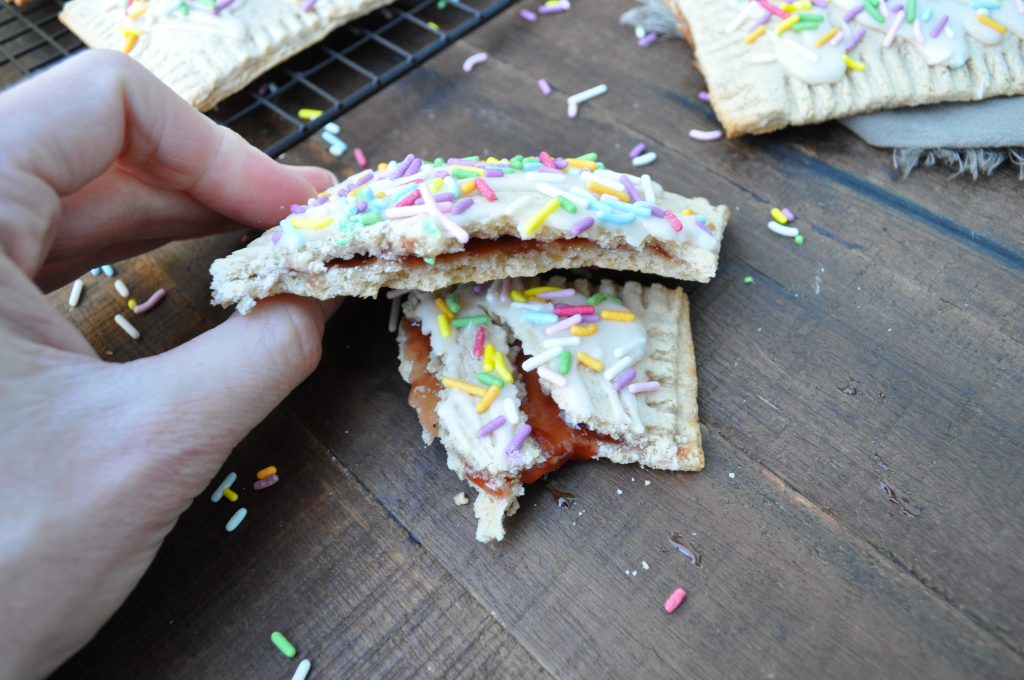 Over the last year, some of you have perfected this recipe and given some excellent suggestions. Here they are:
Make a double batch. You won't regret it.
Use cookie cutters or a jar lid to make sure they are all the same size.
Add a little lemon juice to the frosting.
Easy enough and not that time-consuming!
Use different fillings like Nutella, brown sugar + cinnamon, chocolate chips, or homemade jams.
Store in the refrigerator and they stay amazingly fresh & crisp for a week.
Believe it or not – a lot of people said they like them better without the frosting. Make them your own!
PR-Tart Bars
Ingredients
1

cup

oats

1

cup

all-purpose flour

1/4

cup

granulated sugar

1/4

tsp

salt

1/4

tsp

baking powder

4

tbsp

butter

1/4

cup

plain greek yogurt

1/4

cup

water

1/2

cup

strawberry jam

1/2

cup

powdered sugar

4

drops

vanilla extract

1-2

tbsp

water

sprinkles
Instructions
Preheat oven to 375 degrees.

Place oats in a food processor. Blend until oats become flour.

Add flour, sugar, salt, baking powder. Pulse to combine.

Cut butter into chunks. Add butter chunks & greek yogurt. Process until clumpy.

Add water. Process until combined.

Remove dough from the food processor & form a ball.

Grab a piece of parchment paper & a rolling pin.

Form a log with the dough & place on the parchment paper.

Roll dough out thin on the parchment paper, approximately 18"x12". Dough is very easy to work with, you won't need more flour.

Decide if you want to make individual PR tarts or one big tart. For individual, cut into 12-16 even pieces & separate.

Spread strawberry jam over half the dough. For the slab, fold the dough in half over the jam. For tarts, match up even sizes.

Using a fork, seal the edges. Spend a moment sealing them well. If they do leak when cooked, just cut off the spillage & they will be fine.

Bake: 20 minutes for 1 large tart & 16-18 minutes for individual tarts. If you're making smaller tarts, watch starting at 12 minutes and remove from oven when they start to brown on the endges.

Allow to cool completely.

Mix powdered sugar with vanilla & water. Drizzle over tarts. Top with sprinkles.

Store in the refrigerator.
Notes
For athletes: Enjoy as a pre-run snack! For healthy eating: Consume as part of your meal or snack in addition to a protein and healthy fat source. For kids: Kids love these! Let them help pick the jam & add the sprinkles on top.
Feeling festive?! Grab some holiday sprinkles and make it holiday-rific. We made these Valentine's Day PR Tarts this past weekend and this is about as festive as I'm gonna get!