We're talking pre-workout fuel…
I'm not talking pre-workout powders that are pumped full of caffeine and potentially banned substances that leave you amped and ready to jump off a cliff…. I'm talking a higher carbohydrate, lower fat, lower protein wholesome snack to fuel your endurance training.
The likelihood that we're all going into training sessions without enough quick carbohydrate sources ready to fuel our muscles is pretty high. Most people I talk to are  training first thing in the morning or right after work in the afternoons. First-thing-in-the-morning people haven't had a meal since dinner or a bedtime snack 8-12 hours earlier. After-work-people likely haven't eaten much since lunch or about 4-6 hours earlier. This leaves ample opportunity to add in a quick fuel source to have some easily accessible energy for your muscles to draw upon.
Cue these banana bars – yummmmm! Most of my granola bars, cookies, breads, and snacks on the blog are all great sources of healthy fats. While super necessary, this isn't the easiest thing for your stomach to handle right before a tough workout – especially anything of high intensity. Digestion is slowed during exercise – fat and protein stay in our stomachs longer. slowing gastric emptying anyways – so too much protein and fat before a workout may leave your stomach sloshing, cramping, or trying to make a mass exodus in one direction or the other.
Some people are also super sensitive to the amount of fiber eaten right before a workout. If this is the case, use good old all purpose white flour to lower the fiber content even further.
Another really important fact, these are delightful for anyone. Athlete or not.  Bake up a batch and get snacking!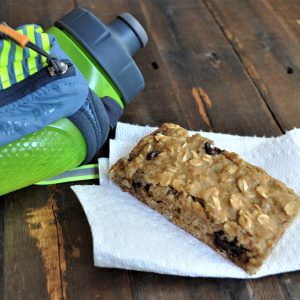 Pre-Workout Banana Bars
Ingredients
2

large bananas

mashed

1/4

cup

applesauce

1/4

cup

maple syrup

1

egg

1

tsp

vanilla

1

cup

old fashioned oats

1/2

cup

flour

i used white whole wheat

1/2

tsp

baking soda

1/4

tsp

salt

1/3

cup

chocolate chips
Instructions
Preheat oven to 350 degrees.

In a medium bowl, mix together bananas, applesauce, maple syrup, egg, and vanilla.

Add oats, flour, salt and baking soda. Mix well. Fold in chocolate chips.

Grease an 8x8 baking pan. Pour in batter.

Bake for 20-25 minutes or until brown along the edges.

Store in the fridge for a week.
Notes
Other Thoughts:
You could swap the chocolate chips for dried fruit for extra carbohydrates and even less fat. Or, get super fancy and use both!
Hypothetically, you could swap any all purpose gluten free flour, if need be. But, I would not recommend swapping a higher fat (almond flour) or higher fiber (garbanzo bean flour) gluten free flour if you plan to use these as a pre-workout snack. That is unless you have an iron clad stomach, if so, I'm stating for the record that I'm jealous.
I have found that anything made from ripe bananas continues to 'ripen' after baking quite quickly. So, if you plan to use most days of the week before your workout, keep 4-5 in the refrigerator and freeze the others for optimal texture.
Toss the frozen bar into the microwave for 15-20 seconds and enjoy.
How-to-Use:
Athletes: These are made specifically to be used as a quick fuel source before training. So, eat one 15-60 minutes before your workout. Don't let the purpose of these bars persuade you from getting creative though. These are also delicious as a bed time snack, breakfast, and side dish to lunch.
Healthy Eating: As mentioned above, these are also a great snack to eat any time of day. They have a cake-like texture to them (vs a hard granola bar texture.) So, I particularly enjoy these as an after meal sweet treat. Because a meal isn't finished in my eyes without something 'sweet.'
Kids: If you're feeling generous, cut up 6 big hunks for yourself for the week and then cut the rest into 4 smaller pieces and share with your kids. They'll hopefully thank you for sharing.