When that snack attack hits – whatever time of day – it's completely clutch that we have some solid nutrition options at our finger tips. And, lets be honest – they need to be severely delicious as well.
While I absolutely couldn't live without my stock pile of snacking staples, I prefer to NOT snack on the same things every day because that's boring. And, boring eats leave me, well…. BORED. Cue the revamp of my favorite granola bars.
For those of you who follow along on my random recipe pursuits, at the risk of sounding like a broken record, I totally got the inspiration for this creation while eating a candy bar. (Remember when I created the cookie dough bites while putting spoon to pint of cookie dough ice cream?!) I was eating a Take Five Halloween treat (team too early right here) at my parents house and was thoroughly enjoying the salty pretzels smashed in between my peanut butter and chocolate when I decided this could easily happen in my beloved granola bar recipe.
So then I was having an inner conflict about whether to add chocolate to the bars or keep them straight PB-Pretzel. If it were up to me, there would be chocolate in everything. But, I wanted to make sure you guys were feeling me on this. Naturally, I took to a poll on instagram and I like you all even more than I realized because you all clearly are on team chocolate. Over 90% of you and I see eye-to-eye here. And, for the rest of you – I still love ya guys so feel free to leave the chocolate out. They worked great that way too.
These were made in an old silicone granola bar pan that is no longer being sold. However, this one on Amazon and this one at Bed Bath and Beyond look very similar. If you're a granola bar freak like me, I highly recommend purchasing one. But, no worries, these work awesome in an 8×8 pan as well. Just make sure that you put parchment paper into the pan, hanging out the edges like a sling for easy removal.
What other kind of granola bars should we add to the growing list over here?!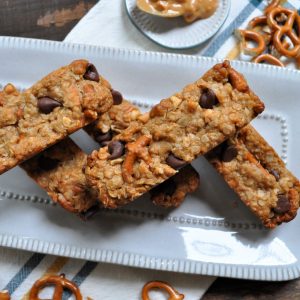 Pretzel Peanut Butter Granola Bars
Ingredients
1/2

cup

crunchy peanut butter

1/2

cup

honey

1/4

cup

oil

i used avocado oil

1

tsp

vanilla

1/2

cup

white whole wheat flour

1/2

tsp

baking soda

1/4

tsp

salt

see note under other thoughts

1

cup

pretzels

crushed

1 1/2

cups

quick oats

1/3

cup

chocolate chips
Instructions
Preheat oven to 350 degrees. Line 8x8 baking pan with parchment paper. Note: you want the parchment paper long enough to hang out of the sides of the pan. Almost like a sling, so you can pull the sides up to remove the bars after baking. Or, grease your granola bar pan.

In a microwave safe bowl, combine peanut butter, honey, and oil. Microwave for 30 seconds. Whisk together.

Add vanilla. Whisk again.

Gently crush your 1 cup of pretzels. Add to a medium bowl.

Add flour, salt, soda, and oats to the pretzels. Mix together with a large spoon.

Add peanut butter mixture to medium bowl with oat mixture. Stir until combined. Mix in chocolate chips.

Press granola bar dough into prepared 8x8 baking pan or granola bar molds. Press REALLY well - really get in there. This helps keep them from crumbling when you cut them.

Bake for 18-20 minutes in 8x8 pan. Bake for 14-16 minutes in granola bar pan. Remove from oven and cool completely in the pan before removing.

Once cool, pull out granola bar square by lifting the parchment paper on opposite sides or pop the bars out by pushing the silicone mold from below. If using 8x8 pan, cut into 12 bars or 16 squares. Store in an air tight container on the counter or in the refrigerator for a week. (Longer is safe but they may get stale.)
Notes
Other Thoughts:
The pretzels we had on hand were 'lightly salted' - for reference, they had 120 mg sodium per serving where 'regular' pretzels have more like 300-450 mg. So, I decided to add 1/4 tsp of salt to the recipe. If you are using 'regular' pretzels - you may not want/need to add the additional salt.
Highly recommend using Crazy Richard's chunky peanut butter for this recipe. The consistency and flavor is perfect. The only ingredient in this peanut butter is peanuts. Just like it should be. (Also part of the reason I added some salt)
You could certainly use smooth peanut butter if you want too. The extra crunch for the crunchy peanut butter is pretty fantastic with the crunchy pretzels though.
How-to-Use:
Athletes: Great for that afternoon snack before your evening workout. Try eating it about 2 hours before your workout. Or, use it as a post exercise snack to fend off the hunger until you can eat your next meal.
Healthy Eating: Homemade granola bars really allow you to tailor them to your nutritional preferences. Local honey important to you? Choose that. Organic oats important to you? Use those. Dairy free chocolate needed? Yep - you can swap that too. Make the changes and choices that help meet your nutrition needs.
Kids: One of these can easily take the place of half a PB&J sandwich in packed lunches. Sent this with kefir, an apple, and some carrot sticks in my kids lunch. And, tada! something new and different to get him excited at lunch.