It only seems right to tweak the fan favorite Almond Butter Cookie Bars into a pumpkin fall favorite. If you've fallen in love with the original version and you love everything pumpkin, these are next on your list!
All the goodness of the original, almond butter, whole grains, and just the right amount of sweetness – these guys will make you ready to conquer Fall. <whatever that means>
Pumpkin can be tricky to add to baked goods as it is very dense and moist. So, we added more flour to these plus increased the baking time. I don't think you'll be disappointed!
The pumpkin makes the dough a little stickier so they were a messy, hands on job to get them into the baking dish. But what's baking without a little <re: a lot around here> mess!
If you're having trouble finding canned pumpkin, hold tight. Rumor has it there was actually a great harvest of pumpkins this year, but the harvest is a little later than usual. Plus, all this covid action has us all baking in the kitchen a little earlier this year than last. And, please…. don't make canned pumpkin the next toilet paper. Buy want you need and leave some of the next pumpkin lover!
Enjoy all by yourself or share with others. These also freeze great. It's possible I have 4 different pumpkin baked goods stashed in the freezer currently! Can you ever have too many?!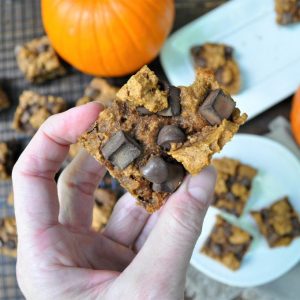 Pumpkin Almond Butter Cookie Bars
Ingredients
3/4

cup

almond butter

1/4

cup

maple syrup

1/4

cup

brown sugar

1

egg

1/2

cup

pumpkin puree

1

tsp

vanilla extract

1

cup

white whole wheat flour

1/2

cup

oats

1

tsp

pumpkin pie spice

1

tsp

baking soda

1/4

tsp

salt

1/2

cup

dark chocolate chips
Instructions
Preheat oven to 350 degrees. Line 8×8 pan with parchment paper.

In a medium bowl, mix almond butter, maple syrup, brown sugar, pumpkin, egg, and vanilla extract.

In a small bowl, combine flour, oats, baking soda, pumpkin pie spice, and salt. Add this to the almond butter bowl. Mix well.

Save 1/2 cup of dough for the topping. Press the remaining dough into the prepared 8×8 pan. Spread evenly – this is a messy step – just do your best!

Top with chocolate chips.

Drop remaining dough over the top.

Bake for 20 – 22 minutes, or until center looks cooked and/or toothpick inserted into the middle of the bars comes out clean.
Notes
Other Thoughts
These can be made vegan with a flax egg.
Make them gluten free by subbing a gluten free all purpose flour.
Store them on the counter for 3 – 4 days, in the refrigerator for 2 weeks, or in the freezer for 2 months.
How-to-Use
Athletes: Pumpkin is a powerful antioxidant to help you repair from all those hard training sessions….. but let's be honest, we absolutely do NOT need that excuse to devour these delicious cookies! Have at it.
Healthy Eating: All the delicious pumpkin with a side of decent nutrition.
Kids: Mine approved. I think yours will too.