This recipe was created with a specific profile of crazy person in mind… the 'I love pumpkin pie' but 'I don't really love pie' group. Oh…. is this not a group?! Am I the only person on the planet who doesn't love pie? Please don't judge. I almost got kicked out of our family when at age 4 I proclaimed to my pie-famous Grandma 'I HATE pie!' From that day forward, she always had frozen cookies for me in the freezer. But, I kid you not – they thought about exiling me for a moment.
See, my grandma was a bit of a legend in her day for her pies and pie crusts. As a young mother of three boys, she started making pies for a local grocery store and gathered quite the following. I fondly remember the bids at the church auctions going up and up and up until some lucky dog took home grandma's vanilla cream pie for over $100!!!
I'm sure you have all seen the crustless pumpkin pies that are all the rage for a healthier pumpkin pie alternative. Not bad tasting, right?! And for myself, a pie-is-not-my-favorite-dessert person, I still feel like it needs a crunchy bottom to it. So, this recipe was born. The crust is full of healthy fats (almond butter and avocado oil) and whole grains (oatmeal and whole wheat flour) with just the right amount of sugar to round out the pie filling. You won't be disappointed having these in your kitchen!
Store them in the refrigerator to prolong their deliciousness- and I hope you enjoy these as much as my non-pie-loving-self.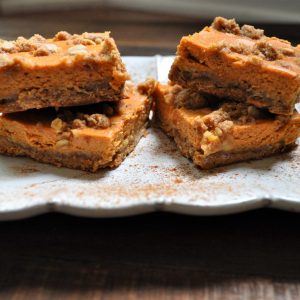 Pumpkin Pie Bars with Oatmeal Crust
Ingredients
Filling
1

cup

pumpkin

1/2

cup

Greek yogurt

plain

1

egg

1/3

cup

maple syrup

1/2

tsp

vanilla

2

tsp

pumpkin pie spice
Crust
1/2

cup

almond butter

1/3

cup

brown sugar

1

Tbsp

avocado oil

1/2

tsp

vanilla

pinch

of salt

1/2

cup

white whole wheat flour

1/2

cup

oats

1/2

tsp

baking powder
Instructions
Preheat oven to 350 degrees. Press piece of parchment paper into an 8×8 inch pan. Allow the sides to hang out so you can remove the bars as one big chunk when done cooking.

In a medium bowl, combine all filling ingredients and whisk together.

In another medium bowl, mix together almond butter, sugar, vanilla, oil, and salt. Once combined, add remaining crust ingredients and stir. (It will be dry.) Reserve 1/2 cup of mixture for the top of the bars.

Press remaining crust dough evenly and firmly into bottom of pan. This will take a little muscle and finesse. Bake crust for 7-8 minutes.

Remove from oven and top with filling. Then, crumble remaining crust dough evenly over the top.

Bake for 25-30 minutes or until the center is the same color as the edges and no longer wiggly.

Allow to cool completely before cutting. Store in the refrigerator.
Notes
How-to-Use:
Athletes: Pumpkin is rich in Vitamin A which is a powerful antioxidant to boost recovery, improve the immune system, and give you killer eye sight! (Ok, one of those is a stretch…) But truthfully, adding in some delicious sweets that also pack some powerful nutrition is a great idea for balance and meeting fitness goals.
Healthy Eating: I'm sure you have all seen the crustless pumpkin pies for a healthier alternative. These are way better and way more satisfying!
Kids: The picture below says it all. Kids love them!
Other Thoughts:
I went back and forth about whether I wanted a thin, flaky crust or a thick cakey crust. Thin and flaky won. But if you're a cakey lover, double the flour and oats and add 1/4 cup milk (or more until the dough comes together.)