In case you're having trouble getting your hands on canned pumpkin this year, here's a recipe with all the pumpkin spice flavor sans actual pumpkin. These Pumpkin Spice Energy Bites are a necessary addition to Fall. Whip them up and store them in the refrigerator or freezer for easy snacking.
These Pumpkin Spice energy bites round out the other delicious options of energy bites including: Birthday Cake, Cookie Dough, Mint Chocolate, and Peanut Butter Cup. Clearly we have a thing for energy bites around here. I highly recommend using your food processor or investing in one to make these. You dump all the ingredients in. Turn it on. And let it do it's thing! The only thing it doesn't do for you is roll them.
These energy bites are made from dates, cashews, and oats. Wholesome, well balanced energy to keep you going in between meals. Plus, they taste delicious so who can argue with that!
So, now you need to try these and see which energy bite flavor is YOUR favorite!! <<I must say. These might have edged out Birthday Cake for a win in my opinion.>>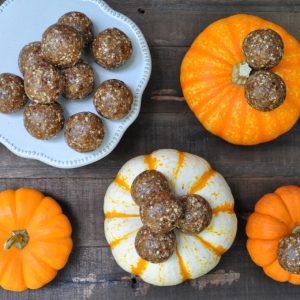 Pumpkin Spice Energy Bites
Ingredients
1

cup

Medjool dates

pitted

1

cup

salted cashews

½

cup

quick oats

1

Tbsp

maple syrup

1 ½

tsp

vanilla extract

1½

tsp

pumpkin pie spice

½

tsp

cinnamon
Instructions
If your dates are hard or cold from being stored in the refrigerator, toss them in the microwave for 15 – 20 seconds.

Combine all ingredients in the food processor. Blend and pulse until well combined and starts to form a ball. If the dough isn't coming together, drizzle a little more maple syrup into the mix.

Roll 1 Tbsp of dough into a ball. Repeat until all the dough is gone. This will make 16 – 18 energy bites. >

Store the bites in the refrigerator or freezer.
Notes
Other Thoughts
Use gluten-free oats, if needed.
You can use water instead of maple syrup to make them added sugar-free but I don't think they turn out as well. A little maple syrup never hurt anyone.
If you like chocolate with your pumpkin spice, add some mini chocolate chips or even some white chocolate chips. Show me your creations!
How-to-Use
Athletes: Pack 2 or 3 of these as a post-workout snack to get you to your next meal. Or, pack a couple as a morning snack to keep the rungries away!
Healthy Eating: Get all your pumpkin spice fill with solid nutrition alongside it. Complex carbohydrates, healthy fats, and all the satisfying flavor you could want. No one's stopping you from having two or three…
Kids: My kids love to grab these out of the freezer and toss them in the microwave for 10 seconds. They like them even more when I add sprinkles. There's a reason the Birthday Cake energy bites are a winner around here. Toss some holiday sprinkles in and call it a day!