Whoopie pies were pretty much a staple of my childhood. So, it was only a matter of time until they made an appearance on here. And, I can also promise this won't be the last time you see whoopie pies around this place.
If you're new to the whoopie pies, they're basically a cake-like cookie filled with icing. So kind of like oreo meets cake but on steroids.
My grandma Smith was a celebrity around my high school lacrosse team, as she'd occasionally walk over to our practice with a massive box of whoopie pies. You know those traditional chocolate cake and bright white Crisco filled icing ones. Just what we needed mid-practice….
Now, these pumpkin whoopie pies aren't your traditional whoopie pies. I've been pondering up for awhile what I could use for a filling that wasn't the traditional crisco + powdered sugar fest. Then, I came across Hummusapien's pumpkin dip and decided, yup… that's it! So these are technically Pumpkin – Pumpkin Whoopie Pies. Pumpkin cakey cookies with Pumpkin filling. If that doesn't scream Fall, I'm not sure what does.
Honestly, the cookies alone are also ridiculously fabulous. So, if whoopie pies aren't your thing, these cookies will be.
Be a rebel. Be like Grandma Smith. Show up to Thanksgiving with these guys instead of a pie. <<okay, maybe both! What's Thanksgiving without pie?!>>
---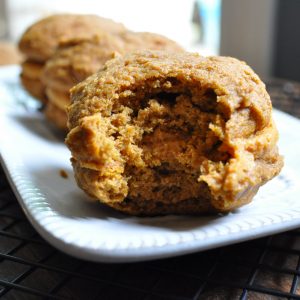 Pumpkin Whoopie Pies
Servings
8
big whoopie pies
Ingredients
Cookies
1 1/2

cups

white whole wheat flour

1

tsp

baking powder

1

tsp

baking soda

1/4

tsp

salt

2

tsp

cinnamon

1/2

tsp

ginger

1/4

tsp

nutmeg

1/3

cup

avocado oil

or oil of choice

1/2

cup

brown sugar

1

cup

pumpkin

canned

2

eggs
Filling
1/2

cup

pumpkin

canned

2

Tbsp

almond butter

1/2

tsp

vanilla extract

1

oz

Neufchatel cheese

or cream cheese

1/4

cup

brown sugar

2 1/2

Tbsp

coconut flour
Instructions
Preheat oven to 350 degrees. Gather two nonstick baking sheets.

In a small bowl, whisk together flour, baking powder & soda, salt, cinnamon, ginger, and nutmeg.

In a medium bowl, add oil, brown sugar, and eggs. Beat with a hand mixer for 1 minute. Add pumpkin. Beat again for 1 minute.

Fold flour mixture into pumpkin mixture with a large spoon until well incorporated and all the flour is mixed in.

Place approx. 2 Tbsp of dough 1 inch apart on the baking sheets. The cookies don't spread too much so make them about the size and shape you want.

Bake for 13-15 minutes or until cookies are firm in the center.

While cookies are baking, prepare the filling. In a new bowl, combine all the filling ingredients and mix with hand mixer until fluffy.

Scoop filling into the corner of a freezer bag and keep in refrigerator until you're ready to assemble the whoopie pies.

When your cookies are done baking, allow to cool on the baking sheet for 5-10 minutes before removing. Allow to completely cool on a baking rack before filling.

To assemble the whoopie pies, cut a hole in the end of the freezer bag filled with filling. Pipe onto one cookie. Top with another equally sized cookies. Repeat for all 8 cookies.

Store any extra in the refrigerator.
Notes
How-to-Use:
Athletes: It's possible that I ate these as a pre-workout snack after recipe testing and it's possible that it made my belly v happy. Pre or post workout, your belly will thank you.
Healthy Eating: A pumpkin on pumpkin dessert loaded with Vitamin A and not too loaded with sugar. Round out that holiday feast with these nutritious dreams!
Kids: Sometimes it is really nice to know that when your kids think they're getting something sweet and delicious - it's actually good for them. <<You can also wear the filling on your chest if you want.>>
Other Thoughts:
The filling is inspired by Hummusapien's Pumpkin Dip - and she does a great job of explaining why you need to use the coconut flour. Pumpkin is very 'm' word - which can be difficult. Adding the coconut flour which absorbs a TON of liquid is really necessary here.
Don't feel like an underachiever if you want to eat the cookies plain. They are phenomenal plain.
Keep them in the refrigerator after you make them. They're legit right away but still very good the next day.