This vegan, high protein, complex carbohydrate, iron rich soup tastes like a love affair between health food and guttony. I kid you not. It's incredibly hearty and filling to satisfy even the largest of appetites. (I can vouch for this – my active 6'4″ husband with the appetite of a teenage boy loves this soup as an entire meal.) 
I started to fall in love with lentils after my daughter was born and I was severely anemic looking for any non-meat way to boost those iron stores. <<Because if you have ever tried to run with your iron stores in the toilet, you'll know what death feels like.>> One half cup of cooked red lentils supplies 20% of your daily iron needs. The other reason I love lentils? They're cheap! Really cheap! Who doesn't love a cheap protein source? Typically we spend the most food dollars on our protein sources, so this is a huge win for budget eating.
Lentils come in all different varieties. This soup calls for red lentils, which fall apart when cooking and blend into a very creamy base for soups. These are also the highest in iron. Other varieties of lentils include green and black, which hold their shape more when cooked. I have made this soup with green lentils and it still works if that happens to be all you can find at your grocery store.
Lentils are a good source of complex carbohydrate but in order to make this soup a full meal, it needed a little more – cue the entrance of the sweet potatoes. Finish it off with a couple huge handfuls of chopped kale (plus the carrots at the beginning) to get your veggies. Now you've got your balanced protein-carbohydrate-veggie packed dinner. All in one spoonful! But, I wouldn't be mad if you added some crusty whole wheat bread on the side for dipping. In fact, I encourage it.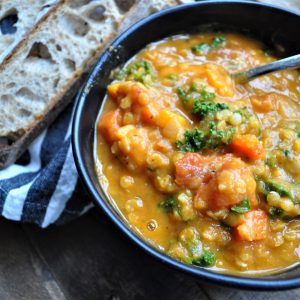 Red Lentil & Sweet Potato Soup
Servings
8
(1 1/2 cup servings)
Ingredients
3

Tbsp

olive oil

1

onion

chopped (1 cup)

4

carrots

chopped (2 cups)

2

small sweet potatoes

chopped (2 1/2 cups)

salt/pepper

4

cloves

garlic

crushed

2

tsp

cumin

1

tsp

thyme

1 1/2

tsp

chili powder

1

can

28 oz diced tomatoes, drained

4

cups

vegetable broth

4

cups

water

1

bay leaf

2

cups

red lentils

4

cups

kale

chopped

juice of 1 1/2 lemons
Instructions
Heat oil in a dutch oven or stock pot. Add onions, carrots, and sweet potato. Season with small amount of salt and pepper. Saute until vegetables soften, stirring frequently.

Add garlic, cumin, chili powder, and thyme. Cook for one minute, stirring the entire time.

Add drained tomatoes and stir until any remaining liquid cooks off.

Add broth, water, lentils, bay leaf, and 1 tsp salt.

Simmer for 30 minutes. Turn off heat.

Transfer 1/2 the soup into a blender and puree. Return pureed soup to the other soup and stir.

Stir in kale and lemon juice. Allow kale to wilt. Enjoy!
Notes
Other Thoughts:
This recipe feeds a crowd! It saves very well in the refrigerator for 4-5 days. Or, freeze it for up to 2-3 months.
You can use other colored lentils - the final soup will just have a different look and texture to it.
This soup is much lower in sodium than others, but if you want it even lower, cut salt to 1/2 tsp and use the juice of 2 whole lemons.
How-to-Use:
Athletes: Many athletes need extra iron to support endurance training and excess losses. Add this into your monthly rotation to help boost those iron stores. Also, a great post endurance exercise meal full of healthy carbohydrates, protein, and antioxidants. I'm looking out for you guys!
Healthy Eating: I love how this meal is completely balanced and ready to be your full meal. Make it on the weekend. Eat it for dinner. Then, have leftovers for lunch all week. I bet your coworkers will be jealous 😉
Kids: Try giving them a small bowl with a piece of bread to dip. Once they like the flavor, they're more likely to try it. If texture is an issue, puree their entire bowl of soup.