The inspiration for this recipe came from my son. Until about 2 years old, this kid would eat anything. And I mean, anything. Sardines, tofu, meatballs, broccoli, squash, beets, plain yogurt…. seriously, he was a machine. Something happened after 2 and we're currently in a quite limited food repertoire and then he got sick. That 'quite limited' diet came to a slamming halt of a pretzel, saltine cracker, fruit, and kefir diet. <<Thank GOD for that kefir>> 
This breakfast cake was my attempt to get a vegetable into him. And to have a tasty, nutrient packed breakfast for us all. For once, the whole family agreed.
Roasting and pureeing the carrots gives this 'cake' sweetness, moistness, and flavor that keeps you from needing to add as much sugar and oil. Roasting the carrots is the longest part of this recipe but isn't labor intensive. Just wrap the carrots up in foil and throw in the oven for 40-50 minutes or until tender. So while it doesn't take a lot of effort, it does take some planning to make sure you have some roasted carrots when you're ready to make the cake. If you're really on your A game, save some roasted carrots from dinner the night before. Or, roast a bunch and freeze in small containers. Thaw for this recipe or throw frozen into a smoothie.
Go ahead and leave out the 'roasted carrots' in the title and share this breakfast cake with confidence that everyone will love it …. even the pickiest of eaters!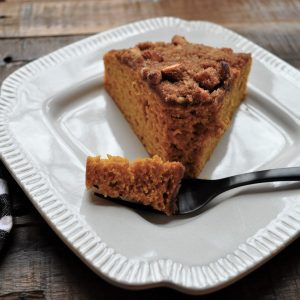 Roasted Carrot Breakfast Cake
Ingredients
2

cups

white whole wheat flour

1

tsp

baking powder

1/2

tsp

baking soda

1/2

tsp

cinnamon

1/2

tsp

nutmeg

1/4

tsp

salt

1

cup

roasted carrots

see directions for details

1/2

cup

milk

or milk alternative

1/3

cup

brown sugar

1/3

cup

avocado oil

or oil of choice

1/3

cup

plain yogurt

2

eggs

1

tsp

vanilla
Topping
2

Tbsp

white whole wheat flour

2

Tbsp

brown sugar

3/4

tsp

cinnamon

1

Tbsp

avocado oil

or oil of choice

3

Tbsp

chopped nuts

almonds, pecans, or walnuts
Instructions
To roast the carrots: peel and chop carrots in 1 inch segments. Preheat oven to 400 degrees. Line baking sheet with foil. Drizzle carrots with a small amount of oil. Pull the foil up around the carrots and completely enclose them. Bake for 40-50 minutes.

Preheat oven to 350 degrees. Grease a 9 inch cake pan.

In a medium bowl, combine flour, baking powder & soda, cinnamon, nutmeg and salt. Combine.

In a blender or food processor, combine carrots, milk, brown sugar, oil, yogurt, eggs, and vanilla. Blend until smooth.

Add carrot mixture to flour bowl. Stir until combined.

Pour into prepared cake pan.

In a small bowl, combine topping ingredients. Sprinkle evenly over the batter in the cake pan.

Bake for 30 minutes or until firm in the center or toothpick comes out clean.
Notes
How-to-Use:
Athletes: A big hunk of this breakfast cake will give you the whole grains, antioxidants (thank you Vitamin A-rich carrots), and healthy fats you need. Just add a couple scrambled eggs or a big bowl of greek yogurt on the side to meet your protein needs. I also grabbed a hunk of this as a pre-run snack, and it didn't disappoint or bother my sensitive stomach. 
Healthy Eating: If you're on the 'no deprivation' new year resolution bandwagon but you're still interested in making some healthy investments in your health, this here breakfast cake is perfection. Chock full of healthy nutrition but also delicious enough to get you really excited for breakfast all week! Pair with a lean source of protein to round out a balanced breakfast - think 6 oz Greek yogurt cup, 3/4 cup cottage cheese, or 2 eggs.
Kids: This was approved by THE pickiest eater around at the moment. So, I have a feeling you'll be golden here guys. Feel confident that you're loading your kids up with solid, long lasting nutrition with this for breakfast. Pair with a glass of milk, kefir, or some yogurt.
Other Thoughts:
If you really can't stand the idea of roasting your own carrots, you can buy a frozen bag of steamer carrots and use those. Just be aware, they won't be as sweet or flavorful as roasted carrots.
Feel free to bake this the night before you actually need it - it's delicious the next morning! (These photos are actually from a day old cake... so you know it will still look good too!) Just make sure it is completely cooled, then cover with foil.
If you are trying to fool a real breakfast cake lover, think about doubling the topping - I'm certain they won't even know the difference!