No more boring sandwiches! Whip up this sandwich spread in minutes and slather it on sandwiches all week for a little something extra. Made from roasted carrots, white beans, and cashews – this hearty dip needs a spot in your fridge!
This dip gets it's substance and creaminess from the carrots, beans, and cashews which also provides some serious nutrition. Full of antioxidants, protein, fiber and healthy fats – this sandwich spread is sure to make one satisfying sandwich.
Feel free to adjust the Sriracha to your spicy preference. This recipe is pretty mild as is so add more if you like it spicy. I'm a spice wimp since birthing Sloane – she literately stole ALL my spiciness from me – and I don't think this is very spicy at all.
As the pictures suggest, this also makes a stellar dip. Nothing is worse than dipping a carrot into ranch and having it all slide off or down your face. Dip away in this spread and you'll get a solid dip to veggie ratio in return. You might even forget there's a vegetable there.
If you're really on your game, roast some extra carrots at dinner one night. Save 1 cup in the refrigerator until you are ready to make your spread. And, enjoy!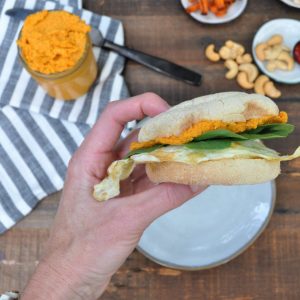 Roasted Carrot Sriracha Sandwich Spread
Ingredients
1

cup

roasted carrots

15.5

oz

can white or great northern beans

drained and rinsed

1/3

cup

cashews

2

garlic cloves

2

Tbsp

lemon juice

1

Tbsp

sriracha

1/4

tsp

salt
Instructions
If you need to roast your carrots, preheat oven to 400 degrees. Toss in a little avocado oil and bake on a sheet for 20 – 30 minutes. Shake a couple times throughout. Or, put in your air fryer at 400 degrees for 10 – 12 minutes.

In a food processor, combine all ingredients. Blend.

Eat. Store in a sealed container in the refrigerator for 2 weeks.
Notes
How-to-Use
Athletes: Slather this on your egg sandwiches in the morning to fuel up your morning right. Get your protein, carbs, veggies with a side of flavor!
Healthy Eating: Not only is this delicious as a sandwich spread, but it's also delicious as a veggie dip. It's super thick – so a nice change from hummus or ranch that won't stick to your veggies.
Kids: Put a thin layer on their grilled cheese and look at that! Veggies in their dinner! Watch the amount of sriracha you add if your little one is sensitive to heat.
Other Thoughts
Serve this on ANY sandwich, veggies, crackers – you name it. You can put that *hit on everything!
This keeps really well in the refrigerator too. Store for 2 – 3 weeks, no problem.
You can also freeze up to 6 months.