This salmon burger may sound a little odd or non-traditional yet we promise it is unbelievably delicious and highly recommend trying it before you knock it! These massive salmon burgers pack all the delicious flavor that you might even be able to get your salmon skeptics on board here.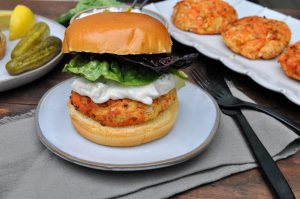 Shout out to my running partner, Shanna, who introduced me to dill pickle dip at a party and promptly decided this needed added to a salmon burger. Well, I promptly decided it needed added to a salmon burger. She hates salmon. If you too hate salmon, dare you to just make this dill pickle spread – add a little extra pickle juice – and use it as a dip. <If you're making it as a dip, double all the quantities. Because it is THAT good!>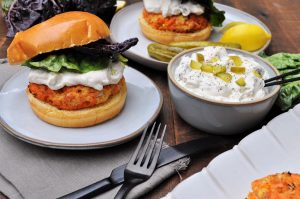 You can use any salmon for these. Fresh cooked, leftover, or canned. I heard many of you loud and clear that canned salmon creeps you out, after I posted these Chipotle Salmon Cakes. I still think it's a solid option – but, these guys used some fresh baked salmon <you can also use steelhead trout> and man, oh, man were they delicious!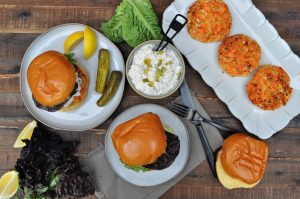 If you have an air fryer, use it! We made them in the air fryer and the oven – and for all you air fryer fans, I know it's not shocking that they were significantly more delicious in the air fryer. This is the air fryer we have – which fit all 4 of the salmon burgers in at once. If you have a smaller air fryer, you will need to cook them two at a time. If you don't have an air fryer, no fear – the oven works just fine. If you want that crispy outside, just broil them for a moment once they are done cooking. We haven't tried grilling them yet – since it's snowing in April in Ohio.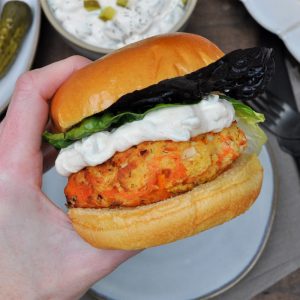 Salmon Burgers with Dill Pickle Spread
Ingredients
1

pound

salmon, uncooked

<or leftover cooked salmon>

1/2

cup

onion, diced small

1/4

cup

bell pepper, diced small

2

eggs

1

lemon, juiced

<3 Tbsp lemon juice>

1

tbsp

dijon mustard

1 1/2

tsp

dried dill

3/4

tsp

salt

3/4

cup

panko bread crumbs

<add another 1/4 cup, if needed>
Dill Pickle Spread
4

oz

Neufchatel cheese or light cream cheese

<this is half a block>

1/2

cup

Greek yogurt

1/2

cup

dill pickles, chopped

1/2

tsp

garlic powder

1/4

tsp

onion powder

1/4

tsp

smoked paprika

<optional>

1 - 2

tbsp

pickle juice, optional

<use this to thin the spread to desired consistency>
Burger Fixings
4

buns

<we used brioche>

lettuce

tomato
Instructions
If you need to cook your salmon, preheat oven to 450 degrees. Place salmon skin side down on a baking tray. Cook for 12 - 15 minutes or until internal temperature is 140 degrees. Or, cook salmon in your air fryer on 375 degrees for 7 - 10 minutes. If you don't have a thermometer, cook until the fish is flakey and opaque all the way through.

Set aside your salmon and allow to cool.

In a medium bowl, whisk together eggs, lemon juice, and dijon mustard. Stir in dill and salt.

Stir onions and bell peppers into the egg mixture. Tip: dice these pretty small and the salmon burgers stay together better.

Flake salmon into the egg mixture bowl. I like big chunks of salmon - so I left big flakes. But some people like the mix the crap out of them and make them more even in texture. It's up to you.

Add the panko bread crumbs and stir until combined. If your salmon was very dry, you may need to add another egg or 1 - 2 Tbsp greek yogurt or mayo to get them to come together.

Separate the salmon mixture into 4. Using your hands form 4 big patties. Shape them into whatever bun size you've got.

Highly recommend baking these in the air fryer, if you have one. Air Fry on 400 degrees for 7 - 10 minutes or until golden brown. Watch them so they don't burn. If you don't have an air fryer, bake in a 350 degree oven for 25 minutes. Broil for a moment to brown, if you desire.

While the salmon burgers are baking, make your dill pickle spread.

First, add room temperature cream cheese and greek yogurt to a small bowl. Stir until well combined. Stir in onion and garlic powder and smoked paprika. Fold in diced pickles. Stir again. Add 1 - 2 Tbsp pickle juice for desired consistency, if needed.

Build your burger! Enjoy!
Notes
Other Thoughts
You can use fresh, pre-cooked, or even canned salmon for these burgers. Whatever tickles your fancy. 
Depending on the moisture and fat content of your salmon - you may need to alter the amount of panko or eggs. Start with the recommended amount in the recipe. Your burgers should stick together with a little bit of pressure between your hands. If they crumble and won't stay together, add another egg. If they are too sloppy and wet, add more panko. 
These can be eaten without the dill pickle spread, but I wouldn't recommend it! Kidding - you absolutely can, but it's so good - why would you?!
How-to-Use
Athletes: Love these for athletes as the omega-3 in salmon helps with recovery and muscle soreness. Try to eat omega-3 rich fish twice a week. Plus, these guys have some carbs added to hold them together <panko> plus a carbolicious bun plus add some roasted potatoes on the side during touch training. Carb it up! 
Healthy Eating: Highly recommend making some roasted veggies or green beans as a side to round out these burgers. Go ahead and eat the bun if you want the bun. Don't want the bun? Let's add some roasted potatoes to the side instead. 
Kids: Any mini size seems to go over well over here, 'mini burgers' are no exception. Whatever keeps them engaged, right?