Energy bites are the ultimate portable snack. Always delicious – always satisfying. But you know what makes them even more satisfying?! Some salt and protein. Highly recommend making some energy bites yourself to save money, stock the freezer, and have snacks on hand always!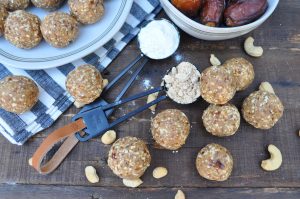 We put a twist on the other energy bites around here by adding unflavored whey protein powder + peanut butter powder to amp up the protein. The result was pretty delicious. <<Other energy bites include Cookie Dough, Birthday Cake, PB Cup, Pumpkin, and Chocolate Mint>> Clearly we like our energy bites <<or balls>> around here! You will need a food processor to make these – or a really good blender. But, I highly recommend using the food processor, if you've got it. Dates are sticky. Blenders sometimes don't like sticky without much liquid involved. If you have a small food processor, you can split it up into two batches when you make them and combine at the end.
I'm particular about protein powder and, historically, haven't used it much in my own nutrition. Mainly because… A. I like real food. and B. I've never found a protein powder that left me feeling satisfied, didn't taste fake, and didn't piss off my stomach. Cue a sports dietitian colleague getting a job at Momentous nutrition – me being curious about their products – her sending me some to try – and me, for the first time in my life, actually using and enjoying protein powder. I've been using their vanilla and chocolate essential whey protein for a month now and I'm digging it. I slug back a shake post run or workout – shower and mom for a moment – then eat a real meal. While we all need different nutrition plans to support our training and goals – this is working for me at the moment. <<If you want to try Momentous, use code Featherstone25 on reoccurring orders for 25% off. I get a tiny kickback from this but I promise, that's not why I'm sharing. I'm very impressed by their products and if you want to try them anyways, this helps make the price point more comparable to other protein powders. Once you try it, I think you'll see why I was quickly obsessed.>>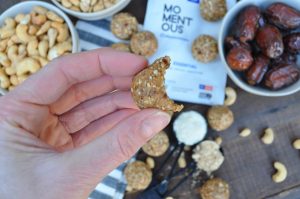 These guys are sweet, savory, and totally satisfying. The salted peanuts add some savory and salty crunch, while the dates add sweetness. This hits both that sweet and salty craving spot and gives you 110 calories, 4 gm fat, 15 gm carbs, and 5 gm protein per bite. Eat two and you're basically eating the best 'energy bar' replacement around. Let me know what you think after YOU try them! Enjoy!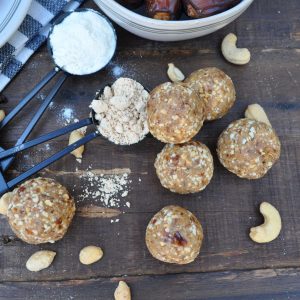 Salted Peanut Protein Energy Bites
Ingredients
1

cup

Medjool dates, pits removed

<approx. 13 dates>

1/2

cup

peanuts, dry roasted

1/2

cup

cashews, salted

1/4

cup

whey protein powder, unflavored

<I used Momentous Essential unflavored - vanilla should work too>

1/4

cup

powdered peanut butter

1

tsp

vanilla extract
Instructions
Dump all the ingredients into a food processor. Process for approximately 1 minute.

Pulse food processor occasionally to evenly chop everything up. Of note, this mixture will be chunky and crumbly. <It will not come together in a ball like the other energy bites recipes around here.> Do not over process or the oil separates from the nuts and things get greasy.

Roll 1 heaping tablespoon of crumbs into balls. This will make approximately 18 balls.

Store in the freezer or the refrigerator.
Notes
Other Thoughts
You can use any protein powder you want - however, I highly recommend an unflavored or vanilla whey protein powder. 
Plant based protein powders can be used but make sure to add 1/4 cup - not necessarily one serving. 
These guys are more crumbly than my other energy bites, if you are used to those ones. You just want to squish them into a ball and they hold together great. 
If they aren't coming together well, your dates were probably too dry. You can add a little maple syrup or a couple more dates. Next time, toss your dates in the microwave for 20 seconds to soften them up before putting them in the food processor. 
How-to-Use
Athletes: These bites are the perfect balance of fat - protein - carbs to help keep your hunger at bay between meals. <<One bite = 110 calories, 4 gm fat, 15 gm carbs, 5 gm protein>> Eat as many as you need to meet your snack goals. 
Healthy Eating: The goal of snacks is to control our appetite and hunger between meals. These guys are sure to give you all you need to satisfy that need between meals! 
Kids: I get a lot of questions about kids and protein powder. I'm an absolute no unless it is NSF certified. Products that I like + are NSF certified are Momentous, BiPro, and Garden of Life.