It's summer. It's hot & humid. And we run all the miles in it. But, what's better than an ice-cold drink post-hot summer run? Instead of your standard hydration drink, give this post-run mocktail made with Lime + Watermelon AHA sparkling water a try.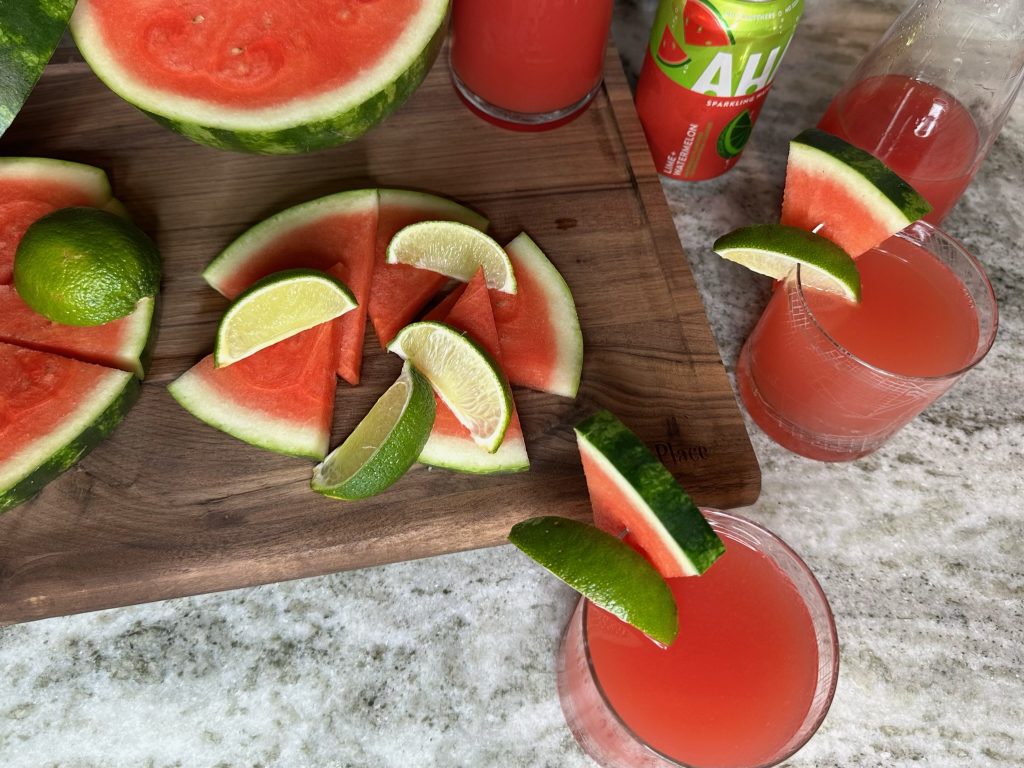 You are probably aware that we lose more water & sodium when running in heat & humidity <and sometimes A LOT more!> This mocktail provides the water and sodium you need to rehydrate after a hot, summer run – and it's freaking delicious.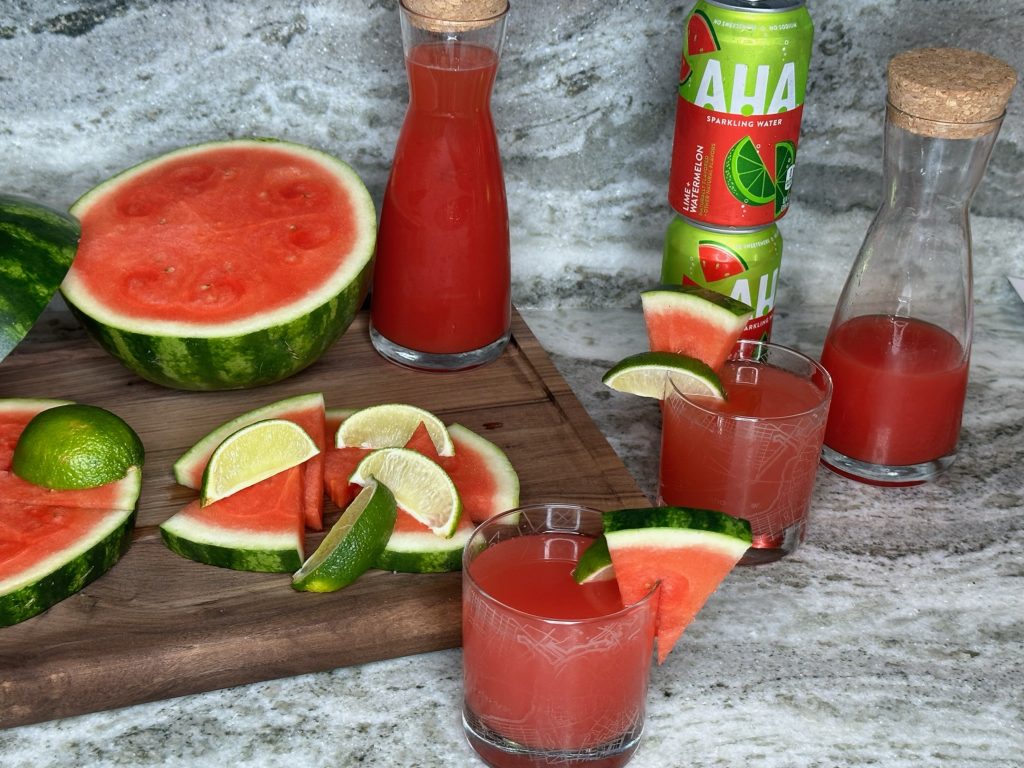 Pair this with your recovery meal or enjoy it after your meal while you relax poolside <or work or drive the kids around to activities, but we can dream about the pool, right?>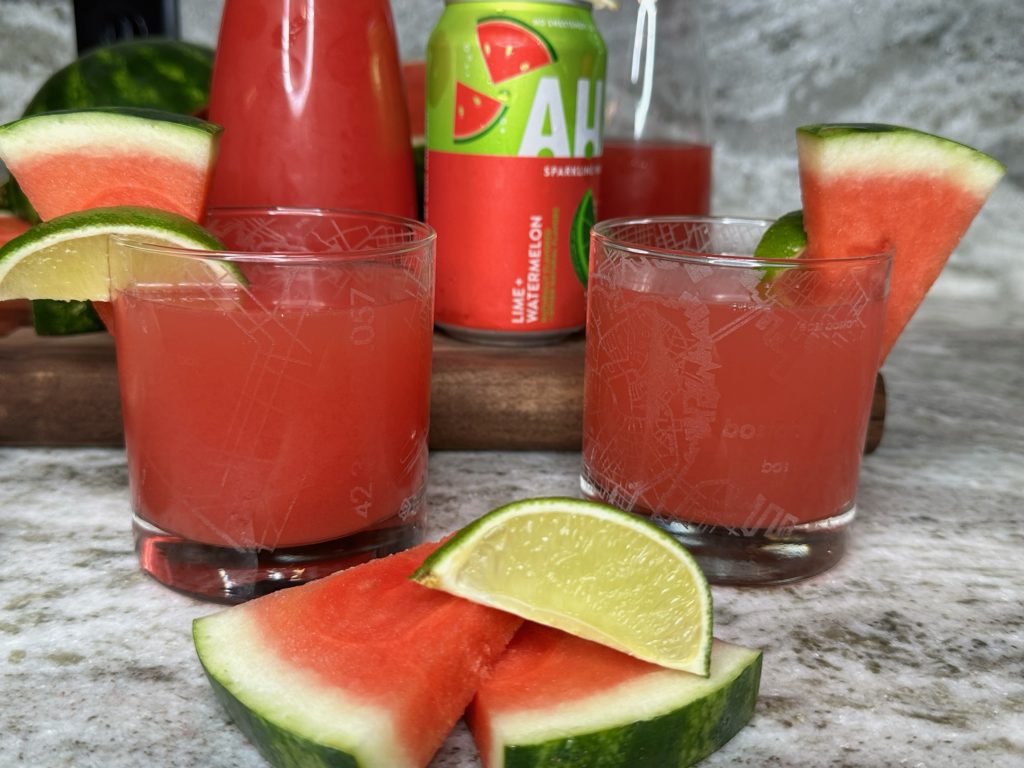 Don't be intimated by making your own watermelon juice. It's super easy & a great way to use up those parts of the watermelon that are a little too ripe or aren't the right texture for the tiny humans in your life. Just toss the watermelon in your blender + add some lime juice, salt, & honey. I strained mine with a mesh strainer but you can skip that step if you're short on time. The juice will save in your fridge for 2 weeks – so sip, sip and enjoy!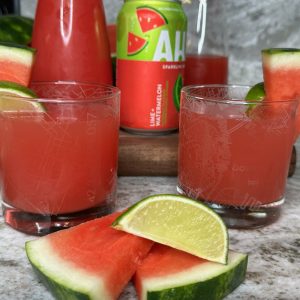 Salty Watermelon Lime Spritzer
Ingredients
1

can

AHA Watermelon Lime or other sparkling water

<save more for later>

6

cups

cubed watermelon

½

cup

lime juice

½

tsp

salt

2-3

tbsp

honey or your favorite sweetener
Instructions
In a blender, add watermelon, lime juice, salt and honey. Blend well. You can strain with a mesh strainer if you want it extra smooth, but you do not have to.

Add more honey to taste - this will depend on how ripe your watermelon is & how sweet you'd like it to be.

Mix equal parts watermelon juice & sparkling water and add ice. Enjoy!

Save extra watermelon juice in a mason jar with lid for up to 2 weeks.
Notes
This is a great post-run mocktail that can help with hydration & recovery. But, if you choose to have a post-run cocktail - studies show that eating a balanced meal <protein, carbs, fat> + hydration before choosing an alcoholic beverage helps decrease the negative side effects of alcohol on recovery. So, if you add some tequila or vodka let us know how it tastes!
For the month of July 2023, you can enter to win a Traeger Grill – click the photo below for details.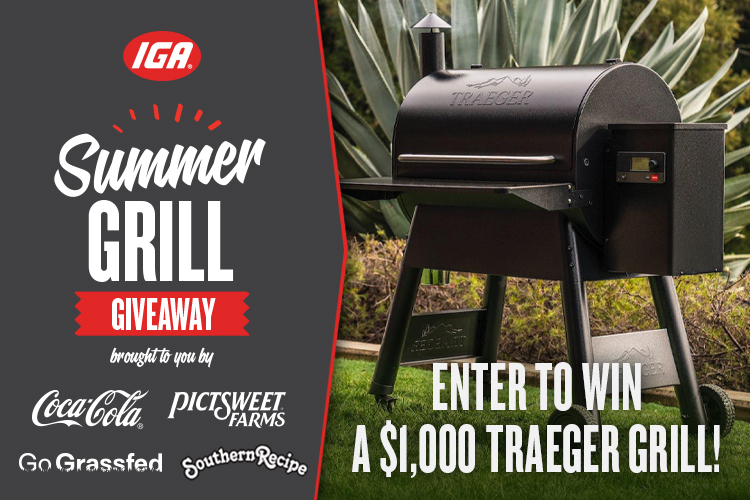 Sponsored by The Coca-Cola Company, the Independent Grocers Alliance, Go Grassfed and Pictsweet Farms