Super savory with a touch of sweetness has me face first in this new snack bowl! Think caramel corn crunch with Asian sesame flavor. It's gooooood guys.
This might be the first non-sweet snack I have posted thus far. While I tend to lean towards baking sweet snacks, I rarely turn down a salty snack that's put in front of me. My favorites are nuts, popcorn, and pretzels. So, it should come as no surprise that these are the star of the show here.
As marathon training takes off, I find myself favoring salty snacks. I have two theories here. One is when we are losing a lot of sodium in our sweat our body craves salty foods. And, two is I develop a total aversion to sweets after long runs full of tailwind and honey stinger chews. GIVE ME SOMETHING SALTY!
I know none of you are shocked when I tell you that all the ingredients needed for this recipe came from Aldi. And, the recipe cost less than $5 to make. Although this recipe looks slightly fancy, I assure you it is simple. It will take you less than 25 minutes to complete. Totally worth it for the happiness this delicious snack will bring you all week.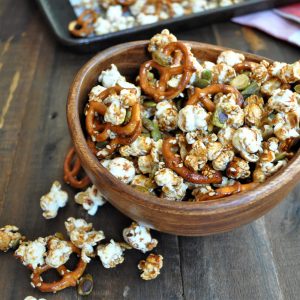 Savory Sesame Snack Mix
Ingredients
1/4

cup

avocado oil

or oil of choice

2

Tbsp

brown sugar

3

Tbsp

soy sauce

or Tamari

2

Tbsp

sesame seeds

1

tsp

sesame oil

1/2

tsp

garlic powder

5

cups

pre-popped popcorn

1 1/2

cups

pretzels

1/2

cup

pistachios

shelled

1/2

cup

pepitas
Instructions
Preheat oven to 325 degrees.

In a small saucepan, combine avocado oil through garlic powder. Stir. Heat on low-medium heat, stirring frequently, until sugar dissolves and bubbles around the edge for about one minute. Careful not to burn or overcook! It will thicken up a tiny bit.

Spread popcorn, pretzels, and nuts evenly on a baking sheet. May want to cover baking sheet with foil or parchment for easier cleanup. Pour sauce evenly over snacks in the pan. Stir gently to combine and spread out evenly.

Bake for 8 minutes. Stir gently. Bake another 2-5 minutes. Allow to cool completely before packing in an airtight container.
Notes
Other Thoughts:
While this recipe's claim to fame is the salty, savory profile - if you do need to watch your sodium, choose unsalted nuts and pretzels. The pre-popped popcorn at Aldi's is already pretty low in sodium. Then, just use low sodium soy sauce.
Let it cool completely before storing or it will get a little soggy.
Feel free to swap any of your favorite nuts.
Easily made gluten free with Tamari and GF pretzels, or just omit the pretzels.
How-to-Use:
Athletes: Calm those salty cravings with a super balanced snack! It is a little higher in fiber - so watch it the 24 hours before a tough run, unless you're the lucky dog with a GI tract of steel.
Healthy Eating: A couple handfuls of popcorn and a side of nuts is a fantastic snack. But, that snack can also get super boring over time. Spice it up with this variation and snack happy!
Kids: This isn't the safest for little guys, as it includes small nuts and popcorn. Save this older kid and adult time.