Gooooood Morning!!! Wake up with these sweet but hearty cookies to get your day off to the perfect start.
Oats. Almonds. Chia Seeds. Quinoa. Dried Cherries. Dates. Maple Syrup. Cinnamon. 
Growing up, I thought cookies were their own food group.
We had this kids book that had a character who tried to convince her parents she had a shelf for different types of foods. So, just because she didn't eat all her dinner, she still needed dessert. Her dessert shelf was still empty! If anyone out there knows what book I'm talking about and can gimme a shout out, I would be forever indebted…. and, it'll certain join the nightly books on repeat.
There's just something about a cookie. It's the right size for your hand to hold. It's crisp on the outside and chewy on the inside. Sweet and wholesome. Just so innocent. Who wouldn't want to start their day with some cookie goodness!?
Life as a working mom with two kids means 5am workouts or they aint gonna happen folks. (Please don't mistake me for a morning person…. in a previous life i was known to sleep until 10am on the regular.) A cup of coffee and one of these cookies is the perfect pre-workout fuel. Complex carbs – a little protein and fat – get in my belly.
Eat one. Eat two. Eat three. No one's judging.
---
SEEDTASTIC BREAKFAST COOKIES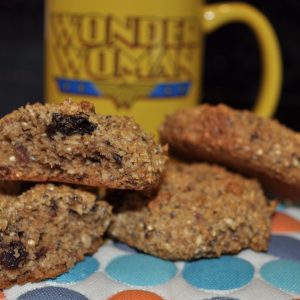 Seedtastic Breakfast Cookies
Ingredients
2

cups

old fashioned oats

1/2

cup

almond meal

or whole almonds, but cookies will be chunkier

1 1/2

Tbsp

chia seeds

1

Tbsp

quinoa

uncooked

1/2

cup

dried tart cherries

1/2

cup

dates

pitted (approx. 5 Medjool dates)

1

tsp

cinnamon

1

egg

1/2

tsp

baking soda

1/4

cup

butter

melted

1/4

cup

maple syrup

1

tsp

vanilla
Instructions
Preheat oven to 375 degrees.

Combine all ingredients in a food processor. Pulse until combined and rolling into a ball.

Roll 2 Tbsp of dough into a ball. Flatten a little. (Cookies will puff a little but won't spread much so make sure they're the shape you want.) Makes 18-20 cookies.

Bake for 16-18 minutes or until they start to become golden brown.

Once cooled, store in an air tight container or bag for up to a week on the counter.
Notes
Other Thoughts:
Easily made gluten free with gluten free oats.
Easily made vegan with canola or coconut oil + a flax or chia egg. (1 Tbsp flax or chia + 3 Tbsp water) 
If using whole almonds, you can throw everything in together still or process them into a meal beforehand using the same food processor.
They are the absolute best the first day before you store them- crunchy on the outside and chewy on the inside. After storing they become almost 100% chewy - still delish though.
How-to-Use Guide:
Athletes: Eat 1-2 before or after a workout.
Healthy Eating: Eat a cookie with a 6 oz container of Greek yogurt for a quick breakfast. Or, throw into your bag for a morning snack to keep the 10am hangries at bay.
Kids: Pass this off as a cookie anytime of day and win parent of the year award.