Tacos aren't just for Tuesdays. Any night of the week, toss everything for dinner on a sheet pan, bake and dinner is served. I'm sure none of you are new to sheet pan meals – this isn't your first fiesta. The reason I love this sheet pan meal is it's a super easy way to put a balanced meal on the table, stat. Protein – Carbs – Veg – Healthy Fats. Lets. Gooooo.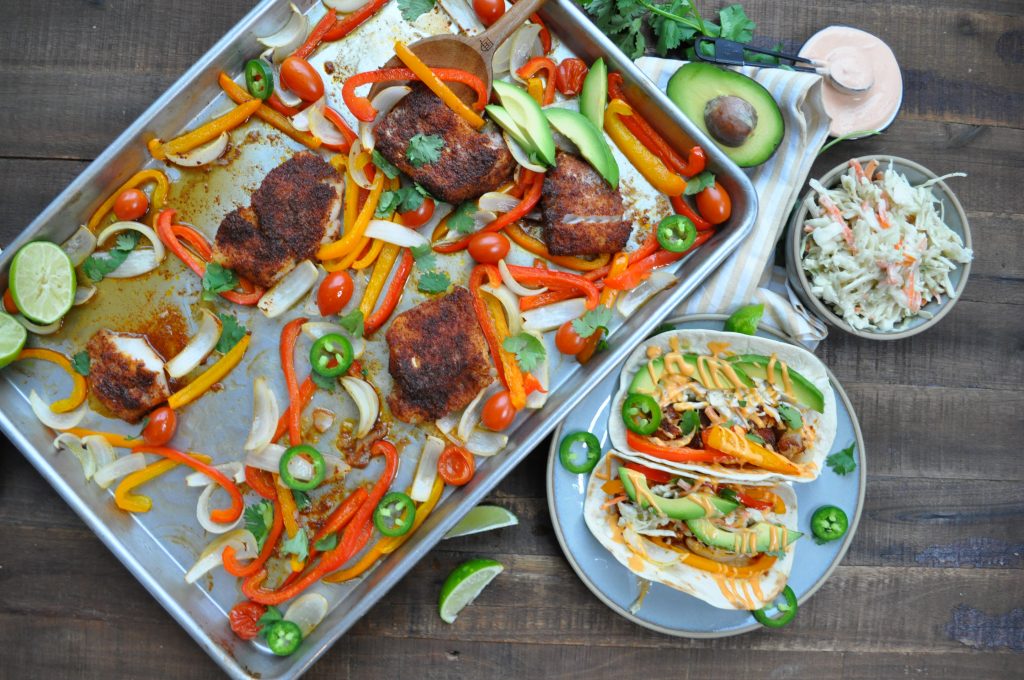 Whether you're a little sweet or a little spicy, the seasoning here gives you what you need. A little sweet with your spicy. And, this is a mighty fine-looking dinner, if you ask me. Look at all the beautiful colors from the peppers, avocado, Sriracha sauce… rest assured this pretty meal is also packing some serious nutrition!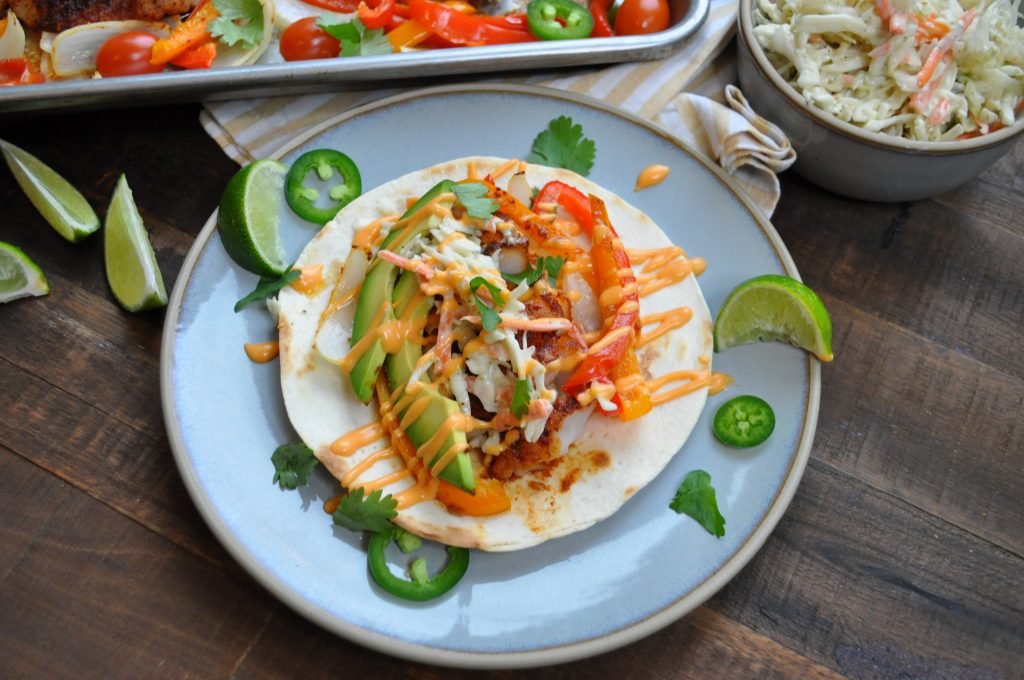 You can use any white fish you'd like. If you don't like fish, use chicken. We're not judging. Are you in a higher mileage week and need more carbs? Eat 2-3 of these, an extra tortilla on the side or a side of rice. Use the 'extras' aka sauce, slaw, etc. as you want. Buy pre-made sauce or guacamole if you'd like – the ease is endless. You can also reheat leftovers for lunch or dinner the following day.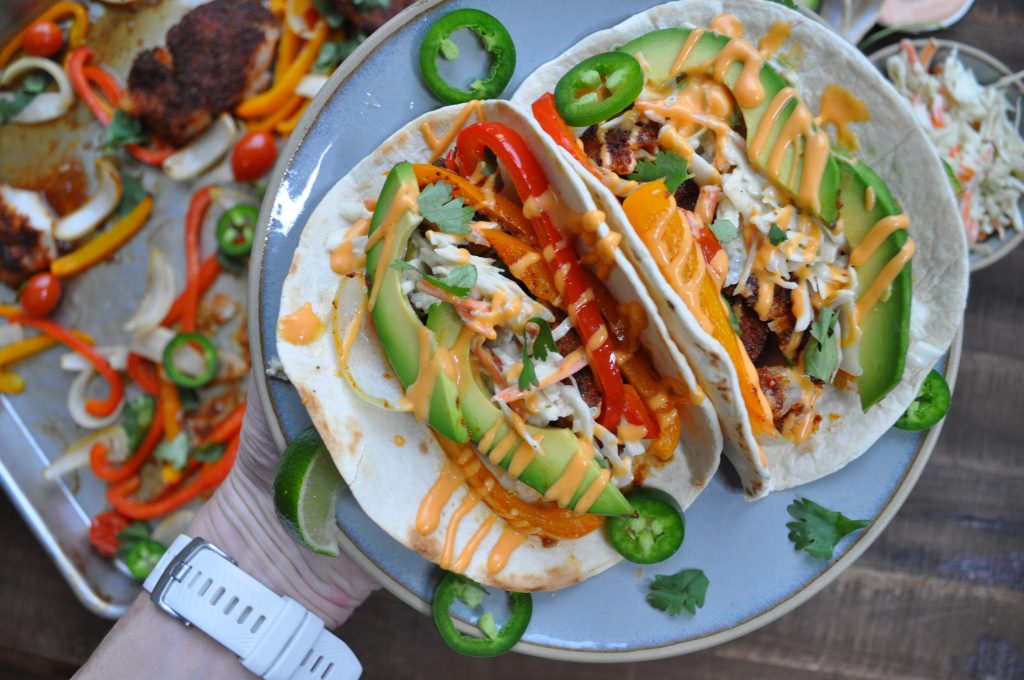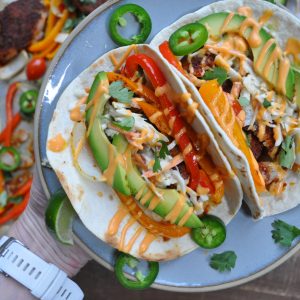 Sheet Pan Fish Tacos
Ingredients
1

onion, sliced

2

bell peppers, sliced

1

tbsp

avocado oil

1

lb

cod, fresh or thawed

1

tbsp

cumin, ground

1

tbsp

chili powder

1

tsp

garlic powder

1

tbsp

brown sugar

1/2

tsp

salt
Sauce
3

tbsp

Greek yogurt, plain

1

tbsp

mayonnaise

1

tbsp

lime juice

1

tbsp

sriracha

pinch

salt
Slaw
2

cups

coleslaw mix

¼

cup

ranch dressing
1

avocado

1

lime

cilantro

8-12

tortillas, flour or corn
Instructions
Preheat oven to 400 degrees. On a baking sheet, toss onions and peppers in avocado oil, spread out evenly on the baking sheet but leave room for the fish.

In a small bowl, combine cumin, chili powder, garlic powder, brown sugar & salt. On a large plate, pat the fish dry and rub with cumin mixture.

Place the fish on the baking sheet. Bake for 15-20 minutes or until fish is cooked through to 145 degrees. Cooking time will vary & depend on the size & thickness of your fish.

In the meantime, combine yogurt, mayo, lime juice, sriracha & salt to make a sauce.

Add slaw mix to a bowl & mix in ranch dressing.

Assemble tacos with fish, veggies, slaw, avocado, cilantro & whatever else you want.
Notes
Tips:
Soft corn tortillas are whole grain & lower in carbs. Wheat tortillas are typically higher in carbs. Adjust the type of tortilla for your training and nutrition needs.
Tortillas labeled 'high fiber' or low carb often have significant amounts of fiber added- proceed with caution or know your local port-o-pot locations if you don't do well with high amounts of fiber.
Skip the tortillas and make this into a bowl - add greens, rice, beans, etc. Whatever makes your belly happy. 
How to use:
For athletes: Adjust your # of tacos eaten on hunger & mileage. Add some rice on the side if you need more carbs.
For healthy eating: Add a side salad for some extra veggies. 
For kids: You will likely need to omit the sriracha unless your kids can take the heat!