The best dinners in my book are the ones that are fast to prepare, leave me feeling satisfied, and quick to clean up. Keeping these things in mind, I've got a good one for you right here. Balanced. Tasty. Easy. Fast clean up. Making life easier, one dinner at a time!
Salmon is an incredible source of omega-3 fatty acids which have been shown to help us recover faster from tough workouts – by decreasing muscle soreness, improving immune function, and potentially stimulating muscle protein synthesis. Not to mention it is one of the most powerful anti-inflammatory foods out there – helping decrease joint pain and improving heart health. Omega-3 plays a huge role in brain health – from increasing IQ in kids and slowing cognitive decline in adults to improving mood and depressive symptoms. I don't know about you guys, but right about now – in the deary early days of March in northeast Ohio – I would try anything to improve my mood!! It's been a LONG winter.
Sheet pan dinners are some of my favorite because everything goes into the oven together in one pan and finishes all at the same time. I failed a couple times on the first try of this recipe because I kept trying to incorporate potatoes into the vegetables. No matter how you slice them, potatoes and fish don't have the same cooking time. So, we landed on this one – salmon + peppers + snap peas + mushrooms. Quick cooking veggies for the quick cooking fish. And because we all need some carbohydrates to fuel our minds and muscles, throw this over some quick cook brown rice, quinoa, or your favorite whole grain and call it a fabulous meal.
Save yourself some clean up time and put foil down on your baking sheet. I promise you won't regret it!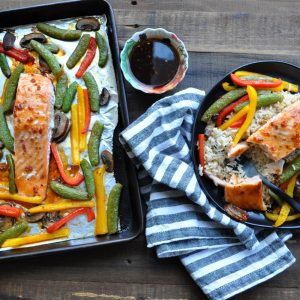 Sheet Pan Salmon
Ingredients
2, 6

oz

salmon filet

or approx. 3/4# salmon cut into two pieces

2

cups

snap peas

2

bell peppers

sliced

1

cup

mushrooms

sliced

2

Tbsp

avocado oil

1/4

cup

sweet chili sauce

2

Tbsp

soy sauce

or tamari

2

Tbsp

honey

2

Tbsp

lime juice

approx. juice of 1 large lime

Optional: brown rice or quinoa
Instructions
Preheat oven to 375 degrees. Line a baking pan with foil.

In a small bowl, mix together sweet chili sauce, soy sauce, honey and lime juice to make the sauce.

In a medium bowl combine all the veggies, toss with 2 Tbsp oil. Then, toss with 2-3 Tbsp sauce. Spread vegetables evenly onto baking tray.

Nestle each piece of salmon onto the tray. Top each piece with 1 Tbsp sauce. Save the remaining sauce to use after cooking.

Bake for 15 minutes on the middle rack.

Keeping pan on the middle rack, change to broil. Broil for 3-6 minutes or until sauce begins to brown.

Remove from oven. Add salmon and veggies to brown rice or quinoa to complete the meal. Top with remaining sauce.
Notes
How-to-Use:
Athletes: This should definitely be in your weekly rotation! Easy - get your omega-3's and you can customize the amount of carbohydrates depending on your training. Grinding out all the miles? Use 2-3 cups of rice. Taking some time off to let an injury heal? Downgrade that amount of rice to whatever feels right. Same goes for feeding a house full of people with different nutrition needs. Everyone can build their own.
Healthy Eating: This is a solid make ahead meal for your weekly meal prep. Double the recipe and have lunches ready for Monday-Thursday. Customize the serving based on your nutrition needs that week.
Kids: The likelihood of kids trying a food seems to be exponentially better when there is a dip involved. Save some sauce for them and encourage them to dip away. We also find they eat their veggies better if we let them use their fingers - call us neanderthals.
Other Thoughts:
Using the foil allows for the fastest clean up ever. The sugar in the sauce starts to caramelize which is a mess to scrub off baking sheets, so use the foil.
If you want to make this for more than 2 people, you can add another piece of fish. If you want to add more veggies AND fish, I would recommend using two trays or the veggies are too crowded to cook well.
Feel free to mix up the vegetables, but remember - they need to be quicker cooking vegetables or they won't get cooked through. (Zucchini, yellow squash, edamame, asparagus, green beans would all work too)