We all have days where we are running short on time or just don't feel like washing endless amounts of dishes. This is where my one-pot meals come in. Everything you need for a balanced meal <carbs, protein, healthy fat, color> in ONE pot! Dump. Dump. Cook. What could be easier than that?!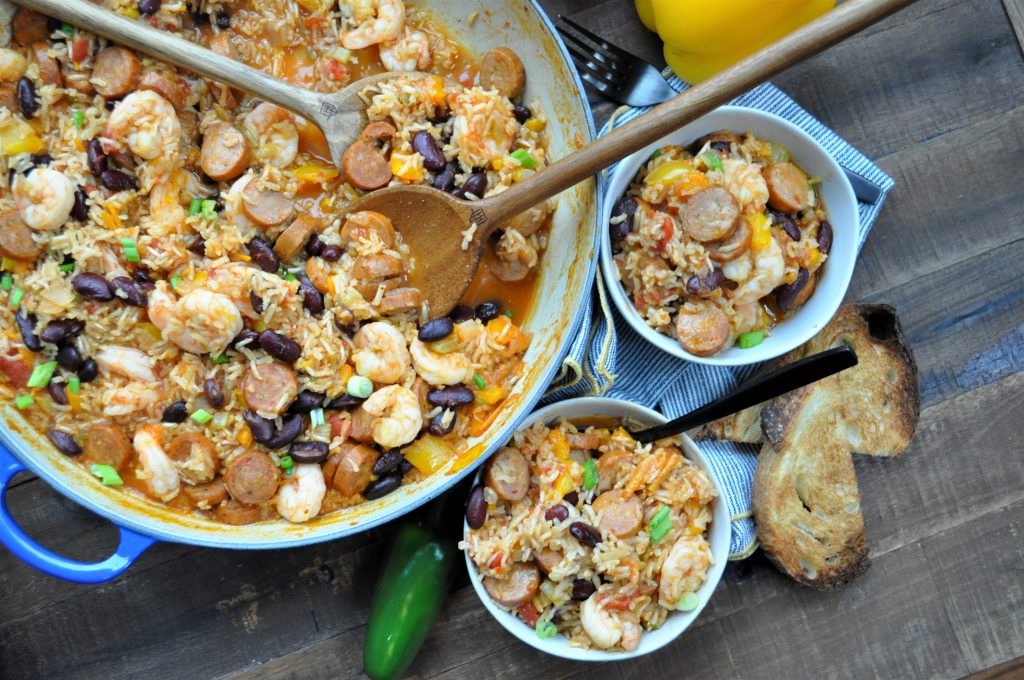 This dish is not only pretty to look at with all of the different ingredients & colors, but it is also full of flavor. This jalapeño and cajun seasoning brings the spice to this dish – feel free to add more spice to your liking. This can even be made vegan by using vegetable broth, vegan sausage, and omitting the shrimp.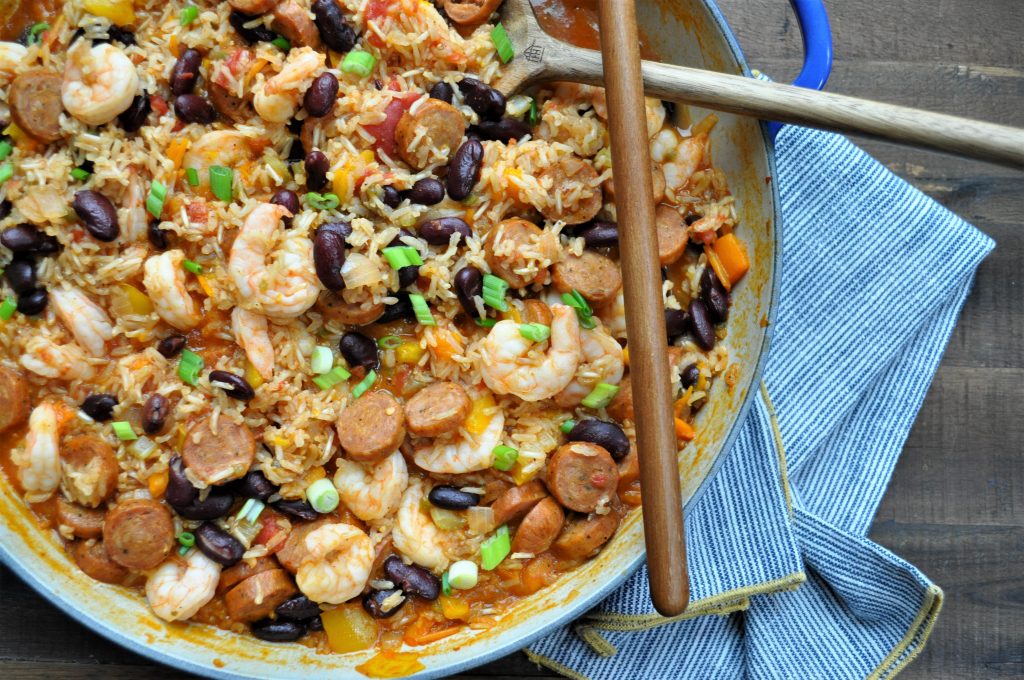 This meal is super satisfying. It is high in protein & fiber, packs all the flavor, and is balanced with carbs & fat to keep us full for the long haul. Because who has time to be hungry?!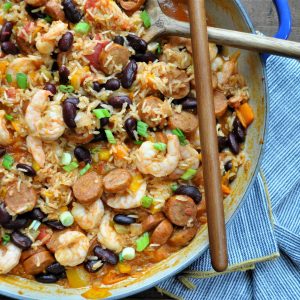 Skillet Jambalaya
Ingredients
2

tbsp

avocado oil

1

lb

andouille chicken sausage

2

bell peppers, chopped

1

onion, diced

1

jalapeno, seeded & minced

2

celery stalks, diced

3

garlic cloves, minced

14

oz

crushed tomatoes, canned

2½

cups

chicken broth

1½

cups

brown rice, uncooked

2

tbsp

cajun seasoning

12

oz

shrimp, raw & thawed

14

oz

kidney beans, drained

green onions
Instructions
In a large skillet with a lid, heat the oil (use a medium saucepan if you don't have a large skilled w/lid).

Add sausage, bell & jalapeño peppers, onion, celery & garlic. Sauce for 5-10 min or until veggies are softened.

Add tomatoes, chicken broth, rice and cajun seasoning. Bring to a simmer.

Once simmering, cover & reduce heat to keep at a simmer. Cook for 40-45 minutes or until rice is cooked through. <If you use white rice, this cook time will be much shorter. Look for the cook time on your rice.>

Add the shrimp & beans.

Cook uncovered for another 5 minutes or until shrimp are cooked.

Let sit for a couple of minutes.

Top with green onions & enjoy!
Notes
Tips:
Use veggie broth + vegan sausage + omit shrimp to make this vegan or vegetarian. 
This is great for leftovers and freezes well.
If you are even shorter on time, skip the broth & uncooked rice and dump in 3 - 4 cups of precooked rice. Simmer until warm throughout. 
Another short-on-time tip, go ahead and buy precut veggies. 
How to Use:
For athletes: Enjoy this balanced meal & add extra rice, bread, or other carbs on the side if you need more carbs.
For healthy eating: Stick to 1 serving (for most), and if you're still hungry, add some extra veggies on the side!
For kids: If your kids are adventurous with spices, they can enjoy this meal with you! You can also deconstruct for them and put a couple shrimp, slices of sausage, and rice in different piles.