These Slow Cooker Carnitas are…. Fast. Easy. Delicious. Doesn't get much better than that for meal prep! Rub some spices on a pork tenderloin – add a few ingredients to the slow cooker and let it cook you up some dinner!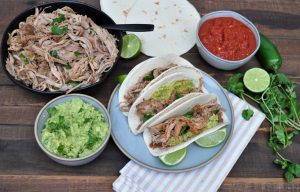 When I'm working with endurance athletes who are training hard, there is often one area we tweak as mileage climbs – carbohydrates. We need to increase carbs as training builds, which leads some athletes to say 'how can I possibly eat any more?!' For some athletes, we have to decrease fat as we increase carbs to make it all fit and balance out our nutrition to meet our performance goals. Why do I mention this?! Because meat is often an area we can cut back on fat. That's why we used a pork tenderloin here. It's much leaner than other cuts of pork. With all the seasonings and slow cooking, it ends up being just as delicious as the higher fat, traditional carnitas that use a pork butt and are cooked in additional fat.
If you want your pork to have those crispy ends and not look soggy out of the slow cooker, toss it on a sheet pan as you shred it and broil it for a few minutes to give it those crispy, brown edges. This is optional, but if you're a weirdo about the way meat looks like me, I highly recommend it.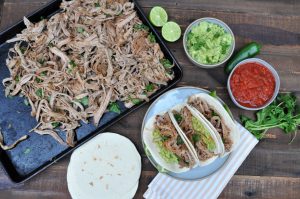 We're taco fans at our house, but the options are endless with these carnitas. Make a power bowl with rice or quinoa, lettuce, guacamole, salsa, and cheese. Or, top those Sweet Potato Nachos with carnitas instead of chicken for a REAL meal. Quesadillas are always a solid option. These Kale Black Bean Quesadillas might like some pork added in too. Clearly this recipe isn't a one trick pony. But, it does make a decent amount of pork. If you don't think you'll eat it within 5 – 6 days, freeze individual portions for another day.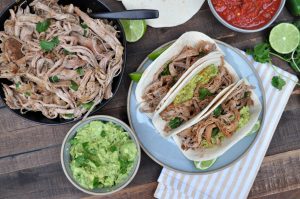 Grab yourself some guacamole, your favorite taco shells, a good salsa and you're ready for dinner. Grab some divided food storage containers and put 4 – 5 ounces of pork in one spot, your tortillas in another, and toppings in the third. Seal those up and you're got lunch prepped for the week. Working from home?! Even better. Put your tortillas on a baking sheet and top with pork. Broil or air fry until warm and the tortillas are brown at the edges. Add your toppings and lunch is served. Just that easy. Just that quick. Enjoy!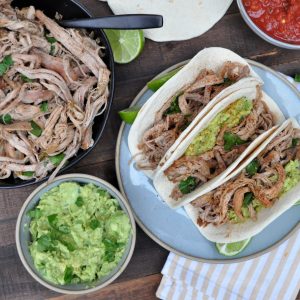 Slow Cooker Carnitas
Servings
8
- 12, 4 oz servings
Ingredients
2 - 3

pounds

pork tenderloin,

or your favorite cut of pork

1

tbsp

dried oregano

2

tsp

cumin, ground

1 1/2

tsp

salt

1 1/2

tsp

chipotle chili powder

<If you don't have chipotle chili powder, use chili powder & add 1 - 2 Tbsp chipotle pepper in adobo sauce>

1

tsp

onion powder

1

tsp

garlic powder

1

onion, diced

1

jalapeno, diced

<I removed the ribs and seeds for less heat>

4

garlic cloves, minced

1

lime, juiced

1

orange, juiced

1/3

cup

fresh cilantro, roughly chopped
Taco Fixings
corn or flour tortillas

guacamole

salsa

limes
Instructions
On a large plate, combine oregano, cumin, salt, chili powder, onion and garlic powder. Mix well. Place the pork on the plate and rub all the seasoning into the pork.

Get out your slower cooker. Add the onion, jalapeno, garlic cloves, and lime & orange juice to the slow cooker. Top with the seasoned pork.

Cook on low for 4 - 6 hours or until shreds easily.

Shred the pork, using two forks.

<Optional Step> Spread the shredded pork out on a baking sheet. Broil for 5 - 7 minutes or until the ends get slightly browned and crispy. Remove from oven and stir in fresh, chopped cilantro before serving.

Use pork in tacos, bowls, or salads.
Notes
Other Thoughts
The options are endless with these carnitas. Use it in tacos with guacamole. Throw it in between two flour tortillas with some cheese, salsa, and black beans for a quesadilla. Add it to a bowl with brown rice, shredded lettuce, black beans, salsa, and cheese - think Chipotle. 
If you make more than you can eat within the week, freeze individual portions for another week to break up the lunch time routine. Bonus points if you freeze it with brown rice, black beans, and salsa to warm it up for a whole lunch! 
How-to-Use
Athletes: More miles = more tacos. It's a fact. Looking to meet your higher carbohydrate needs without eating 5 tacos?! Build yourself a burrito. Grab a big tortilla - add a scoop of rice, carnitas, black beans, guacamole, lettuce, salsa and roll it up. 
Healthy Eating: Typically, soft corn tortillas are whole grain and smaller than flour tortillas. So, you can fill your plat with more tacos. Or, if you prefer flour tortillas, fill those bad boys to the brim with fillings and enjoy! 
Kids: My adventurous eater likes all the ingredients separated on her plate to build her own taco. My timid eater still doesn't think tacos are cool. We're working on him.