Sometimes a big old salad sounds delicious. But, there's nothing worse than a salad for lunch and then feeling hungry just an hour later. <<whomp. whomp.>> This salad is sure to keep you feeling full and satisfied for longer than an hour – hopefully well on through to your afternoon snack!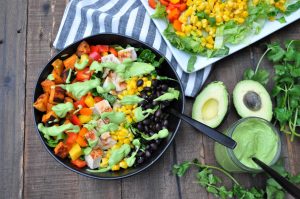 To make a salad a meal, it needs more than just veggies. We added roasted sweet potatoes, black beans, and corn for complex carbs to keep you full and satisfied longer. Plus, chicken to get your protein to keep those muscles recovering and strong. And top that bad boy off with some healthy fats <<aka avocado>> dressing. And just like that…. you nailed lunch!
Not a fan of chicken?! Add whatever protein you like. To keep this vegetarian, add tofu or tempeh. Grilled salmon would be an insanely delicious option. Fast workday options would be a packet of tuna or salmon. I choose chicken mainly because it keeps well all week in a meal prepped salad without getting funky.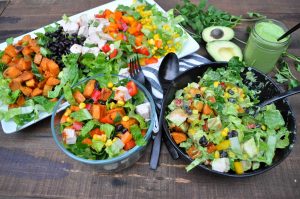 Serve this up for dinner or portion it into 4 – 5 dishes for lunches all week. Or, do both! Just keep the dressing off the part you plan to keep for meal prep. Add the dressing the morning of or right before you eat it.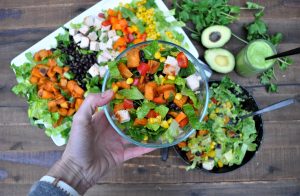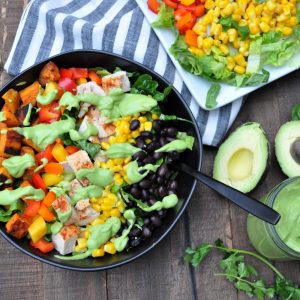 Southwest Salad
Ingredients
Avocado Cilantro Dressing
1

ripe avocado, large

1/4

cup

Greek yogurt, plain

1

cup

cilantro, fresh

Use the whole bunch, stems and all.

1

garlic clove

1

lime, juiced

1/2

tsp

salt

1/2

jalapeno

1/2

cup

water

Add more, if needed, for the desired consistency.
Salad Ingredients
1

can

black beans, drained and rinsed

1

bag

frozen corn, thawed

2

bell peppers, diced

6

cups

chopped romaine or your favorite lettuce

1

#

chicken breasts

3

sweet potatoes, peeled and cubed

2

tbsp

avocado oil

3

tsp

taco seasoning, divided
Instructions
Sweet Potato & Chicken Prep
Preheat the oven to 400 degrees. Grab a large baking sheet. <Cover with foil for easier clean up>

Peel and dice sweet potatoes into bite sized pieces. Drizzle with 2 Tbsp avocado oil and 2 tsp taco seasoning. Spread evenly on 2/3 of the baking sheet.

Place uncooked chicken in the other 1/3 of the baking sheet. Sprinkle with remaining 1 tsp taco seasoning.

Bake for 20 minutes, or until chicken is cooked to an internal temperature of 165 degrees. Flip the sweet potatoes mid way. If you like your sweet potatoes roasted more, remove chicken when cooked through, and leave the potatoes roasting for another 10 - 20 minutes. <This is what I did!> While this is baking, make the dressing.
Dressing Prep
Place all dressing ingredients into a blender or food processor. Blend until well combined.

Add more water until desired consistency is reached. <The more water you add, the less flavorful the dressing - so you do want it a little on the thicker side. If you like a thinner dressing, you may want to add more salt to taste.>

Place dressing in a mason jar with a lid or an air-tight container.
Salad Creation
If serving at a meal, line a large dish with the lettuce. Top in sections with peppers, corn, black beans, chicken, and sweet potatoes. Add dressing right before serving.

If meal prepping, find 4 - 5 <4 cup> containers. Place 1 1/2 cups lettuce + a big handful of each topping, dividing evenly among your containers. These will keep for 5 days in the refrigerator. Top with dressing right before eating.
Notes
Other Thoughts
If there's an addition to the salad you don't like, swap it out for something else! Make this your own. Use what you like and what's on sale at the store or in season. 
The dressing keeps very well in an air tight container. I recommend adding it right before serving. However, it would likely to fine to add in the morning before work, if needed. Just keep in a cooler or refrigerator until eaten. 
Switch up the protein as needed. Try roasted tofu, tempeh, shrimp, or salmon with this salad. 
Want to prep even faster? Steam and roast a frozen bag of sweet potatoes - it will take less time to roast. And, top with a packet of salmon or tuna. 
How-to-Use
Athletes: A goal of many of my athletes is to eat more veggies. This recipe will help you with that! If you are training hard, you will need more carbohydrates than the beans and sweet potatoes provide with this salad. Add some bread or fruit to the meal. Or, plan for a carb-heavy snack an hour after lunch. 
Healthy Eating: The idea of volumetrics is a powerful one. Our eyes like to see more food on our plate to be satisfied. This is a very high volume meal - full of different flavors - which is sure to help keep you satisfied for hours. 
Kids: Kids may be more receptive to this if they can build their own meal. Or, if they see the toppings each separated on top of the salad before mixing them all in. Kids super skeptical or salad?! Put a couple pieces of each ingredient in a side dish and let them explore it throughout the meal.