It's officially summer time and all I hear when I type that is Will Smith singing….. tell me I'm not alone!! But I know I'm not alone when I say heating up the house making dinner on a hot day is not that exciting. So fire up that grill and try these new turkey burgers – I don't think you'll be disappointed.
I recommend using ground turkey breast for this recipe – but you can also use 93% lean ground turkey if you prefer. The recipe is meant to help keep moisture into the ground turkey breast – because if you've tried it, you know it can get pretty dry.
Adding shredded zucchini helps hold moisture in while giving you some veggies! <bonus> Plus, flavor is added from diced bell pepper, jalapenos, red onion and all the spices. I think you'll be pleasantly surprised by how tasty these are! No more bland turkey burgers.
Highly recommend topping with pepper jack cheese and a big old scoop of guacamole. If you've got some ripe avocados, dice up some extra red onion and jalapeno for your guac. Add some salt, pepper, cumin, and cilantro and you're good to go. <pre-made guacamole isn't to shabby either>  
We served these with some air fryer potatoes and green beans. So, maybe I did heat up the kitchen a little…. Enjoy, guys!!!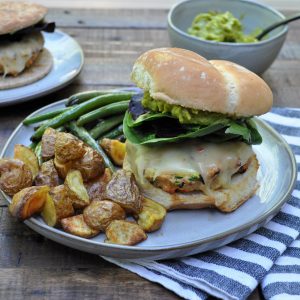 Southwest Turkey Burgers
Ingredients
1

# ground turkey breast

1/2

cup

shredded zucchini

1

jalapeno

diced

2

garlic cloves

pressed

1/4

red onion

diced

1/2

red bell pepper

diced

1/2

tsp

salt

1/4

tsp

ground pepper

1

tsp

hot sauce

1

tsp

smoked paprika

1 1/2

tsp

cumin

4

buns

4

slices pepper jack cheese, or your favorite

1/2

cup

guacamole
Instructions
In a medium bowl combine all the ingredients, except the buns of course. With your hands, mix it all together.

Form 4 patties and set aside on a plate.

Heat grill to medium heat and grill burgers for 10 - 12 minutes total, flipping half way through.

Top each burger with a slice of cheese and allow to melt. Remove from grill and assemble your burgers.
Notes
Other Thoughts:
I highly recommend using ground turkey breast, as it is higher in protein and lower in fat per ounce. Nothing wrong with fat, but I'd prefer you load this up with healthier fats like guacamole instead. Aldi has been carrying ground turkey breast, but if you have trouble finding it - look for the 93% lean ground turkey. Regular old 'ground turkey' is much, much higher in saturated fat.
You can really adapt these to however you like your burger - get crazy with the toppings! Switch up the buns. Make it your own.
How-to-Use:
Athletes: Each patty alone has 26 gm of protein. Add a slice of cheese + bun + guacamole to make it a crazy sandwich and you've got 35 gm protein + some carbs and healthy fats. Add extra carbs on the side to meet your intense training nutrition needs.
Healthy Eating: Depending on your nutrition needs, you can switch things up to make this work. Choose a whole grain bun, thin or english muffin to change up the amount of carbs. Skip the cheese and add the guacamole for a little less fat, if needed. Load it up with veggies. Who says healthy eating has to be boring?!
Kids: Do your kids like burgers?! We're 1 for 2 in our family. Try making a smaller one for younger kids, as they can get overwhelmed by too large of portions on their plate. And, let them dip!