Homemade popsicles are always a good idea in the summer. These guys are full of ripe strawberries with a few fresh cherries to add a little depth of flavor plus a squeeze of lime juice and pinch of salt. So refreshing. So easy.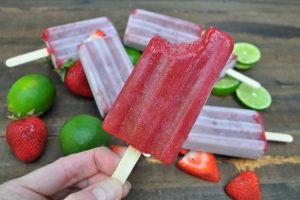 We've been making homemade popsicles since my kids were tiny. <<Because at 4 and 5 they are practically grown-ups now, right?!>> These guys have one very important extra step. Toss the fruit into a sauce pan and simmer it down. Why you might ask? Because this intensifies the flavor and makes it a super creamy texture. Think more like sorbet, less like ice crystals. And, all that extra flavor means less added sweeteners. Plus, if your fruit is starting to look a little too sad or ripe for eating – it's perfect to toss into the pan for popsicles. Waste not, want not!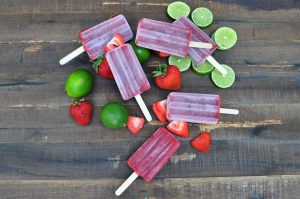 The options for popsicle molds are endless these days. I prefer these silicone popsicle molds. However, the kids love dinosaur and unicorn shapes. We also have silicone reusable push-up pop like molds. They all work great! I definitely recommend using something silicone based, as they come out of the mold easier. Just run a little hot water over the mold and pull them right out.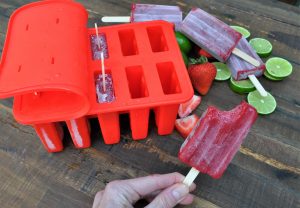 These absolutely need a place in your freezer this summer. They are worth the 15 minute prep. The whole family will love them. And, the problem is going to be fighting over the last sicle!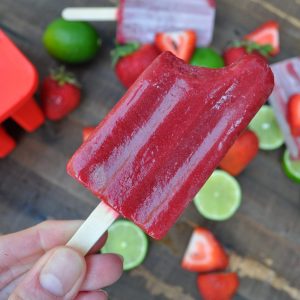 Strawberry Lime Popsicles
Ingredients
2

pounds

strawberries

<approx. 6 cups>

1

cup

cherries, any fresh variety

<pits removed>

1/4

cup

water

1

tbsp

lime juice

2

tbsp

honey

1/8

tsp

salt
Popsicle Stuff
popsicle mold(s) & sticks
Instructions
Wash and remove stems and pits from strawberries and cherries.

Add fruit to a medium sauce pan. Add water.

Cover saucepan and bring to a boil over low to medium high heat.

Vent the lid a little when it starts boiling, reduce to a simmer. Simmer for 10 - 15 minutes - stirring frequently. <The fruit should break down and the liquid around the fruit should thicken slightly.>

Remove from heat. Add lime juice, honey and salt.

Pour fruit mixture into a blender. Blend well. <Vent the lid to let heat escape.>

Pour mixture into popsicle mold. Freeze overnight or until frozen.
Notes
Other Thoughts
Use any fruit you want. You name the fruit. We've made popsicles out of it! 
Save all your nearly dead and dying fruit and turn it into popsicles. Add a banana for extra sweetness. Or, if your fruit is super fruit - you likely don't need to add the honey. 
Toss in a couple handfuls of leafy greens if you dare. <If you toss some blueberries in too, the kids won't even be able to see the greens that you add.>
How-to-Use
Athletes: These are perfect for cooling down post summer run. Fluid, salt, carbs, and coldness. Let the recovery begin! 
Healthy Eating: Get a serving of fruits in your popsicle. What could be better than that?!
Kids: My kids have been obsessed with these since they were toddlers. Mix up the fruit choices. Add a banana for more sweetness. The possibilities are endless!